Oil companies made nearly $100bn so far in 2022 
The ongoing conflict in Eastern Europe has proven extremely lucrative for the world's biggest oil companies. Financial records reveal that 28 of the largest producers made close to $100bn in combined profits in the first quarter of 2022, reports The Guardian.  
Russia's invasion of Ukraine sent oil prices soaring as the EU and USA banned Russian exports including oil and gas. This has caused oil prices to rise to record highs and given fuel producers an incredible windfall; $93.3bn in total profits have been recorded for the first three months of 2022. Major oil firm's results were boosted by crude oil's jump to $110 a barrel after Russia's attack in late February.  
For comparison, 28 major oil and gas companies made a combined $183.9bn in profit in 2021.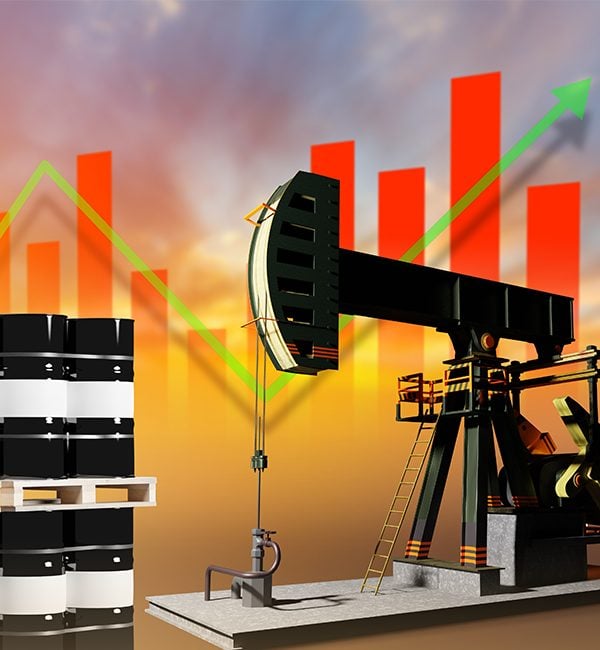 Record profits for oil companies 
Shell posted $9.1bn in profit (January – March), this amount is almost three times what the oil producer posted during the same period in 2021. Rival oil company Exxon reported $8.8bn for Q1 2022, like Shell, this is nearly a triple increase on its 2021 figure.  
How to become an online trader in 2022 
Chevron reported $6.5bn and BP posted its highest first-quarter profits in a decade at $6.2bn. The big winner in terms of profit growth in the energy sector is Cotera Energy; the US company, reported the biggest profit of the 28 companies, with a staggering 449% increase on last year with $818m.  
The rocketing profits come at a time of high inflation and escalating fuel prices.  
Stay up to date on the latest market news 
Oil profits for 2021: 28 companies in $183.9bn  
Total Energies -$42.3bn  
ExxonMobil – $23.0  
Shell – $19.3  
Chevron -$15.6  
BP – $12.8  
Equinor – $10.0  
Marathon Petroleum – $9.0  
ConocoPhillips – $8.0  
TC Energy – $7.5  
EOG Resources – $5.0  
Cheniere Energy – $4.9  
Enbridge – $4.4  
16 others – $22.1b  
Aramco – world's most valuable company  
Saudi Arabia's Aramco posted its highest profit in the wake of Russia's invasion of Ukraine.  
Earlier in May, Aramco surpassed Apple Inc to become the world's most valuable company.   
State-controlled Aramco made a reported income of $39.5 billion, an 82% increase from a year earlier.  
Achieve financial freedom today 
 Pain at the pumps 
Oil prices skyrocketed during the start of the Russian invasion and global sanctions-hit one of the world's biggest oil producers. Unfortunately, many consumers are bearing the brunt of the high fuel prices; South Africa is reporting its highest fuel price, at more than R20/litre of petrol, in decades.   
Similarly, US prices at the pump rose to record highs of $4.43 per gallon for gasoline and $5.56 for diesel, reports Reuters. 
Don't miss out – Get daily Trading Signals 
'They're making lots of money' 
Fred Razak, the chief trading strategist at CMTrading, answers all your oil price questions and more:  
Q: Is this sustainable?  
Razak said: "Chevron and all the major oil companies are making lots of money right now with their stockpiles of oil that they have in inventory. They're selling fuel that they bought below $40 at $100 to $110. So yeah, they're making lots of money hand over fist right now.   
"Altogether it makes sense for them to surpass record profits. I mean, if you look at the Fortune 500 over the past 50 years, they're usually in the top ten; Exxon Mobil, Chevron, and BP at the time. The oil companies are back in the game. It's something that we anticipated for sure but just not how successful they'd be so soon in 2022."  
Q: Is this sustainable?   
Razak said: "I think the price of oil is going to drop $80 at a certain point. Even these companies will experience a share price correction on the downside when things normalize. I think we're living in a post-pandemic environment. I think the fact that there's a high inflation rate is adding to the fact that the price of oil is going up and that is something that you have to look at and take into consideration.   
"This is just part of the market cycles – when it's electric vehicles, electric energy will go up and take away from oil in the long run. Those years are still 5 to 10 years out for all intents and purposes. So oil is still going to be used and gas is going to be consumed. If you look at the markets, not all countries have completely adopted the electric car revolution. We need to consider that. Things are still changing when it comes to that."  
 Q: Advice for traders?  
Razak said: "When it comes to trading, you don't care what type of asset it is, as long as it's moving along and has character. Those are usually two components to making a successful trade. So whether it's oil, whether it's stock, whether it's fork symbols, it doesn't matter. If it has character, and as long as it's moving, that's all you're looking for so.   
"When you're looking for character, you're looking for something that you can anticipate future movements, and you can speculate something that won't be positive in your favor, so keep that in mind, as that is all part of trading."  
Trade oil CFDs      
One of the most advantageous methods of benefiting from oil price movements is to trade CFDs online. CFDs or Contracts for Difference are financial derivatives that allow investors to speculate on the price fluctuations of an underlying financial asset without buying it beforehand.      
Trade the best stocks in the world    
Moreover, CFD traders can profit both when prices are rising as well as when they are falling. This is because CFD trading allows traders to open a buy or sell position, which means they can buy when prices are moving up or sell when the prices are dropping to generate profits.       
Also, CFDs are traded on margin, which means that traders only need a small amount of capital to open a position on the market and enjoy increased returns at the cost of higher risk exposure.       
Please note that trading CFDs is considered a high-risk investment, which can result in the loss of your invested capital. Always get in touch with your account manager to discuss profit targets and how you can minimize your exposure to downside risk.      
Ready to start trading? Open an account today       
Join CMTrading, the largest and best-performing broker in Africa, and discover more opportunities with an award-winning broker. Register here to get started                     
Follow CMTrading on Facebook, Instagram, LinkedIn, Twitter, and YouTube