Crypto bloodbath: Can Bitcoin bounce back?
The Cryptocurrency market started in 2022 poorly and that trend continues in May.
Cryptocurrencies extended a mass sell-off on May 11, with Bitcoin dropping to its lowest levels in 16 months.  
Don't miss out – Get daily Trading Signals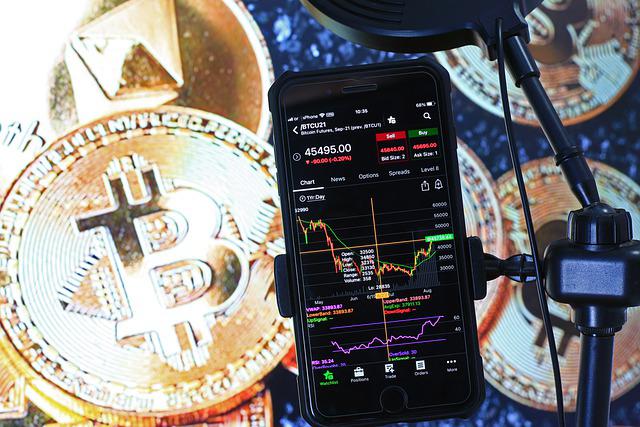 The sell-off of so-called stablecoins sent shockwaves throughout the crypto market, reports Bitcoin.com. 
Bitcoin takes a huge drop
Bitcoin dropped to a low of $25 401.05, its lowest level since December 2020. The king of crypto has lost $13,000 in value and is down more than 45% so far in 2022. Bitcoin hit a high of $48,234 on March 28. 
Bitcoin hit a peak of $69,000 in November 2021 but has since lost nearly two-thirds of its value, reports, Bloomberg.com. 
Here's how to trade the crypto sector 
The Crypto market takes a tumble  
 The latest blow to Bitcoin and rival Ethereum stems from a crash of TerraUSD (UST), one of the world's biggest cryptocurrencies, reports Coinmarketcap. Ether, the world's second-largest cryptocurrency, crashed by nearly 15% on May 11 to $1,700, its lowest since June 2021, reports Nasdaq.com. 
TerraUSD, tied to the US Dollar, dropped as inflation and tumbling stock markets affected the USD.  
How to become an online trader in 2022 
The drop has a knock-on effect that caused a mass to sell off BTC, ETH, and most "alt" coins in the market.   
What are stablecoins and how do they work?  
Stablecoins are digital tokens that are tied to the value of traditional assets (i.e. the USD). They have proven to be popular in times of economic turmoil.  
 Most stablecoins are backed by reserves but TerraUSD uses a "decentralized" stablecoin. Even reserve-backed stablecoins, which should have sufficient assets to buffer against a drop, experienced a drop.  
Major stablecoin Tether hit a low of 98 cents, USD Coin was trading at around $1.04 while Binance USD was at $1.07.  
 Achieve financial freedom today 
The TerraUSD incident is caused by overall industry-based panic, as Terra is the world's third-biggest stable coin. Traders believe the drop shows TerraUSD didn't live up to its promise to maintain a stable value in terms of the US dollar.  
The collapse of TerraUSD continues and major companies and investors have been badly affected by the crash.   
Regulators take note  
 The popularity of stablecoins has caught the eye of regulators Janet Yellen, US Treasury Secretary, and Jerome Powell, Chair of the Federal Reserve. Earlier in 2022, the pair addressed concerns about the growth of stablecoins. The assets have created a situation where huge amounts of USD-equivalent coins are being exchanged without entering the traditional banking system. Trading billions of US dollars and bypassing the banking system is cause for concern for the financial industry.   
 Stay up to date on the latest market news 
Terra is pushed as a gateway for new crypto traders to enter the crypto ecosystem in relative safety. Unlike other cryptos, USD deposits and other cryptocurrencies can be redeemed for USDT. Tether utilizes cryptocurrency exchanges, decentralized finance, lending pools, e-wallets, payment processors, and traditional financial services.   
 The combined Total Value Locked (TVL) of the decentralized finance market is currently valued at $61.56 billion.  
Unlike previous sell-offs in financial markets where cryptocurrencies have been largely untouched, the selling pressure of these assets has undermined the argument that stablecoins are dependable during periods of market volatility. 
An entire year of gains vanish  
 Earlier in May, Bitcoin stood around $40,000 after a spike of more than $1,000 in a single day. This was regarded as a positive development, with the trading bulls expecting a price surge.  
 Instead of moving towards $50,000, BTC lost $4,000 in a day only to be driven down further to $30,000 a few days later. It's hard to shake off so many price slumps in a single week.  
BTC saw a slight bounce to $33,000 on May 10, before dipping below $30,000 for the first time since July 2021. Following the US Federal Reserve's latest inflation figures, Bitcoin experienced a brief rise to $32,000.    
Since May 9 Bitcoin has been hammered by price drops; BTC plummeted to $28,000 before dumping even more to $25,350 – its lowest price position since late December 2020. This has resulted in over $1 billion worth of liquidations.  
Become a better trader – Join our webinars   
As of May 12, BTC is trading above $27,000 but its market cap is well below $550 billion.    
Altcoins take a hit  
Ethereum handled the currency market crash comparatively well until May 11. ETH has now lost over 15% of its value and settled at around $1,800.  
Binance Coin (-17%) is struggling at multi-month lows of $250.   
Other losses in the crypto market:  
 Ripple (-25%)  
Cardano (-25%)  
Solana (-30%)  
Dogecoin (-25%)  
Polkadot (-25%)  
Avalanche (-27%)  
Shiba Inu (-30%)  
 How much did the crypto market lose? Its cumulative market capitalization of all cryptocurrency assets has dropped below $1.2 trillion. This equates to a loss of more than $600 billion in a single week.  
Safe way to trade – Why you should trade CFDs?      
One of the most advantageous methods of benefiting from crypto price movements is to trade CFDs online. CFDs or Contracts for Difference are financial derivatives that allow investors to speculate on the price fluctuations of an underlying financial asset (I.e. Bitcoin) without buying it beforehand.      
Trade the best stocks in the world    
Moreover, CFD traders can profit both when prices are rising as well as when they are falling. This is because CFD trading allows traders to open a buy or sell position, which means they can buy when prices are moving up or sell when the prices are dropping to generate profits.       
Also, CFDs are traded on margin, which means that traders only need a small amount of capital to open a position on the market and enjoy increased returns at the cost of higher risk exposure.       
Please note that trading CFDs is considered a high-risk investment, which can result in the loss of your invested capital. Always get in touch with your account manager to discuss profit targets and how you can minimize your exposure to downside risk.      
Ready to start trading? Open an account today       
Join CMTrading, the largest and best-performing broker in Africa, and discover more opportunities with an award-winning broker. Register here to get started                     
Follow CMTrading on Facebook, Instagram, LinkedIn, Twitter, and YouTube