Stocks fall, dollar climbs amid fragile market sentiment 
At the start of 2022, many economists were hoping for a year of regrowth and recouping losses from the global pandemic. Unfortunately, this year has been marred by a huge sell-off in the stock and cryptocurrency market.  
Trade the best stocks in the world    
In May, the S&P 500 ended below 4,000 (the first time since March 2021) and the Nasdaq dropped more than 4% on May 9. This is due to a mass selloff led by mega-cap growth shares as traders grew ever more concerned about rising interest rates. The Nasdaq closed at its lowest level since November 2020, reports Bloomberg.  
How to become an online trader in 2022 
The US Federal Reserve announced at least three rate hikes for 2022 as the government winds down economic stimulus. Earlier in May, the FED hiked interest rates by 50 basis points, reports Reuters. 
Major corporations have experienced share price drops; Apple (AAPL.O) dropped 3.3%, Microsoft Corp (MSFT.O) fell 3.7% and even Tesla Inc (TSLA.O) declined by 9.1%. These companies dragged down the Nasdaq and the S&P 500.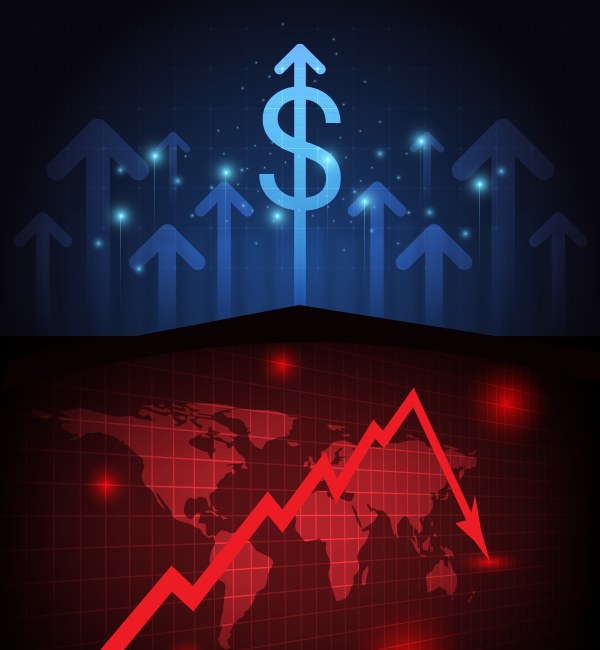 Stay up to date on the latest market news 
Traders are concerned about rising inflation and the negative effects it will have on the overall economy.  
Fred Razak, the chief trading specialist at CMTrading, helps us make sense of the markets.  
Q: Why are markets selling off?  
Razak said: "The markets are being affected by two major factors – Inflation and the outlook. The markets are always six months ahead of where they are right now. At the moment we're kind of topped off with everything we could top off. The stimulus packages that were given by the government were just that; they were just to stimulate the markets from falling into an abyss that we wouldn't be able to fall into. So the fact that the markets are retracing now makes sense.   
"It's also two years since the Democrats have been in office, and after undoing the previous US President's legislation, things are starting to take effect. Many things are all happening at the same time.   
"The inflationary report is not good and that is more shocking and more troubling than a good job data. In general, everybody is just anticipating it. Also, the job data doesn't reflect the entire job market."  
"It's a tremendous opportunity to get in there in the long run as the markets will still come back and they always do come back so. You have to take that into perspective and maintain focus. The market experiences cycles and it's completely healthy and normal. Overall, it's an understandable situation." 
Achieve financial freedom today 
Q: Is it better to trade indices right now?  
Razak said: "Trading indices rather than dividual companies – sometimes in these types of markets where the markets are completely faltering like this, your exposure is lessened and your advantage is greater. So absolutely this is the type of market you want to be trading indices in. The stocks are pretty much trading with the index.   
"If you look carefully at companies such as Microsoft, Apple, or Amazon, they seem to be very, very weak right now. These types of companies are pulling the market lower and then you know the index is trading lower as well. So, you want to be in that type of environment where the index and the actual stocks are trading together."  
 Don't miss out – Get daily Trading Signals 
Q: What advice do I have for traders?   
Razak said: "Well, I mean it, you know, as traders, you don't care which direction the markets go. You know, I'm I've been based on the downside for quite some time and I'm happy to get some fruition finally. It's something or a sign that the market is healthy, just like forest fires are healthy forests. It's during these types of events where there are massive sell-offs you see who the next players will be.   
"As traders, we have to take advantage of the downside trading. There is such a thing as short selling but just be careful because many times when we do get to key levels there are short coverings and then there are spikes in the market. When the market does spike artificially, just like we had last week after the Fed came out with its decision, markets ran up 1000 points, and then the next day they were down 1000 points. Traders need to be aware of that. That is something to you know take note of and be conscious of. When you see enough cycles in the markets, you kind of says to yourself, 'OK, this is, been there, done that' so let me take advantage of this situation."  
Trading CFDs       
One of the most advantageous methods of benefiting from stock movements is to trade CFDs online. CFDs or Contracts for Difference are financial derivatives that allow investors to speculate on the price fluctuations of an underlying financial asset (I.e Apple or Microsoft) without buying it beforehand.    Trade the best stocks in the world     
Moreover, CFD traders can profit both when prices are rising as well as when they are falling. This is because CFD trading allows traders to open a buy or sell position, which means they can buy when prices are moving up or sell when the prices are dropping to generate profits.        
Also, CFDs are traded on margin, which means that traders only need a small amount of capital to open a position on the market and enjoy increased returns at the cost of higher risk exposure.        
Please note that trading CFDs is considered a high-risk investment, which can result in the loss of your invested capital. Always get in touch with your account manager to discuss profit targets and how you can minimize your exposure to downside risk.       
Ready to start trading? Open an account today        
Join CMTrading, the largest and best-performing broker in Africa, and discover more opportunities with an award-winning broker. Register here to get started                      
Follow CMTrading on Facebook, Instagram, LinkedIn, Twitter, and YouTube