How is Russia-Ukraine affecting the global economy?
When two countries go to war it can be devastating for all involved. When those same countries happen to be two of the biggest wheat and oil producers in the world, the result can be globally catastrophic.  
With no sign of an early end to the war between Russia and Ukraine, there's an ongoing risk the conflict will drive an already fragile global economy into another recession.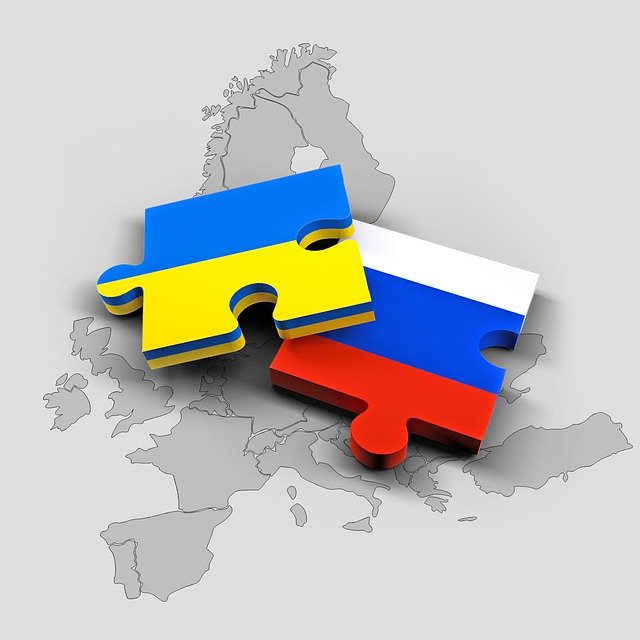 Today we look at the ongoing conflict and its effects on the global economy.  
Invasion rocks the global economy 
The Feb 24 invasion of Ukraine took global leaders by surprise. Economists had expected 2022 to be a year of recovery from the devastating effects of the COVID19 pandemic. Instead, the global economy is gripped by a major European conflict that could lead to a recession.  
Become a better trader – join our webinars 
In just over a month, the war has already triggered high inflation by driving up prices of food and oil, gutting any hopes for economic growth.  
In response, many countries and organizations, including the EU and USA, issued financial sanctions to punish Russia. These sanctions are some of the harshest placed on a country in recent times and sparked an exodus by hundreds of major companies, including McDonalds, from Russia.  
On April 14, the World Trade Organization reduced its growth forecast for 2022 from 4.1% to 2.8%. The WTO reports that conflict has already inflicted "a severe blow" on the world economy.  
Similarly, Wall Street economists have downgraded their expectations for global economic expansion from 4% to 3.5% in 2022.  
Global outlook  
The entire global economy will feel the effects of slower growth and escalating inflation in 2022, reports the International Monetary Fund (IMF). Russia and Ukraine are major commodities producers with the two accounting for 30% of global wheat exports.   
The effects will be felt in 3 ways:  
1 Higher inflation   
Higher prices for commodities such as food and fuel will drive up inflation. Already many countries are experiencing steep price increases for food staples and fuel. Steeper price increases reduce consumer confidence and stall economies.   
2 Trade disruptions  
Neighboring economies will grapple with disrupted trade and supply chains. Countries reliant on fuel exports from Russia are feeling the brunt of the disruption. New deals are having to be made to compensate, creating further instability.  
3 Reduced business confidence   
Whenever instability hits the market, consumer and business confidence dives. Many companies, especially those with Russian assets, have been hit hard. Higher investor uncertainty will weigh on asset prices and reduce financial spending. 
Here's how to trade the different sectors 
Africa to be hit hard  
The World Bank reports that African countries will feel increased pressure on food supplies and fuel.  
In a recent report, the World Bank said high fuel and food prices will result in higher inflation across African countries, including South Africa, Nigeria, and Kenya.  
The World Bank report said global commodity prices have continued to rise, especially gold, oil, and wheat.  
Africa is still reeling from the effects of the pandemic and the Eastern European conflict could have long-term effects on the continent's economies.  
World Bank chief economist for Africa Albert Zeufack said: "These forces are weighing on economic activity and leading to additional inflationary pressures, thus posing challenges to the conduct of monetary policy among central banks worldwide.  
Don't miss out – Get daily Trading Signals 
"Russia and Ukraine account for a substantial share of imports of wheat, maize, and seed oil in numerous countries. These imports may be almost entirely halted if the conflict persists. Russia is also the world's largest exporter of fertilizers and has recommended that fertilizer manufacturers halt exports, which will hinder food production elsewhere."  
 Africa imports $40 billion in food products and any supply-chain disruption o staples such as wheat could have dire consequences.  
 Africa growth sluggish  
Sub-Saharan Africa's economy is set to grow 3.6% in 2022, down from 4% in 2021, states the World Bank's Africa Pulse report.  
Last year's growth had beaten the organization's initial forecasts though the bank reports inflation in the region could climb by 6.2% in 202, up from 4.5% in 2021.  
The organization said many countries have south out assistance from the International Monetary Fund including Sri Lanka, Egypt, and Tunisia.  
The World Bank said its upgraded growth estimate for 2021 was driven by increases of 1.2% and 0.3% in figures for Nigeria and South Africa. It warned however of sluggish growth in Nigeria, SA, and Angola.  
 The World Bank forecasts that South Africa could grow by 2.1% in 2022, Angola by 2.9%, and Nigeria by 3.8%.  
The bank reports that Ivory Coast could be the fastest-growing west African economy at 5.7%, and East Africa's biggest economy, Kenya, would expand by 5%.  
Profiting on oil prices  
Where there's war, there are war profiteers and in 2022 'Big oil' companies are making billions in profit. The invasion propelled the price of oil by 48% in the last quarter to an average of $114 per barrel, the highest in seven years.    
Globally, oil prices reached a 14-year high in March 2022. Prices have since stabilized below $110 as the US announced a release of emergency oil stocks and China continues to be in lockdown. On April 14, WTI crude is trading at $103 and Brent crude at $108.   
Exxon Mobil Corp reports that its 2022 first-quarter results could be its best in seven years, up to $9.3 billion. Exxon's quarter ended March 31, showing operating profits from its oil and gas division, up to $2.7 billion more than the previous quarter's $6.6 billion. The oil producer's shares are up 38% year-to-date.  
Overall  
Gauging the effects is hard but already many organizations are downgrading growth projections for 2022.  
In the short term, economies reliant on oil imports will experience trade deficits and high inflation. Some exporters such as those in the Middle East and Africa may benefit from higher prices.  
Long term, the war will fundamentally shift the global economy. Already the EU and USA are working on supply-chain revisions with a focus on reducing their reliance on commodities from Russia and Ukraine.  
Ready to start trading? Open an account today  
Join CMTrading, the largest and best-performing broker in Africa, and discover more opportunities with an award-winning broker. Register here to get started                
Follow CMTrading on Facebook, Instagram, LinkedIn, Twitter, and YouTube