Stalling to takeoff: Global airline's slow return to the skies
The COVID-19 pandemic devastated the travel industry with many airlines grounded for years. In 2020, airline industry revenues total $328 billion, about 40% of 2019's earnings.  
 With dwindling COVID-19 numbers, effective vaccines, and lockdown's lifted, there's hope that many will take to the skies again.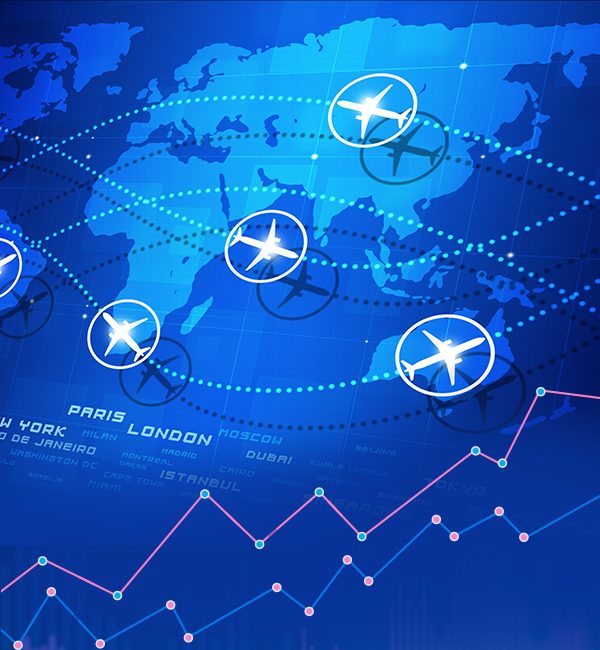 Today, we look at the air travel industry and some of the challenges it faces.  
Become a better trader – join our webinars 
Return to normal?  
Air travel looks like it's back to normal; thousands have returned to airports, according to TSA screening figures. On March 11, the TSA cleared 2.30 million passengers; for perspective, the TSA cleared 2.4 million passengers for travel on Nov 28 2021 during Thanksgiving. Travel is expected to pick up as the busy Northern hemisphere summer season approaches.  
Unfortunately, high fares are too becoming the norm; airfares in the US are up more than 13% compared to 2021, reports the US Consumer Price Index.  
Here's how to trade the airline sector 
There's also the lingering scourge of COVID-19. Many travelers must deal with restrictions in their home country as well as abroad, creating a barrier to travel that most would rather not deal with.   
When a financial crisis hits, it usually is purely economic, resulting in weakened spending power for currencies and supply chain disruptions. The pandemic, however, has the additional problem of forever changing consumer behavior and the airline sector may never be the same.  
Leisure trips to drive recovery  
Don't miss out – Get daily Trading Signals 
Business travel will take some time to return to pre-pandemic levels. Remote work has transformed the business landscape resulting in fewer corporate airstrips. Many airlines rely heavily on a smaller, yet higher-yielding, business class to drive profits.   
The leisure travel sector will be the first to take off. A combination of wanderlust, the result of being cooped up for the past three years, and travel deals will fuel the airline industry.   
Airlines will have to rethink their pricing strategy going forward. Some such as Boeing are already considering reconfiguring the cabin layout of its planes to cater for smaller business classes.  
The UK-based airline, EasyJet, reports that its summer flight bookings are exceeding pre-pandemic levels. The airline said more bookings were made in the past two months than in the same period in 2019.  
The low-cost airline is operating at 80% of its 2019, its best year, capacity during the first three months of 2022. Despite the uptick in flights the company still expects to make a loss of £535 million to £565 million for the last quarter.  
Staggering debt leads to high ticket prices  
As air travel was grounded during the pandemic and many were forced to borrow huge sums of money to stay in business. This resulted in loans worth more than $180 billion in debt during 2020 alone. Repaying these loans has been tough over the years due to ongoing lockdowns, new COVID strains (i.e., Delta and Omicron), and worsening credit ratings.  
In many cases, airlines received government bailouts; In Europe, TAP Air Portugal, Lufthansa Group, and Air Baltic all received state aid with increased government shareholdings. Similarly, South Africa's SAA national carrier received government funding to help it stay afloat.   
These costs will need to be recouped and as a result, passengers will pay the price. Ticket prices are already increasing, which will create another barrier to entry.  
Not all airlines have recovered or can return to the skies. This could result in air-travel demand outpacing supplies.   
Overall, it will take time for airlines to restore capacity, bring aircraft back to service and retrain crew.  
We could see a supply-demand gap, resulting in higher short-term prices.  
 Ready to start trading? Open an account today 
Join CMTrading, the largest and best-performing broker in Africa, and discover more opportunities with an award-winning broker. Register here to get started               
Follow CMTrading on Facebook, Instagram, LinkedIn, Twitter, and YouTube