Stocks crash, inflation soars: What you should do when markets are down 
Global markets continue to be affected by high inflation which has resulted in extreme volatility in many markets, especially equities.   
US stocks suffered a major crash that erased $1.5 trillion of market value from US equities on May 16, reports Bloomberg. The crisis only deepened on May 19 with European shares declining and US index futures headed for more losses. The market drop comes amid growing concern that soaring inflation is curbing economic growth.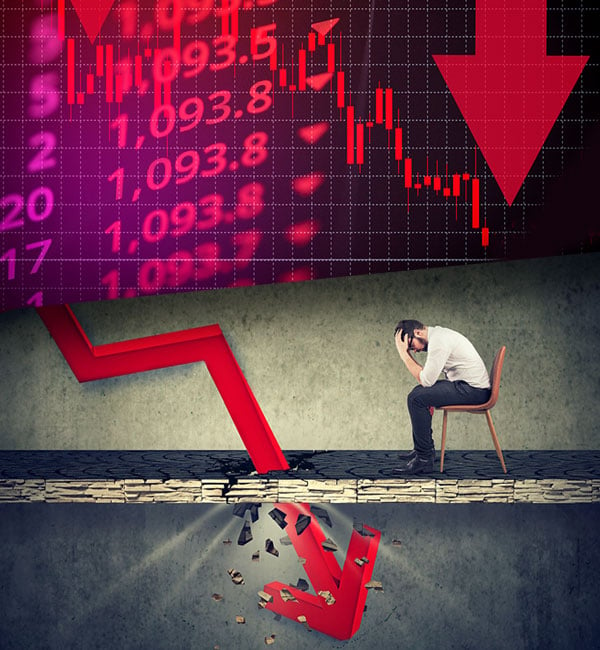 Stock crash 
Futures on the S&P 500 Index dropped 0.9% to post their biggest single-day decline since June 2020 on May 19. Similarly, the Nasdaq 100 is down 1% amid a huge global selloff of major technology stocks.  
Don't miss out – Get daily Trading Signals 
It was hoped that companies would see better earnings in a post-Covid environment, but predictions were thrown into chaos following the growing impact of high inflation on consumer spending. The rate hikes are only the beginning as the US Federal Reserve announced that tighter monetary policy lies ahead.  
All this leads to concerns that we could be headed into another recession.  
'US markets are completely falling apart.'  
Fred Razak, the chief trading strategist at CMTrading, shares his views on the market:  
Q: Why is the US dollar climbing yet markets are dropping?   
Razak said: "Is it that the US dollar is climbing or is it just the rest of the markets that are tanking? Major forex symbols such as the Euro and British pound are under strain, yet we've seen the USD climb. It's always a double-edged sword – Forex currencies can do well but markets can drop and vice-versa.   
"The dollar getting stronger is just a representation of the Dow Jones getting weaker and there's an inverse relationship there.  
"Ultimately, it's a perfect storm. The Dow Jones and the NASDAQ are tanking big time. US markets are completely falling apart. I believe that going into the next six months, we're going to see a major bloodbath in the financial markets.   
How to become an online trader in 2022 
Q: How are high-interest rates affecting markets?  
Razak said: "I think currencies are just a natural form of the current climate, predominantly affected by interest rates. The higher the interest rates of one country, the more that home country has an allure to bring foreign investors into that market.   
"So, for example, if the US is offering a 4% interest rate and right now Japan is offering zero, you could borrow money from Japan and technically just flip it and go to the United States. You can invest it just pay the bill on the interest rate difference. That's basically how mogul Warren Buffett makes money.   
"Interest rates affect the economy in such a way that if interest rates become higher then it costs people more money to borrow money. Right now, people are less inclined to borrow money. Unfortunately, it's a way to stave off inflation.   
Q: Why increase rates?  
Razak said: "The reason why the Fed increases interest rates is that they are afraid that inflation is getting too much, so they need to lower the money supply in the markets to prevent it from devaluing too much. That's just one of the artificial ways that the Fed can control the value of a currency in the markets."  
Top tips for when markets don't go your way  
Stay up to date on the latest market news 
Don't Panic!   
The first time a trade goes wrong, or you see the market drop can be stressful. So what should you do when markets crash? Do what the experienced traders do – nothing. Don't panic, don't freak out. It happens. Take your emotions out of the equation. You can use logical stop-losses to help mitigate negative effects, but don't lose sleep over it happening. It's how the markets go.   
Stick to a strategy  
It can get quite tempting to start switching strategies or assets the first time you take a loss. Don't! You'll have a much better chance of success by implementing one trade strategy and sticking with it.  
It's easy to get worried when your trades don't go as expected. Take a breath and relax. All the best traders have suffered losses and constantly refine their strategies. Don't get overwhelmed.  
Have realistic expectations   
Trading is plagued by unrealistic expectations. Even when markets are down there are opportunities, however newcomers especially won't see this. It's slow and steady that wins the race. Do your research and understand that markets are cyclical – they move up and down constantly.  
Don't miss out – Get daily Trading Signals 
Don't make too many trades at once  
Experienced traders will tell you to trade smaller positions until you can handle more trades. It's easier to become profitable from fewer smaller trades than from one large position.   
Don't over-protect with stop losses   
Stop losses are a great tool for traders to protect themselves. Unskilled traders, however, usually overdo it. Many beginners place stop losses too close to the entry price. You'll be stopped for a loss before the market has any chance to gain momentum and swing in your favor.  
Trading is easy once you have the knowledge   
Anyone can become an online trader but to be successful you need knowledge and to partner with a great broker. Fortunately, CMTrading is here to help traders of all skill levels have the best possible trading journey. From webinars to in-person training sessions, CMTrading is here to guide you to success.   
Trading CFDs        
One of the most advantageous methods of benefiting from stock movements is to trade CFDs online. CFDs or Contracts for Difference are financial derivatives that allow investors to speculate on the price fluctuations of an underlying financial asset (I.e. Apple or Microsoft) without buying it beforehand.   Trade the best stocks in the world      
Moreover, CFD traders can profit both when prices are rising as well as when they are falling. This is because CFD trading allows traders to open a buy or sell position, which means they can buy when prices are moving up or sell when the prices are dropping to generate profits.         
Also, CFDs are traded on margin, which means that traders only need a small amount of capital to open a position on the market and enjoy increased returns at the cost of higher risk exposure.         
Please note that trading CFDs is considered a high-risk investment, which can result in the loss of your invested capital. Always get in touch with your account manager to discuss profit targets and how you can minimize your exposure to downside risk.        
Ready to start trading? Open an account today         
Join CMTrading, the largest and best-performing broker in Africa, and discover more opportunities with an award-winning broker. Register here to get started                       
Follow CMTrading on Facebook, Instagram, LinkedIn, Twitter, and YouTube