$5trn wealth shock: Trillions lost since the start of 2022  
Surging interest rates and poor market sentiment have devastated the stock market  in the past month.  
Another casualty however of these uncertain times is the USA's collective wealth. A report by JP Morgan reveals that the world's richest nation is getting poorer.   
The onset of the pandemic saw Americans' collective net worth skyrocketing as households were less likely to spend their hard-earned cash. US households added an extra $38.5 trillion in the past two years for a collective net worth of a record $142 trillion, the US Federal Reserve reports.  
Stay up to date on the latest market news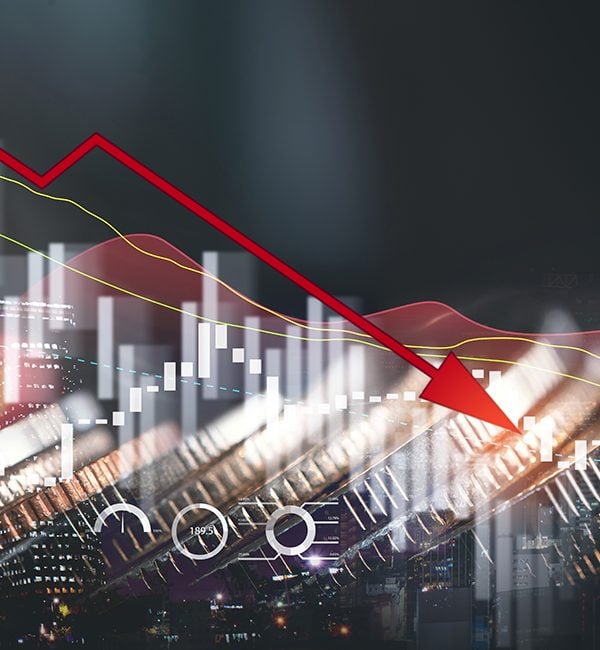 In May 2022, the economic landscape is once again in turmoil. Just as the world started learning to live in a post-pandemic era, a new economic threat in the form of rising inflation and a mass-market sell-off curbs progress.  
The US for example has seen a huge drop in wealth since the start of 2022, reports JPMorgan Chase & Co. estimates a $5 trillion plunge. The financial institute reported that the US could lose $9 trillion by the end of 2022.  
Don't miss out – Get daily Trading Signals 
Billionaire's pockets hit  
The world's richest added trillions to their collective coffers during the pandemic. In 2022 however, US billionaire fortunes are down almost $800 billion due to sharp losses in stocks, crypto, and other financial assets. The Bloomberg Billionaires Index reports that the world's 500 richest people have lost $1.6 trillion since November 2021.  
Here's what to do when the markets crash 
Tesla CEO Elon Musk, the world's richest person, has lost $139.1 billion (-41%) of his wealth. Amazon founder Jeff Bezos, the world's second-richest person, lost $82.7 billion (-39%) of his peak wealth.  
Unfortunately, surging interest rates are damaging the housing market, a sector where the majority of middle- and working-class families derive their wealth.  
Curbing inflation  
The market drop isn't unprecedented. The US is experiencing its highest inflation in decades, devaluing the US Dollar. To remedy the situation the US Federal reserve needs Americans to reduce their spending and as a result, has announced a series of rate hikes for 2022. This has resulted in the current economic slowdown the market is experiencing.  
How to become an online trader in 2022 
Since the start of 2022, some of the world's biggest financial indexes are reporting record drops; the Nasdaq 100 has lost 27% and the S&P 500 is down 18%.   
Even the vast, albeit unregulated, world of cryptocurrencies has dropped 48%, reports the Bloomberg index.  
All of this has resulted in a wealth shock that is expected to slow economic growth in 2022. Sadly, this aligns with the Fed's "slow down" plans.  
Volatility equals opportunity  
The fallout of the $5 trillion rout could be a huge buying opportunity for traders.  
Some of the world's biggest companies, such as Tesla, Apple, and Netflix are all reporting losses. It could be time to start buying albeit in a gradual cautious manner.   
The risk of further losses in 2022 remains. The two biggest deciding factors will be whether China's economy continues to slow and/or the US Federal Reserve becomes even more hawkish.  
A meltdown in US markets will drag developing nations down with it. So too will any further monetary tightening or geopolitical tensions. The ongoing conflict between Russia and Ukraine has put the commodity markets in turmoil; oil and wheat have seen incredible volatility and record-high prices.  
Achieve financial freedom today 
Most financial firms believe markets will witness more losses before any tangible gains begin.  
Peak inflation  
Two major signs traders are waiting for is a peak in inflation and an end to the USD's rally. In May, the USD posted its first loss after six weeks of gains, an encouraging sign for traders.   
Another sign things are changing will be positive data from eight developing nations including Mexico and Malaysia. US personal-consumption expenditure, set to be released in June 2022, will also give clues on future Federal policy.  
Here are 5 main things to watch in the markets ahead:  
 1 Russia has started the process of paying holders of foreign-currency bonds before restrictions expire in June  
2 Central banks in Turkey and Nigeria are set to leave interest rates unchanged  
3 Many Asian central banks, including India and Malaysia, have implemented rate increases  
4 China's industrial sector is likely to see a significant drop in profits  
5 The next US NFP report, to be published in early June, will be critical for traders.  
 Trade stock CFDs       
One of the most advantageous methods of benefiting from stock price movements is to trade CFDs online. CFDs or Contracts for Difference are financial derivatives that allow investors to speculate on the price fluctuations of an underlying financial asset (I.e Apple, Amazon etc) without buying it beforehand.       
Trade the best stocks in the world     
Moreover, CFD traders can profit both when prices are rising as well as when they are falling. This is because CFD trading allows traders to open a buy or sell position, which means they can buy when prices are moving up or sell when the prices are dropping to generate profits.        
Also, CFDs are traded on margin, which means that traders only need a small amount of capital to open a position on the market and enjoy increased returns at the cost of higher risk exposure.        
Please note that trading CFDs is considered a high-risk investment, which can result in the loss of your invested capital. Always get in touch with your account manager to discuss profit targets and how you can minimize your exposure to downside risk.       
Ready to start trading? Open an account today        
Join CMTrading, the largest and best-performing broker in Africa, and discover more opportunities with an award-winning broker. Register here to get started                      
Follow CMTrading on Facebook, Instagram, LinkedIn, Twitter, and YouTube