Own

your

financial freedom

–

Starting

an

Introducing

Business

could change your life

 
 The financial markets can be highly lucrative for those great at networking. We'll show you how to generate a secondary income stream and grow an existing company by starting your own Introducing Business.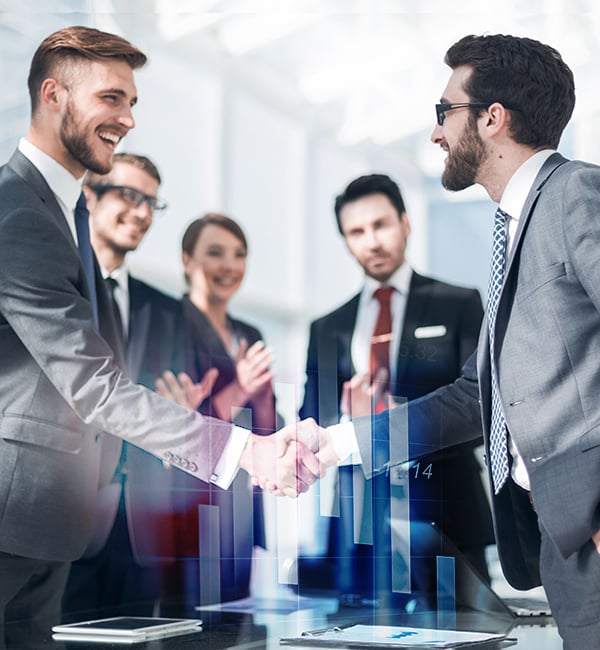 The financial markets are a gateway to profits for traders and investors but what if you don't have a background in business?  
Fortunately, even if you're not a trader you can benefit from the financial industry by simply becoming an Introducing Business (IB) and partnering with CMTrading.  
Even if you've never traded before or have zero experience with online trading and the financial markets, you can still profit from the financial markets. 
What is an Introducing Business?  
Even the best brokerage needs assistance in attracting clients. An IB acts as an introducer by identifying clients who are seeking access to the financial markets and referring them to a broker who can meet their needs and demands.  
An IB aims to engage and develop a working relationship with clients but does not execute trades on their behalf. The actual trading is handled by the client or account manager assigned by the broker. To put it simply – the Introducing Business refers clients, provides consultation services and receives a commission for every trade the referred clients make.  
There are millions of potential traders out there who require a more personal touch to start trading. If you are someone who loves networking and can build strong relationships, you have two of the greatest traits needed to be a successful IB.  
While an IB can refer clients through online marketing (emails, posts etc.) they can take it a step further by providing additional services (blog, insights, webinars etc.). The most successful Introducing Business are those that can build a lasting collaborative relationship with their clients.  
This is a win-win situation for everyone involved; the client gets to partner with an award-winning brokerage, and you gain commissions whenever you make a referral as well as every time they make a trade. 
Achieve financial freedom today 
Jobs are scarce, extra revenue is critical 
The pandemic has brought unprecedented disruption to the global economy that could be felt for years to come.  
According to the International Labour Organization, the global shortfall in employment increased by 144-million jobs in 2020 and rose to 220 million in 2021. This is due to the ongoing economic shutdowns and the recession. The global unemployment rate rose by 6.4%. What this tells us is that although the world is recovering, we're still living in uncertain times and job security isn't what it used to be. 
We understand just how tough times can be and want to provide opportunity and income security for all able to join our IB program.  
Supporting your family can be a constant worry, especially during these uncertain times. It's imperative that you achieve financial freedom by generating added revenue, leveraging the power of the financial markets.  
Event in Dubai  
We are inviting all financial-industry professionals to an exclusive event in Dubai. This is your opportunity to network with others, seek opportunities, and grow your business.   
When: June 16 at 7:30 PM,
Where: Pullman Downtown Hotel, Dubai

Connecting clients     
An introducer is vital to the trading industry as they help those who are new to the financial markets ultimately become traders.  
In general, good IBs will do their best to provide useful information and support. 
Refer clients and make money when they trade – Become an IB today! 
Generate additional income  
The 2020 pandemic devastated the global economy, and its effects are still felt years after. The pressure of earning a living and providing for your family can be stressful. By becoming an IB you'll be able to generate additional income. It's an exciting way to support your family while helping others become great traders.  
You get to dictate your working hours and decide how much time to invest; the more you put in, the higher the potential rewards.  
Refer and earn 

 
IBs are individuals all over the world who can earn an income simply by introducing clients to CMTrading. By connecting others with our award-winning platform, you're not only giving clients access to a great broker, but you'll also earn from every client you refer.    
This is highly advantageous as you can sign up an unlimited number of clients. The more you refer, the more you earn.  
Profit from their trades 

 
Also, referring clients is not the only way you can generate additional income. Whenever your clients trade you earn commission. We offer rebates per lot, depending on your clients' trading volume. The more they trade, the more you earn.  
We want to equip you with the best tools to succeed and as such, we also provide you with an admin panel to monitor all your rebates, referrals and their activity.  
Become your own boss 

 
The IB program rewards diligence and commitment. What you put in is what you get out. The most successful IBs not only have a great network of clients but can profit from sub-IBs.  
Register and start an Introducing Business with CMTrading    
Do you want to be an IB but not sure how to join our program? Starting an Introducing Business is an easy and exciting way to earn money – simply refer traders to CMTrading and let us do all the work! In return for referring clients to CMTrading, our IB's will receive a favourable commission. Just refer clients and start earning money when they trade. It's that simple!