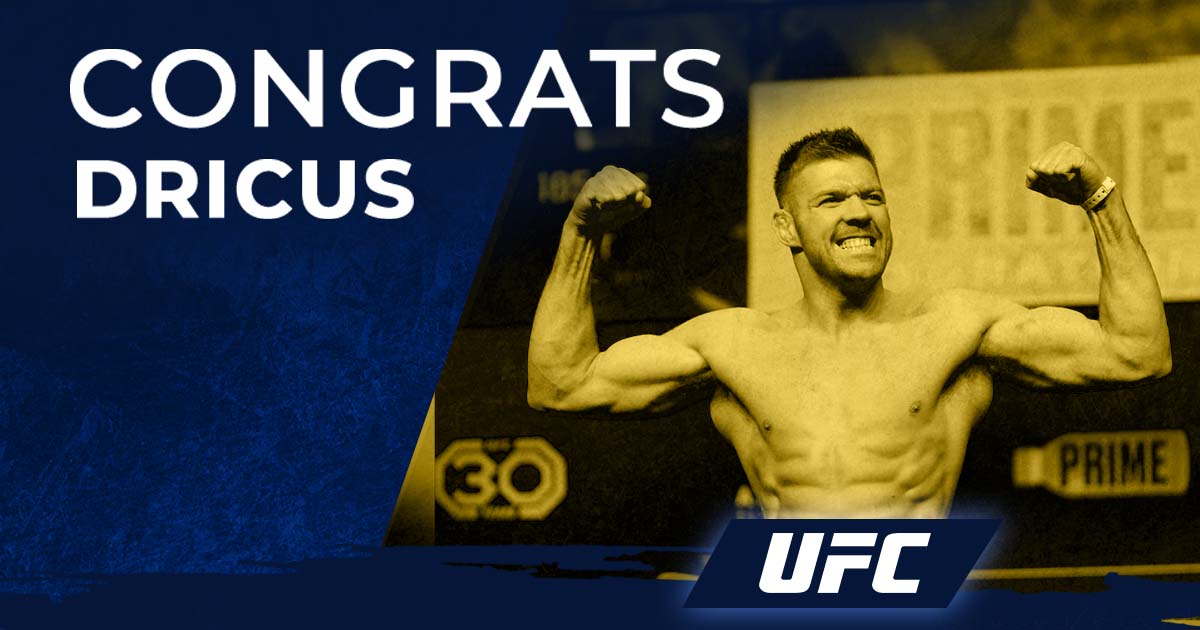 South Africa's Dricus du Plessis has set the world alight at UFC 290 with an awe-inspiring performance, stopping former middleweight champion Robert Whittaker in the second round of their main card bout in Las Vegas, Nevada, on Sunday morning.
CMTrading, proudly endorsing Dricus as our brand ambassador, extends heartfelt congratulations on his remarkable victory.   
In the face of adversity, Dricus showcased his exceptional skills, leaving Whittaker struggling to find his rhythm and decipher his unorthodox style. Throughout the first round, Dricus demonstrated his prowess, delivering impressive combinations on both offense and defense, ultimately cutting Whittaker with a devastating elbow strike.   
Second Round Win
As the first five minutes drew to a close, Dricus secured a headlock and executed a takedown, unleashing a barrage of punches to Whittaker's head and body just before the round ended. Despite the warnings from Whittaker's corner during the break, the second round saw Dricus deliver a knockout blow with a powerful straight right, complemented by well-executed jabs and body shots that sent Whittaker to the canvas.   
Remaining composed and calculated, Dricus selected his shots meticulously as Whittaker covered up, prompting the referee to intervene and halt the fight at 2 minutes and 23 seconds.  
🎉🥊 KUDOS STILLKNOCKS!!! 🥊🎉

Dricus, we at @CMTrading_FX salute you 🙌 and your remarkable KNOCKOUT triumph over Robert Whittaker 🏅 and stand firmly by your side as proud supporters. 💪🔥🔝 pic.twitter.com/BZHW6rWkZu

— CMTrading (@CMTrading_FX) July 9, 2023
In a post-fight interview, Dricus, speaking in Afrikaans, expressed his gratitude and stated, "South Africa, they don't know what we know." He also playfully addressed those who criticized his cardio on social media, asserting his enduring stamina and issuing a lighthearted warning to delete their comments.   
Dricus further humbly acknowledged the honor of competing against Robert Whittaker, a childhood idol, and gentleman champion. Expressing gratitude for the opportunity, he said, "Thank you, Robert."   
'Born, Bred & Trading African Champion'
Following the interview, an intense face-off occurred between Dricus and the reigning champion Israel Adesanya, with ongoing tension stemming from Dricus' earlier claim to become the first "born, bred, and trained African champion." Though it remains uncertain, there is a possibility that Dricus and Adesanya may cross paths at UFC 293 in Sydney on September 10, pending Dricus' readiness for the bout.   
Dricus' triumph has not only captivated the MMA world but also garnered the attention of global superstar and former double champion Conor McGregor, who took to Twitter to celebrate the athlete's victory and congratulate South Africa on this momentous achievement. McGregor tweeted, "Huge congrats to South African MMA and South Africa, period! That is an incredible win for them inside the UFC's Octagon! Title fight next for sure! Let's go S.A."   
Huge congrats to South African MMA and South Africa, period! That is an incredible win for them inside the UFC's Octagon! Title fight next for sure!
Let's go S.A 🇿🇦 ❤️

— Conor McGregor (@TheNotoriousMMA) July 9, 2023
Once again, CMTrading applauds Dricus du Plessis on his phenomenal performance and wishes him continued success on his journey in the world of mixed martial arts. 
CMTrading Brand Ambassador
Jonathan Bergman, VP Marketing of CMTrading, said: "We extend our heartfelt congratulations to Dricus on his outstanding victory in the UFC middleweight division. Dricus' relentless determination, coupled with his unwavering focus, has once again showcased his extraordinary talent and unwavering spirit.
"We at CMTrading are immensely proud to have supported Dricus on his journey, both in the octagon and as he conquers the trading world. His achievements inspire us all, reminding us that with the right mindset and trusted partners by your side, success knows no boundaries.
"Dricus is a true testament to what can be accomplished when passion meets opportunity, and we are honoured to be a part of his remarkable story."
START WITH AS LITTLE AS $100
Multiple Award-winning, licensed and regulated broker 

 

Discover the fundamentals of online trading 

 
Learn top trading strategies 

 

Achieve your financial freedom  

 

Understand trading conditions, trends and charts 

 

Unlock the secrets of technical and fundamental analysis 

 

Proven trading methods used by experts