Threads Launched: Meta's Twitter Rival Boosts Stock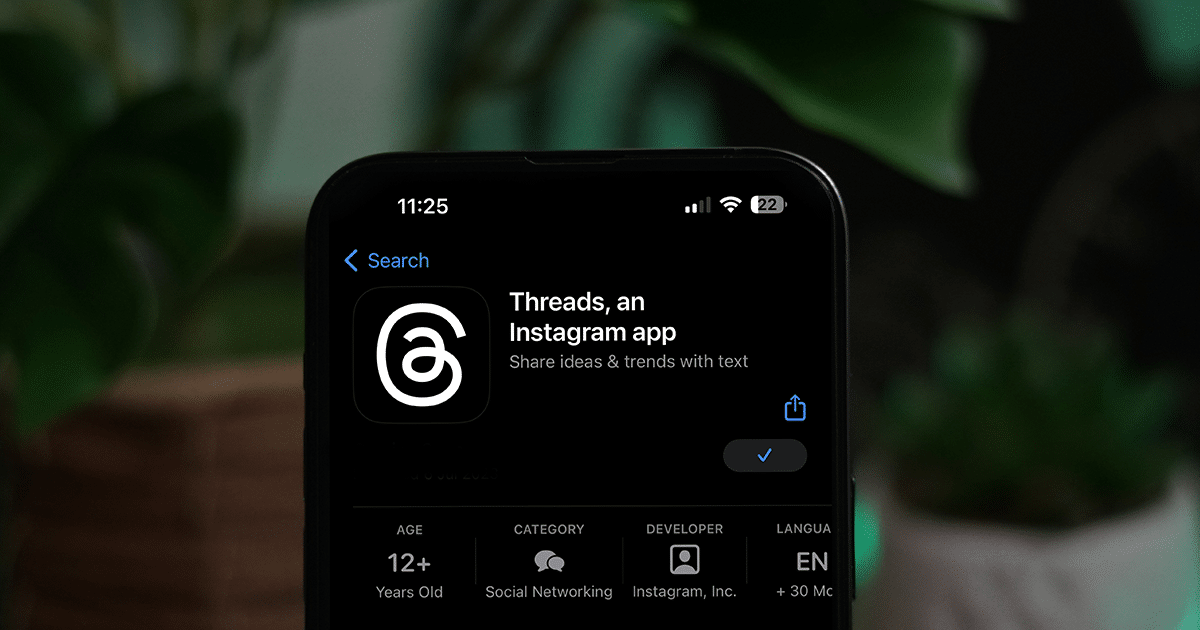 On Wednesday, Meta revealed its eagerly anticipated rival to Twitter called Threads. The company is positioning it as a "friendly" alternative to the faltering social media network in an effort to attract users and financial support for Elon Musk's business.
Users can make messages up to 500 characters long on the "text-based conversation app" called Threads, which also allows them to attach links, images, and videos. The posts can receive responses, likes, and shares, just like on Twitter.
According to the company, Threads is being pushed out for iOS and Android in more than 100 countries and is directly connected to Instagram, Meta's well-known photo-sharing app with more than 2 billion users.
Will Threads make a splash in the social media world? Will the new app boost Meta's stock? CMTrading examines the new social media trend and shares valuable insights for traders.
Meta Share price:
Even after a European Court on Tuesday decided against Meta in an anti-trust dispute, the social media behemoth saw its shares increase by more than 2%. This week, Meta is released Threads, a new software that will compete with Twitter boosting its stock even further.
Share price: $294,37 (+2,92%)
+3.36% – 5 days
+8.58% – 8 days
Threads Launched: All you need to know
Five million individuals swiftly registered for Threads, Meta's alternative to Twitter, within the initial four hours following its launch on Thursday, as revealed by CEO Mark Zuckerberg. Anticipating its impact, what can we expect from this platform?
How does Threads work?
Threads allow users to sign up using their Instagram login, automatically enabling them to follow the same accounts they are already following on Instagram as they join Threads.
Users can share posts with a maximum of 500 characters, including images, GIFs, and videos up to five minutes in length.
Threads closely resemble Twitter, with short text-based content, options for likes and reposts, and the ability to quote a thread, similar to quote tweeting.
Why am I seeing posts from people I don't follow?
Since its launch, one of the primary criticisms of Threads has been the mix of posts from both followed accounts and random accounts. Meta has explained that it comprises a combination of followed accounts and algorithmic recommendations.
Currently, there is no way to exclusively view posts from the accounts you follow, and Meta has not indicated whether this option will be available in the future.
Can I send direct messages?
Presently, there is no feature to directly message other users, which might come as a relief to some.
Can I keep my Instagram account private and make my Threads account public?
Yes, if you prefer to maintain a more private Instagram account, you can lock it down while keeping your Threads account public. However, for users under 16, both the Threads account and Instagram account are private by default.
You can switch the privacy settings of Threads at any time and also determine who can reply to your posts.
Will there be a 'close friends' setting, similar to Instagram?
At the moment, there are no plans for such a setting. However, if you desire a smaller audience, you can switch your profile to private, ensuring that only those who follow you will see your threads.
How can I access Threads?
Currently, Threads can only be accessed through the iOS or Android apps. There is no desktop version available at this time, and Meta has not specified when it might be released.
Will Threads include advertisements?
Meta has indicated that Threads will not be monetized this year but has left the possibility open for future ad integration.
Can I have a different username?
Currently, Meta allows users to log in using their Instagram credentials, and your Threads username will correspond to your Instagram username. This is good news for those concerned about someone else claiming their username.
Can I find followers from other social media platforms?
Not currently, but Meta intends for the app to be similar to platforms like Mastodon, which are decentralized and allow users to transfer their accounts to other platforms.
The company is actively working on making Threads compatible with ActivityPub, an interoperable protocol that would enable users to migrate their accounts and followers to other ActivityPub-supported applications.
What is moderation like?
Threads follow similar moderation standards as Instagram, which means it will enforce stricter rules compared to Twitter, particularly regarding nudity and hate speech, an area where Twitter has faced criticism since Elon Musk assumed control.
Why hasn't Threads launched in the EU?
Meta sources have suggested that regulatory concerns regarding compliance with stringent EU data privacy regulations have caused the delay of Threads' launch in the European Union.
Privacy advocates have expressed concerns about the extensive personal information Threads can collect, including health data, financial details, contacts, browsing and search history, location data, purchases, and "sensitive information," as disclosed in its data privacy statement on the App Store.
Celebs Join Launch Day Boom
The swift adoption of Meta's new platform, Threads, attracted notable personalities like Kim Kardashian, Jennifer Lopez, and Alexandria Ocasio-Cortez, a Democratic US Representative. Mark Zuckerberg, in his first post on the app, welcomed users and shared that Threads garnered 5 million sign-ups within its initial four hours, accompanied by a fire emoji.
Zuckerberg took a playful jab at the rivalry with Elon Musk and the two services by posting a meme of Spiderman facing off against Spiderman on Twitter.
Analysts believe that Threads' integration with Instagram provides it with a ready user base and advertising infrastructure. This could potentially divert advertising revenue from Twitter, which is currently struggling under its new CEO's efforts to revive the platform.
While Threads launched as a standalone app, users can log in using their Instagram credentials and follow the same accounts, making it an easily adopted addition for Instagram's vast user base of over 2 billion monthly active users.
Twitter Killer?
Danni Hewson, head of financial analysis at investment firm AJ Bell, expressed excitement among investors about the prospect of Meta having a "Twitter-Killer."
For some, the launch of Threads presents an opportunity to create a less toxic alternative to Twitter. Ocasio-Cortez emphasized the desire for good vibes, a strong community, excellent humor, and reduced harassment in her post.
Similar to Twitter, Threads allows users to create short text posts that can be liked, reposted, and replied to. However, the app currently lacks direct messaging functionality. Posts can contain up to 500 characters and include links, photos, and videos of up to five minutes in length, as stated in a Meta blog post.
The app is available in more than 100 countries through the Apple App Store and Google Play Store.
Meta's stock closed with a 3% increase on the day prior to the launch, surpassing gains made by rival tech companies.
Threads' arrival coincides with a period when Twitter is facing significant challenges. After Elon Musk acquired Twitter for $44 billion last October, its value has plummeted due to extensive staff cuts and controversies surrounding content moderation, causing dissatisfaction among users and advertisers.
Twitter's latest measure involves limiting the number of tweets users can read per day.
Zuckerberg acknowledged the difficulties that large public social media platforms encounter and expressed his vision of creating a public conversations app with over 1 billion users, a goal Twitter hasn't achieved.
The integration with Instagram includes privacy considerations, such as the option to display a badge on Instagram profiles (which can be hidden) and separate privacy settings for each app.
Brands like Billboard, HBO, NPR, and Netflix swiftly created accounts on Threads after its launch.
To promote Threads, Meta has reached out to social media influencers, encouraging them to join the app and post at least twice a day. Ryan Detert, CEO of influencer marketing company
Influential, shared this strategy. Other attempts to challenge Twitter's dominance, including Mastodon, Post, Truth Social, and T2, have remained relatively small in scale.
Bluesky, a new service supported by Twitter cofounder Jack Dorsey, initiated an invite-only beta in February and initially attracted user interest. Its website reported 50,000 users as of April. Dorsey also backed another platform called Nostr.
Meta has experienced previous failures in launching standalone copycat apps, most notably with its Lasso app, which aimed to compete with the short video platform TikTok. Later, the company incorporated a similar feature called Reels directly into Instagram. Meta has recently scaled down its experimental app development unit.
Responding to a user who predicted Twitter's demise shortly after the Threads launch, Zuckerberg cautioned that it was only the beginning of the first round in the competition between the two platforms.
START WITH AS LITTLE AS $100
Multiple Award-winning, licensed and regulated broker 

 

Discover the fundamentals of online trading 

 
Learn top trading strategies 

 

Achieve your financial freedom  

 

Understand trading conditions, trends and charts 

 

Unlock the secrets of technical and fundamental analysis 

 

Proven trading methods used by experts