Need Trading Guidance? Partner With The 'Best In Africa'
CMTrading proudly presents its 'Best In Africa' campaign, featuring the accomplished fighter Dricus 'Stillknocks' du Plessis as the brand ambassador," stated a spokesperson for the company. "Since their partnership commenced in 2019, both parties have enjoyed mutual benefits."  
Want to learn more about the markets? Check out our latest podcast!        
Dricus du Plessis has not only honed his impressive online trading skills with CMTrading but also firmly believes that the right partner is instrumental in achieving success in trading. The campaign encompasses a wide range of media channels, including PR, print, outdoor and mall advertising, as well as social media platforms, where followers have the chance to win exclusive shirts autographed by 'Stillknocks' himself.  
Women's Wealth: Discover the secrets of trading and financial security 
Africa's Premier Trading Platform 
Renowned as Africa's premier trading platform, CMTrading has once again teamed up with South Africa's finest in the octagon. The synergy between these exceptional entities is evident in their successful collaboration as business partners.  
Dricus du Plessis undeniably stands as one of South Africa's greatest fighters, leaving a mark in the industry as a two-weight class EFC champion and an undefeated UFC competitor. Scheduled to face former UFC Middleweight champion Robert Whittaker in a title eliminator fight on July 8th at UFC 290 in Las Vegas, Nevada, du Plessis leaves no stone unturned in his preparation. However, what may surprise many is his pursuit of knowledge and skill in stock trading during his spare time.  
Dricus Du Plessis: Top trading tips and insights from a champion 
Trading skill set 
Du Plessis attributes his additional skill set to his longstanding partnership with CMTrading, which has provided him with invaluable knowledge and expertise. This collaboration has allowed him to explore a field he may not have ventured into otherwise, broadening his horizons.  
Known for his strategic approach inside the ring, Dricus understands the importance of having options and opportunities. With mastery over stand-up fighting and ground techniques, he possesses the artistry and balance necessary for the cage. 
Drawing parallels between fighting and trading, he explains, "There are many similarities between what I do to prepare as an athlete and online trading. Both require thorough investigation and preparation, and success is achieved through diligent research and analysis. Furthermore, both endeavors are exhilarating, challenging, and undeniably rewarding."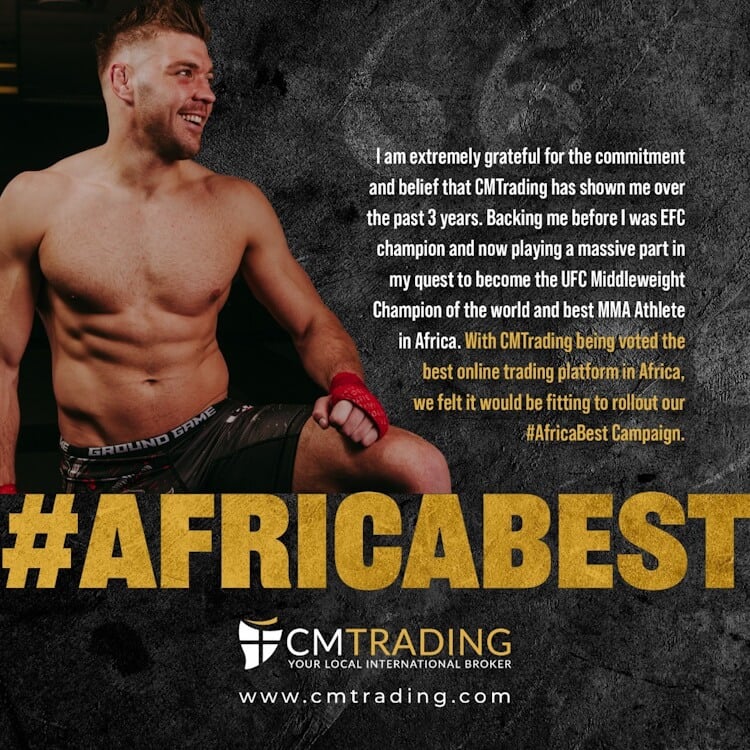 What To Trade: Apple Shares Surge To All-time High   
Top-tier Fighter 
Dricus' journey to becoming a top-tier fighter began at a young age, starting with Judo at the age of five and progressing to kickboxing at 14. By 2013, he turned professional with EFC Africa, and in 2017, he achieved the remarkable feat of becoming a two-division champion in the Welterweight and Middleweight categories. In 2020, he made his highly anticipated UFC debut and has remained undefeated.  
Stay up to date on the latest Forex markets 
The UFC has played a pivotal role in du Plessis' career, earning him the nickname "Stillknocks" due to his knack for choke holds and knockouts. His pursuit of excellence involves a dedicated team of coaches who work with him daily, covering areas such as grappling, boxing, strength training, nutrition, and mental fortitude.  
Ready to start trading? Open an account today        
Join CMTrading, the largest and best-performing broker in Africa, and discover more opportunities with an award-winning broker. Register here to get started            
Follow us on Facebook, Instagram, LinkedIn, Twitter, and YouTube 
Dricus emphasizes the similarities between fighting and trading, stating that anyone who adopts a strategic approach can succeed in the trading "octagon."  
"As I mentioned, investigation and preparation are crucial in fighting and trading. A successful fighter carefully analyzes their opponent's strengths, weaknesses, and fighting style to develop a winning strategy.
Similarly, a prosperous trader thoroughly researches and analyzes financial instruments, market trends, and economic indicators to make informed trading decisions.  
"Both disciplines require studying and understanding the factors influencing outcomes and taking appropriate actions based on that knowledge." 
Preparation is key  
He further highlights the importance of diligent preparation and continuous learning in both fighting and trading. Fighters spend countless hours refining their skills, training with coaches, and studying various techniques. Similarly, traders must continuously educate themselves about market dynamics.
The CMTrading platform offers precisely these insights. 
10 Amazing Ways To Use AI Plugins For Online Trading 
Legacy in Trading 
The mark of a good business is its legacy and in 2022 CMTrading celebrated 10 years of excellence.    
 Since 2012, CMTrading has had a proven track record of excellence, growing to more than 1,000,000 happy subscribers in 2023.    
What better way to celebrate our company's ongoing efforts to provide a world-class trading experience than to be awarded not one, but 10 accolades so far in 2023.   
Some of our awards include 'Best Performing Financial Broker Africa' and 'Best Financial Broker Nigeria'.   
Award-winning broker    
Below is a list of just some of the titles CMTrading has been awarded in 2023:   
Global Business Review Magazine:   
Best Growing Broker Kenya 2023  
Best Performing Financial Broker Africa 2023   
Best Growing Broker Nigeria 2023  
Global Business Magazine:   
Best Financial Broker Nigeria    
Best Partner Program GCC 2023  
Global Business and Finance Magazine Awards:   
Fastest Growing Broker Nigeria 2023   
Best Performing Broker South Africa 2023  
Fastest Growing Financial Broker Middle East 2023  
World Business Stars Magazine Award Winner 2023 United Kingdom:  
Best Broker in Nigeria 2023  
Most Innovative Forex Broker in GCC & Africa 2023 
Conclusion:   
Engaging in online trading, particularly CFD trading, offers individuals in South Africa an exciting opportunity to participate in the global financial markets.   
The accessibility, flexibility, and potential for profits make it an attractive option for both experienced traders and beginners alike.   
However, it's important to remember that trading involves risks, and it requires education, practice, and discipline to succeed.
START WITH AS LITTLE AS $100  
FREE TRADING EDUCATION HELPS YOU TRADE WITH CONFIDENCE  
Multiple Award-winning, licensed and regulated broker 

 

Discover the fundamentals of online trading 

 

Learn top trading strategies 

 

Achieve your financial freedom  

 
Understand trading conditions, trends and charts 

 

Unlock the secrets of technical and fundamental analysis 

 

Proven trading methods used by experts