What To Trade: Apple Shares Surge To All-time High 
Apple Inc. experienced a sharp rise followed by a drop in its stock price on Monday (June 5), reversing earlier gains that had propelled its shares to an all-time high.   
The drop came as investors expressed hesitation regarding the high price of Apple's newly-launched Vision Pro mixed-reality headset.   
CMTrading takes a look at Apple's share price and shares valuable insights for all traders.  
Apple is Up 38% YTD  
Shares of the iPhone maker slipped by 0.8%, closing at $179.58 per share on Monday. Initially, the stock had surged as much as 2.2% to reach a record high at the start of its annual Worldwide Developers Conference.   
However, the rally was short-lived, with the shares gradually erasing gains throughout the afternoon session and eventually plummeting to session lows after Apple announced that the headset would be available early next year at a price tag of $3,499.  
Despite this decline, Apple's stock has seen a remarkable turnaround, having risen by 38% year to date. The company has benefited from investors rotating back into technology stocks. It is quite a recovery for a stock that hit a 19-month low during the first trading days of the year.  
Apple on the rise  
Throughout 2023, Apple's stock has consistently risen, with investors considering it a haven during periods of economic risk or uncertainty due to its strong balance sheet, capital-return program, and reliable revenue streams. The company's recent financial results exceeded expectations, driven by a resurgence in iPhone sales and growth in its Services business.   
Apple's ascent follows the upward trajectory of Nvidia (NVDA) in 2023, which experienced substantial gains driven by optimism surrounding artificial intelligence. Nvidia briefly reached a market value of over $1 trillion.  
Want to learn more about the markets? Check out our latest podcast!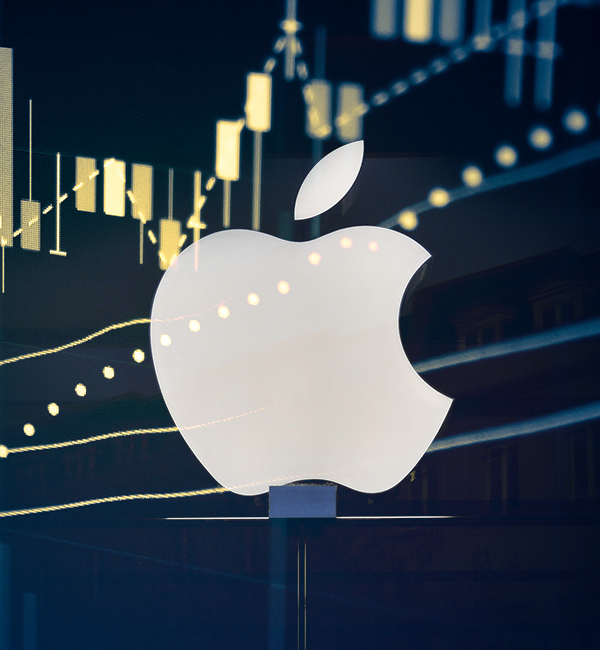 Tech stocks soar  
On June 5, the S&P 500 and Nasdaq remained close to the previous session's highs, driven by Apple's achievement of an all-time peak. Meanwhile, investors were analyzing the possibility of the Federal Reserve pausing its interest rate hikes during the upcoming policy meeting.   
Apple Inc's shares rose by 1.5%, reaching an all-time high ahead of its annual software developer conference. The conference, scheduled for later in the day, is widely anticipated to include an announcement about a new mixed-reality headset.   
In addition to Apple's success, other growth stocks experienced gains as well. Alphabet Inc saw an increase of 1.5%, while Amazon.com Inc added 0.4%.   
The positive momentum in U.S. stocks on Friday was attributed to a report indicating moderated wage growth in May. This development raised hopes that the U.S. central bank might decide to skip a rate hike in the following week. Additionally, investors welcomed a deal in Washington that averted a catastrophic debt default.  
What You Should Trade This Week: Microsoft, Amazon & Meta 
The struggling VR market 
The VR market has been facing challenges, and now Apple is poised to enter this space, which is currently dominated by Meta (formerly known as Facebook). Meta holds an 80% market share in the global AR/VR market with its popular Quest line of headsets, according to IDC. However, Meta is not resting on its laurels as Apple prepares to join the competition. Meta recently introduced its own new AR/VR headset called the Meta Quest 3. 
Expected to be available later this year for $499, the Meta Quest 3 boasts a sleeker and lighter design compared to its predecessor, the Meta Quest 2. It also offers double the graphics performance and introduces a full-color pass-through design, allowing users to see their surroundings through the front-facing camera. This feature opens up exciting possibilities for powerful augmented reality experiences through various applications. 
Nonetheless, there are concerns about the future of the AR/VR market. Questions arise regarding the long-term appeal and practicality of the technology, as well as uncertainties surrounding the growth of the metaverse. Additionally, the AR/VR market experienced a significant decline in 2022, with global shipments dropping 20% year-over-year to 8.8 million units. 
As of Monday, Apple's stock has seen a 46% increase year-to-date, indicating investor optimism and confidence in the company's prospects, including its entry into the AR/VR market. 
 Inflation – Fed to maintain interest rates  
Looking ahead to the release of key inflation data the following week, traders were pricing in a 76% chance that the Fed would opt to maintain interest rates during its policy meeting scheduled for June 13-14. However, they still anticipated another hike in July.   
The benchmark S&P 500 closed at a fresh nine-month high on June 2, while the tech-heavy Nasdaq reached a new one-year peak. These achievements were supported by positive job reports and gains in mega-cap companies that have outperformed the broader market throughout the year.   
According to a survey from the Institute for Supply Management, the U.S. services sector experienced minimal growth in May as new orders slowed. This slowdown led to a three-year low in the measure of prices paid by businesses for inputs, which could aid the Fed in its fight against inflation.   
10 Amazing Ways To Use AI Plugins For Online Trading 
Tech stocks to consider  
Earlier on June 5, the Dow Jones Industrial Average was down 90.45 points, or 0.27%, at 33,672.31. The S&P 500 was down 0.44 points, or 0.01%, at 4,281.93, and the Nasdaq Composite was up 9.44 points, or 0.07%, at 13,250.21.   
Cybersecurity firm Palo Alto Networks Inc climbed 3.4% as it appeared poised to replace Dish Network in the S&P 500 index. Conversely, Dish shares fell by 1.8%.   
Big tech, bigger profits: Trade Apple earnings     
Major US banks experienced declines following a report in the Wall Street Journal, which indicated that US regulators were preparing to tighten rules for large banks. These measures could potentially include raising capital requirements by an average of 20%. Bank of America Corp was down 1.1%, while Citigroup Inc slipped 0.9%.   
On the NYSE, declining issues outnumbered advancers by a ratio of 1.96-to-1, while on the Nasdaq, the ratio was 1.63-to-1.   
The S&P index recorded eight new 52-week highs and one new low, while the Nasdaq recorded 48 new highs and 21 new lows.  
Ready to start trading? Open an account today        
Join CMTrading, the largest and best-performing broker in Africa, and discover more opportunities with an award-winning broker. Register here to get started            
Follow us on Facebook, Instagram, LinkedIn, Twitter, and YouTube