First Bitcoin-linked ETF lists on NYSE: Will the crypto king surpass the $65,000 all-time high? 
The first Bitcoin-linked exchange-traded fund has made its debut on the New York Stock Exchange (NYSE) as the crypto king sits above $64,000. Will Bitcoin continue to soar beyond its all-time high?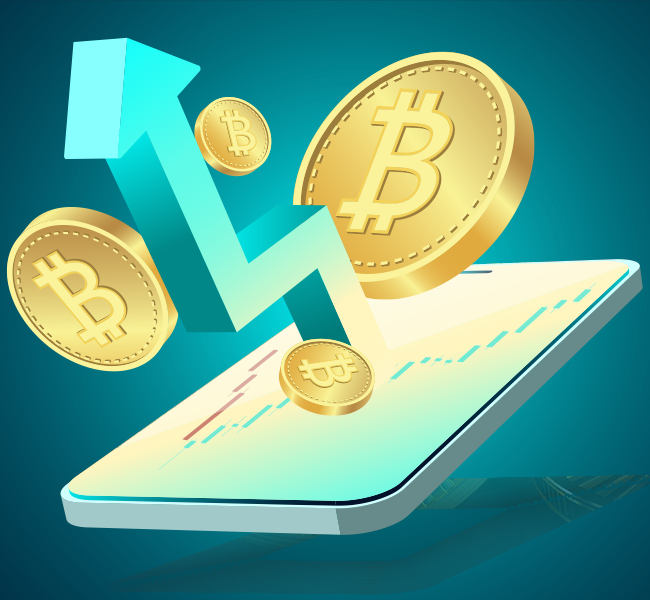 Bitcoin (BTC) traders are having a great month; the world's most popular cryptocurrency sits above the $64,000 mark, tantalizingly close to besting its all-time high of $65,000.   
Many analysts believe it could surpass its all-time high and reach $80 000, as mounting institutional interest sends Bitcoin's price soaring. Another major factor driving its price is the first-ever Bitcoin-linked ETF (Exchange-traded fund) listing on the New York Stock Exchange.  
Today, we look at Bitcoin's performance, the crypto market and share advice for all traders.   
Trading made easy – Sign up today!  
The king of cryptocurrency    
In early September, Bitcoin fell below $50,000 due to a larger sell-off of cryptocurrency, hitting a low of $40,596 on September 21. On October 15, it breached $60,000, and at the time of writing, it's priced at $64,114.45. This equates to a massive 48% increase in October 2021 and reaching a market cap of 1.21 trillion.  
The entire crypto market experienced a boost; Ethereum is trading at $3,856.99 (+1.58%) and XRP at $1.12 (+2.58%).  
Trade Bitcoin in South Africa – Sign up today   
Bitcoin's recent surge pushes its value to more than $1 trillion (more than Facebook's market cap), with the total market cap of crypto reaching $2.3 trillion, matching that of Apple, one of the world's most valuable stocks.  
Investing in crypto altcoins: Is safemoon a good buy? 
NYSE listing  
The Proshares Bitcoin Strategy ETF (BITO) was launched on the NYSE in October 2021. It's the first-ever BTC-related fund available to US traders and provides a new way to access BTC via brokerage accounts. BITO rose as much as 5.4% to $42.15 and within 20 minutes into its trading premiere about 6.4 million shares ($264 million) were traded. 
BITO's debut proved to be the second-largest for an ETF; BITO rose as much as 5.4% to $42.15 and within 20 minutes into its trading premiere about 6.4 million shares ($264 million) were traded. 
The ETF however will not have the same inherent volatility and price fluctuations as the digital coin market.  
The US Securities and Exchange Commission (SEC) approved the new ETF as futures-based, meaning they are based on the underlying BTC price. Traders should be aware that it is more complex and expensive to own than holding Bitcoin tokens.  
Could Bitcoin reach $80,000? 
BTC has exploded in value in 2021 and could peak at $80,021 in 2021, according to Bitcoin Price Predictions Report. The prediction is 8% higher than the report's July 2021 end-of-year prediction, and 37% higher than its report in December 2020.  
Many analysts believe BTC could eventually reach $100,000 and higher.  
Red Flag – volatility  
While the bitcoin price has risen immensely in the last year, its high volatility is both its biggest strength and weakness.  
In May 2021, after the bitcoin price rose to a record $65,000, the market went into freefall with the world's most popular crypto losing half its value in a matter of days.  
 Best way to trade Bitcoin online   
Crypto surges in popularity    
From altcoins to thousands of new traders, the cryptocurrency market has gained in popularity in 2021, with many new coins launched this year.  
One reason for this is the major steps the crypto market has made towards legitimacy in 2021. Some of the world's biggest companies are adopting crypto for transactions and even the Central American nation of El Salvador is using Bitcoin as legal tender.  
Want to take advantage of crypto? Trade the easy way   
South Africa's Safcoin crypto is listed on HotBit, one of the world's major cryptocurrency trading platforms.  
In August 2021, payment giant PayPal introduced its cryptocurrency service in the UK, a year after launching a similar service in the US back in 2020. Major institutions, including banks and investment firms, are increasingly supporting the use of cryptocurrency and blockchain tech, adding much-needed legitimacy to the market.  
Should you invest in crypto?  
In short, there has never been a better time to buy crypto. The profit potential is staggering, and its growth has attracted many mainstream retail and institutional investors.  
It should be noted however that crypto, such as Bitcoin, is one of the most volatile assets in the financial markets. As its performance in 2021 has shown, it can just as easily hit $64,000 in days as it could tumble back to $30,000.  
Fortunately, trading Bitcoin with a licensed broker, such as CMTrading, offers a wide range of unique advantages to both trading beginners and experienced investors.  
For example, one of the benefits offered to CMTrading clients is access to powerful leverage, allowing for high returns, even with a small first investment.  
Discover more opportunities with an award-winning broker. Join CMTrading, the largest and best-performing broker in Africa.  
Follow CMTrading on Facebook, Twitter, Instagram, LinkedIn, and YouTube.