White House releases major plan to regulate crypto
The global cryptocurrency market peaked at $2.9 trillion in November 2021, but it has cratered to below $1 trillion in 2022.  
Even the king of cryptocurrencies, Bitcoin, crashed from a high of $65 000 to a new low of below $18 000 by September 2022.  
There's good news however on the horizon for crypto traders – the market will soon be governed by regulation, at least in the USA.  
In this article, we examine the US White House proposal for crypto regulation and share valuable advice for traders.  
Don't miss out – Get Daily Trading Signals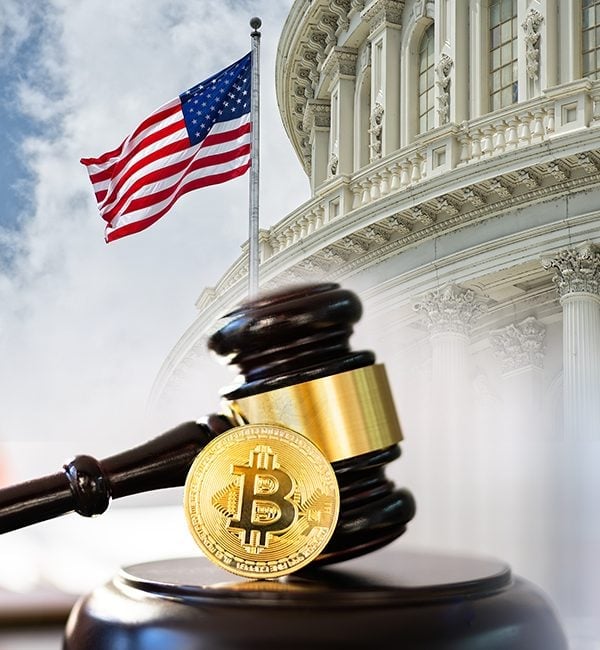 Crypto
 –
Digital asset enforcement
US government agencies must focus on digital asset sector enforcement and cryptocurrency regulation reports from the US Biden administration. The White House said there's huge potential for misuse and harm as cryptocurrencies play an ever-growing role in global finance.  
The Treasury Department will also lead a group of government agencies that will consider a central bank digital currency. Whether this will be the US dollar remains to be seen.  
Become a better trader – Join our webinars 
In September, the White House announced that federal agencies have come up with six principal directions for crypto regulation in the USA.   
There are nine separate reports, which have been submitted to the US president to "articulate a clear framework for responsible digital asset development and pave the way for further action at home and abroad," reports the White House.  
The fact sheet consists of 7 sections for crypto regulation:
1 Protecting Consumers, Investors, and Businesses 
2 Promoting Access to Safe, Affordable Financial Services   
3 Fostering Financial Stability   
4 Advancing Responsible Innovation  
5 Reinforcing Our Global Financial Leadership and Competitiveness 
6 Fighting Illicit Finance  
7 Exploring a US Central Bank Digital Currency (CBDC) 
Most intriguing is the possibility of a US digital currency, an asset many other countries such as China are investing in.    
Crypto
 –
Oversight needed  
The US Justice Department also said it was creating a Digital Asset Coordinator to investigate and prosecute digital asset crimes as part of its efforts "to combat the growing threat posed by the illicit use of digital assets," reports the White House.    
Cryptocurrencies have plunged below $1 trillion and have struggled to regain their losses. Many traders are loath to invest in risky assets such as crypto due to rising interest rates.  
What you need to know about crypto trading in 2022  
Fred Razak, CMTrading's Senior Trading Specialist, shares valuable trading advice for crypto traders:  
Question: What does it mean for the US to implement crypto regulation?  
Razak said: "Overall, it means we're not going to be seeing these crazy fluctuations as we have in the past. It means the US is going to be an overseer in crypto, controlling the flow of supply and demand as they do with global currencies.
Currently, there's no regulation, no overwatch of the crypto-verse. In the long run, regulation is good as long it doesn't stop businesses and traders from conducting trades.   
"Right now, cryptocurrencies are all over the place. There's no rhyme or reason as to why they rise or fall. People often ask me why I don't invest in crypto, and the reason is simple – there's no valuation to it besides somebody's willingness to bid and ask for it. It's not tied to any tangible asset.
It's only a matter of time until they regulate crypto and when they do, I think the market is not going to be as volatile as we've seen it. This is all part of having a stable currency.
I think currently the market is appreciating what they are for what they are – an unregulated, risky asset."  
Q: What are some of the dangers of trading cryptocurrencies?   
Razak said: "There's no value behind it. I mean, it's an arbitrary value. The financial markets have historically been tied to the value of gold, and as long as gold held the value of the currency of a specific country, its creditworthiness held value.
As we were no longer tied to the gold standard, you have to ask what's a country's value besides its currency. So, the currency is the support of the country. It's a circular kind of thing.   
"Cryptocurrencies don't have a backing. There's nothing of it that intrinsically has value. Gold at least has value, there's a price per ounce attached. But as a value for what cryptocurrencies are, it's all very arbitrary. We've seen staggering profits made in the crypto-verse but we've also seen tremendous loss.
So I think it's a deeper lesson as to what the true value of the currency is and if it doesn't have any intrinsic value then how can it be traded?
I think a healthy amount of deregulation is necessary for any system to truly flourish but you can't have a system without any rules or oversight. I mean, you can live on a currency that fluctuates by $50,000 a day.
You can't live like that. So I think that's more the issue than anything else. Is to keep it balanced and to keep and not fluctuating all over the place.   
Q: Why has the crypto market crashed in 2022?   
Razak said: "All markets have crashed this year not just crypto. It's a knock-on effect. We're looking at the general market crash together with Bitcoin. I don't see any difference there. Crypto is just a part of the larger financial market. There was more exchange in cryptocurrencies during the 2020 pandemic.
This has however diminished since then. The general market sold off and not remaining strong is a deterrent for risky assets such as crypto.   
Q: How far are we from Bitcoin going mainstream?   
Razak: "That's the million-dollar question everyone wants to know the answer to. I think we're if we don't have some kind of value system for the cryptocurrency market, it won't go mainstream. It's out there right now with banks, countries, and people using it to transact.
We're still a long way from crypto being mainstream but now it's not a matter of decades but rather years away." 
Want expert trading tips?  
CMTrading offers all the latest trading tips, news, and information in real-time. Simply sign-up for an account and access your trading dashboard. What's more, it's completely FREE!  
 Gain access to the following powerful features:  
Trending stocks 

 

Analyst ratings 

 

Insider activity 

 

TipRanks smart score 

 
What's more, it's completely FREE!  
Ready to start trading? Open an account today        
Join CMTrading, the largest and best-performing broker in Africa, and discover more opportunities with an award-winning broker. Register here to get started            
Follow us on Facebook, Instagram, LinkedIn, Twitter, and YouTube