Recession fears fuel oil price drop
Oil market bearish 

 

Prices reflect fears of a slowdown in China, the USA, and Europe. 

 

OPEC remains upbeat on global economic growth 

 

The volatile oil market is good for traders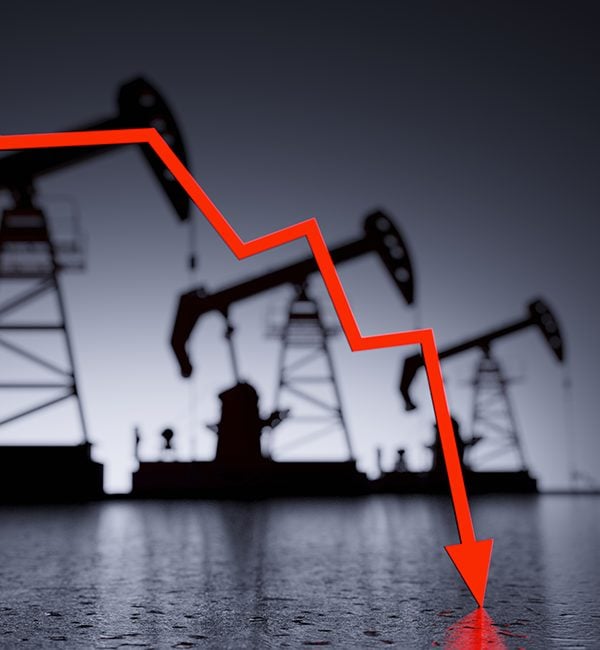 The start of 2022 saw the price of oil surge beyond $120 a barrel, delivering oil companies their biggest profits in years.  
By September 2022, however, fortunes have changed, and the oil price is facing a three-week decline.  
Become a better trader – Join our webinars 
Down $30 a barrel  
Oil prices have declined by about $30 a barrel since a peak in early June. The decline reflects the US Federal Reserve and major central banks implementing aggressive interest rate hikes to combat high inflation.   
The tightening monetary policy will slow economic growth and it's expected that the US and Britain will enter a recession. All this translates to lower demand for global oil demand growth.   
Growth despite recession fears  
Interestingly, OPEC and the International Energy Agency (IEA), expect growth in global oil demand for the remainder of 2022 and beyond. OPEC has even said that demand could outpace pre-COVID levels in 2023.  
Don't miss out – Get Daily Trading Signals        
This is at odds with the current oil market experiencing bearish signals; Prices reflect fears of an economic slowdown in China, and a recession in Europe and the USA.   
Despite superb employment figures, the US is experiencing the dual problem of runaway inflation and high-interest rates. If it continues this path, an economic slowdown will lead to a recession.   
The EU and the UK are expected to enter recession later this year, reports Fitch Ratings. Global economic growth is now expected at just 1.7% in 2023, a drop of 1%.   
 OPEC still upbeat  
OPEC remains upbeat on global economic growth, stating that demand for trade will continue. The organisation said that growth is set to remain at 3.1% in 2022 and another 3.1% next year, reports OPEC.   
 The organisation believes that a healthy demand will remain despite market fears of recession.   
 The IEA, however, cut its global oil demand growth estimate by 110,000 bpd to 2 million bpd for 2022.   
 Oil supply in the short term will be uncertain as demand remains volatile.   
Traders can cash in on volatility  
Volatility might be bad for oil analysts but it's a trader's best friend; volatility creates opportunity. A change in the outlook for oil futures could create the same huge upswings we've seen at the start of 2022.  
So, take advantage of the volatile oil industry today!   
Want expert trading tips?  
CMTrading offers all the latest trading tips, news, and information in real-time. Simply sign-up for an account and access your trading dashboard. What's more, it's completely FREE!  
 Gain access to the following powerful features:  
Trending stocks 

 

Analyst ratings 

 

Insider activity 

 
What's more, it's completely FREE!  
Ready to start trading? Open an account today        
Join CMTrading, the largest and best-performing broker in Africa, and discover more opportunities with an award-winning broker. Register here to get started            
Follow us on Facebook, Instagram, LinkedIn, Twitter, and YouTube    
CMTrading is a regulated South African online trading broker that offers a diverse range of financial products and services. It specializes in granting access to trading in various markets, including forex, commodities, indices, and cryptocurrencies. CMTrading aims to provide a user-friendly trading experience by offering both beginner-friendly features and advanced trading tools for experienced traders. With a focus on customer support and education, CMTrading provides resources such as webinars, tutorials, and personalized assistance to help traders make informed decisions.
FREE TRADING EDUCATION HELPS YOU TRADE WITH CONFIDENCE  
Multiple Award-winning, licensed and regulated broker  

Discover the fundamentals of online trading  

Learn top trading strategies  

Achieve your financial freedom   

Understand trading conditions, trends and charts  

Unlock the secrets of technical and fundamental analysis  

Proven trading methods used by experts