Commodity Focus: Oil price weakens, energy costs surge 
Crude prices, a key catalyst for the Gulf's financial markets, dropped on worries that aggressive interest rate hikes from global policymakers would slow economies and dent demand, while renewed coronavirus restrictions in China also added pressure.  
China's factory activity contracted for the first time in three months in August amid weakening demand, a private sector survey showed.  
Oil traders have seen record-high prices during the first six months of 2022. This was due to Russia's invasion of Ukraine and subsequent global sanctions against the aggressor.  
Become a better trader – Join our webinars    
Despite being above $95 per barrel through August, oil prices have dipped considerably as we enter September 2022.  
Meanwhile, EU consumers are being hammered by high energy bills due to a shortage of gas.  
Today, we take a look at the oil market and share valuable insights for all commodity traders.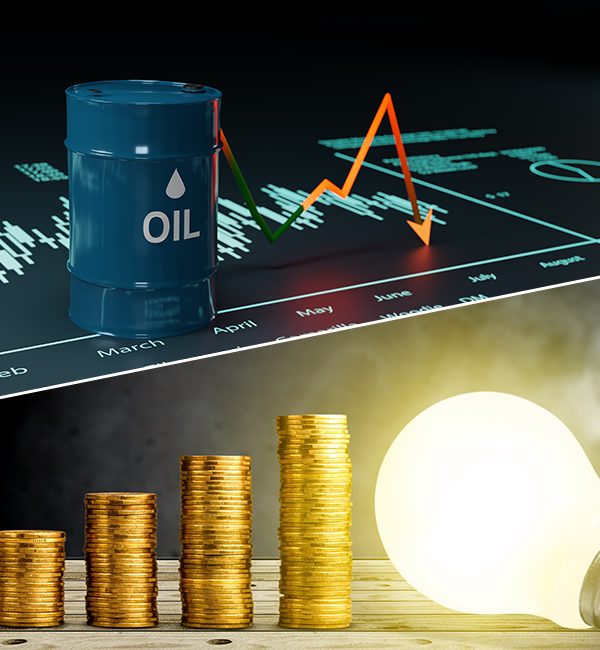 Oil prices dip in September  
Oil prices dropped on September 1, and aggressive interest rate hikes from global policymakers curbed investor enthusiasm. Rampant inflation has forced many governments and firms such as the US Federal Reserve to raise rates. This unfortunately has slowed economies and hurt fuel demand.   
Renewed restrictions to curb resurgent COVID-19 in China have also dented oil demand.  
Brent crude futures fell to $94.84 a barrel while US West Texas Intermediate (WTI) crude futures dipped to $88.70 a barrel.  
  CMTrading Daily Market Review August 31, 2022 
Weakening fuel demand is being pushed by aggressive rate hikes in the US and European central banks. This has led to concerns over tight global supply.  
Don't miss out – Get Daily Trading Signals            
Oil market volatility  
The oil market volatility has seen major oil companies raking in record profits. ARAMCO briefly became the world's most valuable company before being usurped by tech giant Apple. The inadequate supply of oil has been a constant issue following Russia's ongoing invasion of Ukraine.   
Interestingly, production in both the Organization of the Petroleum Exporting Countries (OPEC) and the USA has risen to its highest level since 2020.  
OPEC's output reached 29.6 million barrels per day (bpd), while US output rose to 11.82 million bpd in June.   
Unfortunately, this leaves a minor surplus which will soon turn into a deficit as OPEC and its partners – known as OPEC+ – struggle to produce fuel.  
US crude stocks dropped by 3.3 million barrels, reports the US Energy Information Administration. The administration, dealing with record high petrol/gasoline prices, reports that gasoline stocks are down by The Group of Seven (G7), the club of wealthy nations, is set to discuss the US administration's proposed price cap on Russian oil on September 2.  
Oil deficit in 2023  
The OPEC+ Joint Technical Committee (JTC) revealed its outlook for oil production for the next quarter. In a report on September 1, the JTC expects an oil market deficit of 300,000 barrels per day (bpd) in 2023.  
The JTC said it expects demand to lag supply by 400,000 bpd in 2022. This is due to the ever-increasing global demand for oil and fuel in a post-COVID world.  
The organisation warned that unless the situation drastically changes, it predicts a deficit of 1.8 million bpd in the fourth quarter of 2023. This is of particular interest to traders who can expect higher prices of oil in the months to come.  
The reason for the shortfall? Many OPEC and OPEC+ nations cannot currently raise fuel production to fill in the gaps left by sanctions on Iran, Venezuela and Russia.   
The committee said the oil market would be volatile for the remainder of 2022 and that commercial oil stocks will remain below the five-year average for the remainder of 2022 to 2023.  
Gulf stocks drop  
The majority of GCC markets were subdued by dipping oil prices and fears of China's new COVID-19 restrictions.  
 Saudi Arabia's benchmark index (.TASI) dropped 0.5%, hit by a 1.6% decline in Dr. Sulaiman Al-Habib Medical Services (4013.SE) and a 0.4% decrease in Al Rajhi Bank (1120.SE).  
The Qatari index (.QSI) dropped 1%; most QSI stocks were in negative territory on September 1, including Qatar Islamic Bank (QISB.QA), which was reportedly down 2.2%.  
In Abu Dhabi, the index (.FTFADGI) dropped 0.3%, with the United Arab Emirates' biggest lender First Abu Dhabi Bank (FAB.AD) losing 0.4%.  
One bright spot in the GCC markets was the announcement by QatarEnergy set to build the world's largest "blue" ammonia factory. The plant is expected to come online by 2026 and contribute significantly to energy production.  
China struggling with COVID  
Since the start of 2022, China has been plagued by fresh COVID-19 flare-ups disrupting its economy. China's factory activity contracted for the first time in three months in August due to COVID-19 disruptions and power shortages.   
The volatility in China has caused havoc with trade and production in Asia throughout 2022, with no signs of easing.  
The Chinese government has tightened COVID-19 restrictions as cases continue to increase in the country as we head into the final few months of 2022.  
Energy price cap  
The European Commission is seeking to cap energy prices and reduce energy demands as it struggles to tackle soaring energy costs across the region.  
Since March, Russia has reduced gas deliveries to Europe. This led to record-high gas prices and left many countries seeking new energy sources amid soaring consumer bills.  
The EU is set to host an emergency session with member countries' energy ministers on September 9. The European Commission will reveal its energy strategy on September 14  
The overall focus will be on curbing the surge in energy prices that is damaging the European economy. The commission is also bracing for the Northern Hemisphere Winter which historically sees higher energy demand.  
Italy, Belgium, and the Czech Republic are among some of the EU members calling for a gas price cap.   
The energy crisis has also led to the Commission analysing the current EU electricity market. Many traders and investors will be eager to see what possible reforms would be and long-term plans to end reliance on Russian-produced gas and fuel. 
Want expert trading tips?  
CMTrading offers all the latest trading tips, news, and information in real-time. Simply sign-up for an account and access your trading dashboard. What's more, it's completely FREE!  
 Gain access to the following powerful features:  
Trending stocks 

 

Analyst ratings 

 

Insider activity 

 

TipRanks smart score 

 
What's more, it's completely FREE!  
Ready to start trading? Open an account today        
Join CMTrading, the largest and best-performing broker in Africa, and discover more opportunities with an award-winning broker. Register here to get started            
Follow CMTrading on Facebook, Instagram, LinkedIn, Twitter, and YouTube