Walmart's African expansion: $377m Massmart buyout 
US retail giant, Walmart (WMT.N) has made a $377.6 million (6.4 billion Rand) offer to purchase the remaining 47% of South African retailer Massmart (MSMJ.J).   
Shares of Massmart surged 46% after the ailing company announced news of the offer on August 29.   
Today, we take a look at Walmart's shares and find out what experts have to say about this popular retail stock.  
Become a better trader – Join our webinars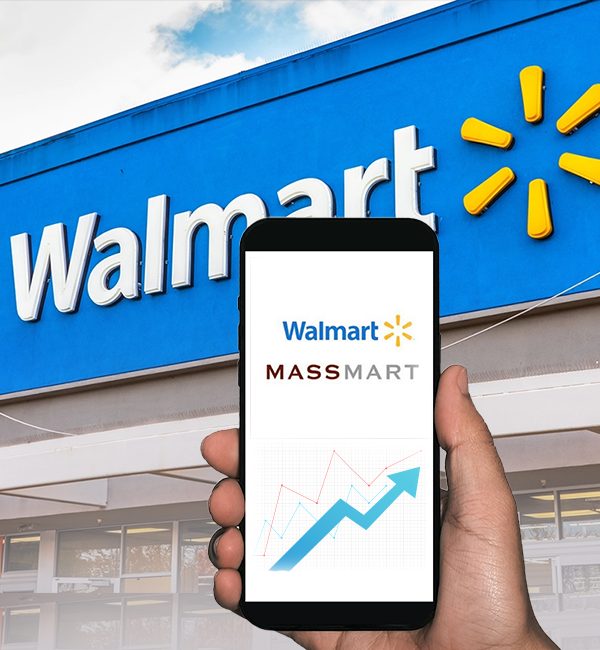 Growth in Africa   
Walmart, the world's biggest retailer, previously acquired a 51% stake in Massmart in 2010 for $2.3 billion. The investment in South Africa formed part of its ongoing African expansion.  
Walmart has offered R62 for each outstanding Massmart share. Massmart said that if the deal is approved it would de-list the company.  
Despite its significant resources the company has struggled to compete with local retailers such as South Africa's Shoprite (SHPJ.J), the country's number one retailer, and Woolworths (WHLJ.J).   
This has curtailed plans for further expansion into Africa. At least until now. The acquisition of Massmart could be just the launchpad Walmart needs to grab a larger share of the South African retail market.  
Going forward it will be interesting to see how Walmart fares once conditions (high inflation and unstable economy) begin to normalize by 2023. Demand for instore goods is rising and Amazon is losing out on. 
Is it a buy?  
The consensus among industry experts is that Walmart is a "Buy"; this is based on 28 analysts offering 12-month price targets for WMART in the last 3 months.  

The average price target is $151.61 with a high forecast of $170.00 and a low of $110.00. The average price target represents a 13.91% increase from the last price of $133.10.  

However, sentiment is "neutral" heading towards "bullish" as Walmart is reeling from supply issues and inflation curbing consumer spending in the USA.  
Latest market news and reviews  
Is trading Walmart worth it?  
Fred Razak, CMTrading senior trading specialist, answers all your trading questions and more below:  
Q: Advice for traders on Walmart?  
Razak said: "Walmart is competing against Amazon in the retail space. Amazon doesn't have any retail stores. Their entire presence is always online. So anytime they set something up internationally, such as in South Africa, they purchase a warehouse set up online. There is something still said about feeling and seeing products up close. Walking into a store and purchasing goods is still the norm and that's still a gap that Walmart has a niche in.   
"Amazon sells millions of books every month yet they still sell the Kindle. There's something about feeling a book in your hands that people love, I can't bring myself to buy Kindle because I need something physical to read. There's a consumer behaviour of many people who still want to walk and browse stores. Walmart fulfills this need. Now, for them to stay competitive against Amazon, they have to expand into new markets." 
Q: What makes Walmart's acquisition so important (i.e African expansion)?    
Razak: "Any business who's thinking forward in the next 20-30 years, even the last ten years is thinking about Africa. It has one of the largest population growths in the world. It's developing countries that are the third world, however, there's tremendous potential there. So it goes without saying that purchasing a huge local South African retailer such as Massmart was too good an opportunity to pass.  
Q: So how did Walmart perform post-COVID?   
Razak: "Walmart has like I said, a very interesting niche. They have a bit of a cult following; they have a high return rate from their customers makes sense because they offer everything. They also have an online presence now but it's not even close to being as strong as Amazon. During the COVID-19 era, they were forced to close many stores whereas Amazon thrived online. In 2022, things are different as people are returning to physical stores.   
Q: E-Commerce is still in its infancy globally – why is that?  
Razak: "Globally speaking, yes, e-commerce is still in its infancy. I think that many consumers haven't made that leap yet. I mean, if trading the financial markets is about 20 years behind for people in South Africa and Africa, then online consumer spending is even further behind. I mean 20 years ago, not many people were buying things online regularly even though the infrastructure existed.  
So I think that there's still an aversion, a lack of trust for many when it comes to buying goods online. I think that e-commerce has a long way to go to win over new customers. Certainly with lockdowns from 2020 to 2022 many new customers turned to digital shopping for their needs. Overall, I think that it's still an area where retailers can grow and improve.  
Q: Advice for traders on Walmart?   
Razak said: "So Walmart is a cyclical kind of stock. It's not a high-flying stock that sees high volatility regularly. It's a stock that trades based on seasonal changes. When the pandemic started it was trading ridiculously with tremendous volatility, but it's not a high-volatility stock. This means there's a certain amount of regularity based on consumer purchasing habits. You would treat it as any other retail stock. Just be cautious of it. It could turn against you but usually, there are not a lot of surprises. It's a stock to trade between 3:30 pm to 10:00 pm South African time. Watch inflation data and their earnings data to stay informed."  
Want expert trading tips?   
CMTrading offers all the latest trading tips, news, and information in real time. Simply sign-up for an account and access your trading dashboard. What's more, it's completely FREE!   
 Gain access to the following powerful features:   
Trending stocks  

 

Analyst ratings  

 

Insider activity  

 
What's more, it's completely FREE!   
Ready to start trading? Open an account today         
Join CMTrading, the largest and best-performing broker in Africa, and discover more opportunities with an award-winning broker. Register here to get started             
Follow CMTrading on Facebook, Instagram, LinkedIn, Twitter, and YouTube