Tesla huge 3-for-1 stock split to rock markets
Tesla will start trading on a split-adjusted basis on August 25. Earlier in August, shareholders approved a 3-for-1 split of the world's most valuable electric vehicle company.   
It will be the second time Elon Musk's company has split its stock in recent years.  
 The move makes shares of one of the world's most valuable companies accessible to more retail traders.   
Become a better trader – Join our webinars   
Today, we look at Tesla's performance, and other major stock splits in the market and share valuable trading insights. What's more, we share how stock splits work and how you can benefit from them at the end of this article!  
Tesla more accessible to traders   
Shares of Tesla climbed ahead of the company's latest stock split; TSLA rose as much as 2.5% and ended up 0.22% as of market close on August 24.  
Since its last stock split in August 2020 (a 5-for-1 split), Tesla shares have reported returns of more than 80%. This is huge when compared to the below 20% returns for the major S&P 500 index.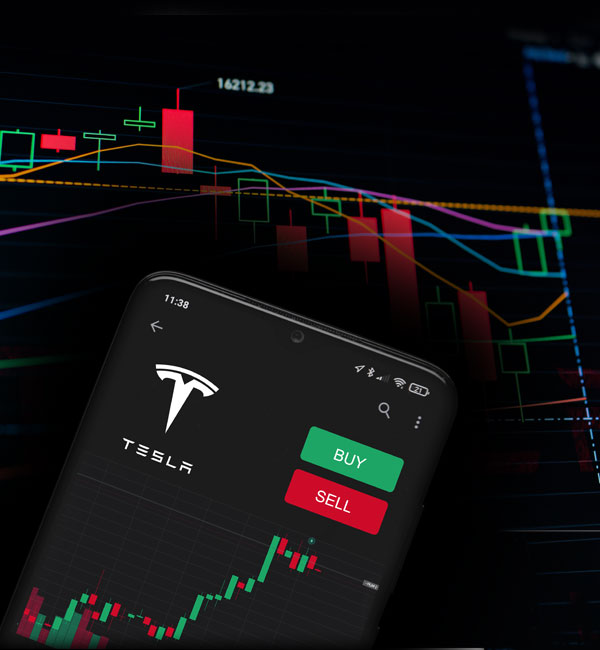 What does this mean for traders?  
 The move won't change the company's valuation but generally, stock splits are a positive sign for a company. The resulting lower price per share will potentially attract many new traders. Although its shares are down about 15% year-to-date, the company remains optimistic about its future.  
Fred Razak, CMTrading senior trading specialist, said: "I think the split is indicative of the times we're in. Many corporations are looking for individual investors to invest in their stock because they've pretty much exhausted some of their institutional investing clients.  
Don't miss out – Get Daily Trading Signals           
"Google, Amazon, and Apple have all made stock splits – it's just a sign of the markets right now. This could be looked at as both positive and negative. If a corporation is looking to generate more investors and they do this by splitting their stocks, you need to view whether the markets are healthy. When the markets are great, it's not such a big deal, you wouldn't want to split your stock. When the markets are difficult you'll see companies do this.   
"Overall, I think it's a sign of the times, not just indicative to Tesla, but just a result of the turbulent markets in general."  
Is Tesla a buy?  
The lower price point of Tesla is certainly attractive for new traders but what do the experts think? CMTrading provides all our clients with expert insights and analysis from the world's top traders and financial institutions.  
Here's what the experts say: BUY  
The average price target is $897.89 with a high forecast of $1,580 and a low of $250. The average price target represents a 0.87% increase from the last price of $890.11.    
The data is based on 29 analysts offering 12-month price targets for TSLA in the last 3 months.  
Bearish or bullish sentiment?  
Overall, despite healthy returns for the past two years, Tesla has been embroiled in several controversies. The most recent of which is Musk's botched attempt to buy Twitter which has now resulted in a lawsuit. Another controversy is a pending lawsuit due to "racial bias" in the USA. This has resulted in a neutral sentiment from analysts.  
Tesla announced that it will increase vehicle production at an annual rate of about 50% for the next several years. This is due to two new factories in Austin, Texas, and Berlin. At Tesla's annual shareholder meeting, CEO Musk said that a total of 10 to 12 factories could enable the company to produce 20 million electric cars annually.  
It's important to note that the stock is up more than 2000% in the last three years. That's a staggering amount of growth few companies can rival.  
 "Telsa headed in a really good direction" 
Razak said: "What do I think of Tesla as a company? I think overall it's going in a really good direction. It's what the MP3 player is to a tape reporter to the Walkman; It's not a new product but it does give a new direction for future mobility. The electric car has given us a completely different perspective. I mean, we won't have to go to the fuel station anymore. There are not as many checkups and services to be done.   
"It's still a car and has a battery and a computer. So I think that that's a major shift in the world that we're headed towards. I think that Tesla as a whole has a tremendous vision for the future. They realize that they must be one step ahead of the curve compared to all the potential competitors that are popping up.
Even Apple is building an EV, so it's kind of getting interesting as to which way Tesla is headed. Client loyalty will be key once all manufacturers start pumping out electric cars."    
Top trading questions answered:    
Q: What is a stock split? How does it work?  
Razak said: "Before we discuss what is a stock split, let's discuss what's a stock. A stock is a representation of ownership of a particular company. So what companies do is that they issue stock of their company, which means you can buy a piece of the company. The share price is indicative of how many shares there are available in the market relative to the market value of the company.   
"So for example, you have a company that's worth a billion dollars, they issue let's say a million shares. Ultimately, those million shares do not necessarily reflect the actual worth of the company but possibly a proportion of the company.
So for example, in the case of let's say, Tesla, it was worth $1 trillion. Inside ownership of it, such as Elon Musk and all the investors who have a piece, the actual company may hold only 60% of the company. The remaining 40%, they sell off to the public as shares.   
"Now a stock split just means that they are issuing more stocks. So let's say for example, there were one million stocks available to the public to buy. You multiply that by the price of the stock and that's pretty much the worth of the company. If I wanted to buy the entire company and the company issued a million shares and I own a million shares of the company, at $1, I put $1,000,000 and I bought all the shares I now own the company.
Now let's say I want to issue more shares because the stock price has gotten too expensive. Maybe my company shares are at $100 to $1000 – the average trader might not have that kind of money. So what the company will do is they will split the stock.   
"Let's say the stock is worth $100 and will be split in two, the worth will now be $50.00 each. Before they had one share of $100, but now it becomes that they have, two shares of $50, it's still the same price, but you have more shares in the company. With a price of $50 down from $100, more people can buy shares in a company."  
Q: Google, Amazon, Tesla, and Apple have initiated stock splits in recent years – what is the reason for this?   
Razak said: "I believe that cash is becoming king in the markets today.  think the stock markets have lost some of their ability to attract long-term individual investors. A lot of investors have gravitated towards real estate.   
"I remember seeing this in 2002 where the money disappeared; when the markets busted after the Internet bubble, the money was taken out of the financial markets and put into real estate. The real estate markets appreciated very quickly. I think that that's the same thing that's happening in the US right now. The stock markets are losing investor focus from the markets to real estate and other alternative markets such as commodities.   
"So they're trying to lure back investors. When you have such an expensive stock such as Tesla, where it's about $1000, it because unobtainable for new traders. So to make it more affordable, these companies such as Amazon, Tesla, and Apple make it more affordable for the average trade.
So I think that the major corporations are trying to lure in traders because they've pretty much tapped out their institutional investors.   
Q: Advice for traders in the tech market?   
Razak said: "We're in the interim of a bull to bear market when it comes to high tech. I believe there's still some market correction on the way down. I'm not sure if it's going to be systemic across the tech sector as to how much selling pressure is coming on them.  
"So that's something to consider in the next months ahead. Tech stocks are not going anywhere. The question is how are they going to act in this recessionary environment that we're currently in? Facebook is going to stick around but it's looking for alternative means of revenue.
The ability to adapt and seek out new revenue streams will be key for these tech stocks. 
Want expert trading tips? 
CMTrading offers all the latest trading tips, news, and information in real-time. Simply sign-up for an account and access your trading dashboard. What's more, it's completely FREE!  
 Gain access to the following powerful features:  
Trending stocks 

 

Analyst ratings 

 

Insider activity 

 

TipRanks smart score 

 
What's more, it's completely FREE!  
Ready to start trading? Open an account today        
Join CMTrading, the largest and best-performing broker in Africa, and discover more opportunities with an award-winning broker. Register here to get started            
Follow CMTrading on Facebook, Instagram, LinkedIn, Twitter, and YouTube