The biggest market stories of 2022
Bitcoin's $300 billion crash, high inflation, record-high oil prices… 2022 has been a volatile year in the markets.  
While consumers battled the double punch of high inflation and high-interest rates, traders have been fortunate to take advantage of such a volatile year.  
From interest rate hikes to a bizarre crypto heist, here are some of the top stories throughout the year.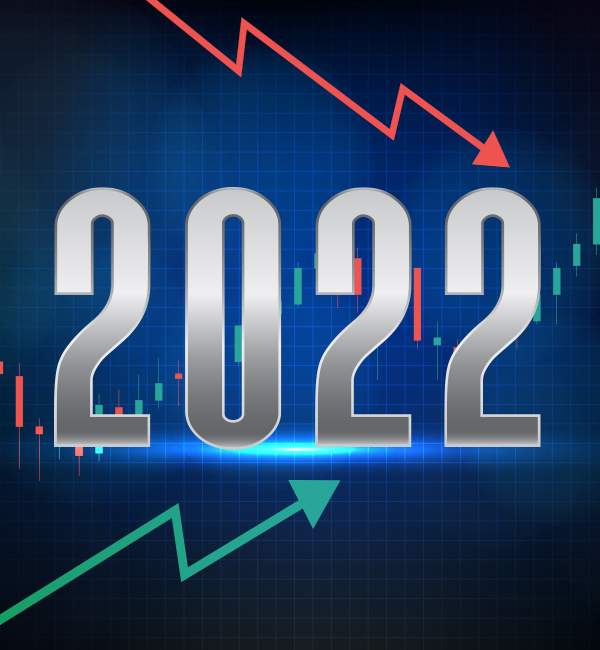 January  
Crypto crash wipes $300 billion from market 
Bitcoin suffered a disastrous start to 2022; the price of the crypto king fell to a three-month low on January 10 as part of a broad cryptocurrency sell-off.  
The US Federal Reserve sparked the crypto crash as it stated it may move quicker than expected to reverse policies meant to bolster the US economy during the ongoing pandemic.  
Bitcoin fell below $40,000 for the first time since September 2021; it then dropped by as much as 5% to $39,692 on January 10. By December 12, 2022, Bitcoin has not recovered to above $20,000. 
February 
Ukraine crisis: Oil hits $100, markets tumble  
Oil prices rose above $100 a barrel on February 24, the highest level in more than seven years, as fears of Russia's invasion of Ukraine rocked the financial markets. 
Oil prices rose above $100 a barrel and global stock markets tumbled after reports of widespread military action by Russia against Ukraine, heightening fears of a major war in Europe. 
Brent crude futures were trading at $100.01 (+8.59%) while WTI crude was trading at $105.29 (+8.73%) a barrel. 
By December 2022, supply concerns and sanctions against Russia have maintained volatility in the oil market. 
March 
'We're in for a rollercoaster ride' – Here's how to trade during global conflict  
Global markets continued to be rattled by Russia's ongoing invasion of Ukraine in March 2022. Russia has been hard hit by global sanctions with the country's currency, the Rouble, being devastated and high inflation has seen its financial institutions crash.  
Global markets have continued to watch the situation in Ukraine with great interest.  
Fred Razak, senior trading specialist at CMTrading, helps us make sense of market volatility and shares advice on how to trade during global conflict. 
April  
Stalling to takeoff: Global airline's slow return to the skies  
The COVID-19 pandemic devastated the travel industry with many airlines grounded for years. In 2020, airline industry revenues totalled $328 billion, about 40% of 2019's earnings.  
With dwindling COVID-19 numbers, effective vaccines, and lockdown lifted, there's hope that many will take to the skies again.  
Unfortunately, high fares are becoming the norm; airfares in the US are up more than 13% compared to 2021, reports the US Consumer Price Index. 
Here's how to trade the airline sector 
May 
BP's profits soar as oil companies rake in billions  
The global economy is still reeling from the ongoing conflict in Eastern Europe. As Russia's invasion of Ukraine persists, many countries are reporting escalating fuel prices curbing economic growth.  
One sector, however, is thriving – oil companies are reporting record profits in Q1 2022.  
In May, we looked at Big Oil, the companies that were thriving, and what the future holds for the oil industry.  
June 
Equity market boom generates trillions in company deals  
The global economy may be headed for recession but one sector that has seen incredible growth is the private equity market. Since the advent of the pandemic in 2020, the equity market has proven resilient and attracted many new investors.  
Earlier in June 2022, we reported on the world's richest families pouring their wealth into the equity market. We examined the equity sector and shared valuable advice for all traders. 
July 
Here's why the world's richest are pouring billions into private equity 
Stock crash, cryptocurrency tumbling, high-interest rates… 2022 has been marred by a few disastrous economic events. Despite the hardships, however, there are many, such as oil companies, that have profited through adversity.  
One group that's always worth looking at is the world's billionaires. We examine why the wealthiest 1% are investing in equity.  
Stay up to date on the latest market news 
August 
Walmart's African expansion: $377m Massmart buyout 
US retail giant, Walmart (WMT.N) has made a $377.6 million (6.4 billion Rand) offer to purchase the remaining 47% of South African retailer Massmart (MSMJ.J).  
Shares of Massmart surged 46% after the ailing company announced news of the offer on August 29.  
In August we reviewed Walmart's shares and found out what experts have to say about this popular retail stock.  
Become a better trader – Join our webinars     
September 
Porsche debuts with $72 billion IPO   
Want to invest in something exciting? How about high-end sports cars? Luxury carmaker Porsche took a huge gamble that looks set to pay off on the stock market. Porsche AG made its stock market debut on September 29 with a price tag of about $72.45 billion. Its blockbuster debut prices its shares at the top end of the range despite turbulent market conditions.  
The incredible flotation, generated $19 billion for parent company Volkswagen, comes at a time of major instability within the European markets. 
Become a better trader – join our webinars 
October 
Earnings season Oct-Nov – 8 top stocks  
There is a lot of anxiety swirling about in the financial markets regarding a possible recession. Are some of the world's biggest companies getting nervous, too?  
The 2022 October earnings season was a major test for future sales and profits. A great quarter meant a sigh of relief for anxious investors. By contrast, a poor quarter could be the final nail in the proverbial recession coffin. The third-quarter earnings season saw more than 60 S&P 500 companies scheduled to report.  
We listed some of the top companies reporting their earnings from October – November. 
Don't miss out – Get Daily Trading Signals      
November 
How to invest like top football players  
The 2022 FIFA World Cup, the world's greatest sporting event, is in full swing. What makes the 2022 edition of this spectacular football event is that for the first time, it's being hosted by a Middle Eastern nation – Qatar.  
The four-week-long event has already seen hundreds of thousands of visitors to the tiny nation of Qatar as well as racking up millions of views, streaming across 200+ countries.  
Qatar's $200 billion investment 
We revealed where some of the top players in the world spend their considerable funds.  
December 
Here's why energy stocks are a BUY now  
Oil prices remained volatile as OPEC+ implemented its oil production cuts and price cap on Russian oil.  
Earlier in 2022, a $60 price cap on Russian crude oil was negotiated by the EU, the G7, and Australia.  
OPEC+ had agreed to cut oil output by two million barrels per day (bpd), 2% of current world demand, from November 2022 until the end of 2023. Meanwhile, in Europe, gas prices have stabilised for the time being as the northern hemisphere winter sets in.  
We review the energy sector and find out whether it's a BUY, SELL or HOLD. 
Want expert trading tips?  
CMTrading offers all the latest trading tips, news, and information in real-time. Simply sign-up for an account and access your trading dashboard. What's more, it's completely FREE!  
 Gain access to the following powerful features:  
Analyst ratings 

 

Insider activity 

 

TipRanks smart score 

 
What's more, it's completely FREE!  
Ready to start trading? Open an account today        
Join CMTrading, the largest and best-performing broker in Africa, and discover more opportunities with an award-winning broker. Register here to get started            
Follow us on Facebook, Instagram, Telegram, LinkedIn, Twitter, and YouTube