Soccer, fun & sun: CMTrading Cares Coaching Clinics
"Sport has the power to change the world. It has the power to inspire." – Nelson Mandela.
At CMTrading we believe in giving back to the community and with the 2022 FIFA World Cup in full swing what better way to celebrate summer than with happy little smiles and soccer action?
In December, local South African children, took part in a three-day, action-packed coaching clinic, hosted by CMTrading in Langa, Cape Town.
In partnership with Sporting Chance, we've provided many soccer hopefuls with amazing gear, the opportunity to engage with other kids, and most importantly have fun on the pitch. Not to be outdone by the boys, local girls showed off their Netball skills and enjoyed a fantastic time learning valuable skills from professional coaches.
Teaching, learning, fun in the sun
The children were able to enjoy sporting activities in a fun, safe environment. In total 65 kids joined the coaches at the Langa Stadium in Langa, tackling, shooting, dribbling and dodging their way to a fun time.
Jonathan Bergman, VP of Marketing at CMTrading, said: "We believe that trading is for everyone and likewise so is football. We want to give back to South African communities and what better way than to provide local kids with a safe, active environment in which they can enjoy soccer coaching? We hope to continue our programs and build strong bonds with local communities in the future. Most importantly, we hope each child has a lekker time at our coaching clinics."
Bradlyn Stuurman, Sporting Chance Projects Manager, said:  "One of our prime objectives is providing safe, physical activities for all kids. Working with CMTrading gives these kids opportunities to get out of the house and enjoy some fun in the sun. During the December school holiday period, many children are bored at home as parents still have to go to work. Our programs are beneficial not just from the physical and sporting perspective but it keeps kids occupied and away from negative influences.
"Our biggest joy is to see these children enjoying themselves. It's very rewarding to know that perhaps one day they might play for a prominent club or their country. We aim to engage them with sporting activities and keep the kids physically active in a healthy format. Not only do our programs assist kids but many of our coaches are from their local communities. In this way, we can help channel the passion of these coaches back into their communities. Perhaps in the future, these same children might coach others and continue the cycle of positivity.
"We hope that we can continue this relationship with CMTrading. Our goal is to engage with more communities in Cape Town, South Africa, and help all kids remain active, healthy, and happy.
'Incredibly rewarding'
Nyaniso Mhayi, Langa Coordinator, comments: "The purpose of our coaching clinics is to help kids get off the streets and keep active during the December holiday period. It's not only the kids who will benefit but the moms and dads who also deserve a break during the holidays. It's incredibly rewarding to see so many happy, smiling active faces. We want to thank CMTrading for making it possible."
Some of the soccer hopefuls shared their thoughts on the coaching clinic:
Tsepo: "I enjoyed learning soccer and playing with the other kids. I'm having so much fun and it's better than being stuck at home"
Andile: "I love soccer and watching the world cup. I want to be a professional player; I want to show the world my skill. There are a lot of good coaches here and they are teaching us good things."
'Netball can even become a career for these girls'
Nokumthembela Mini, Netball coach, said: "Alongside soccer, we're also coaching young girls about netball. Since next year is the World Cup, the skills and knowledge they can learn will be great. This way they'll be able to see professionals on TV and know that they are learning the same skill. Learning to play netball is very important. It teaches them discipline, and respect, and Netball can even become a career for these girls. We want to thank CMTrading for helping young South African girls reach their potential.
Lindelwa said: "The netball coaching clinics help us learn new skills.It also keeps us away from dangerous things on the streets. I love Netball and see myself playing for South Africa someday."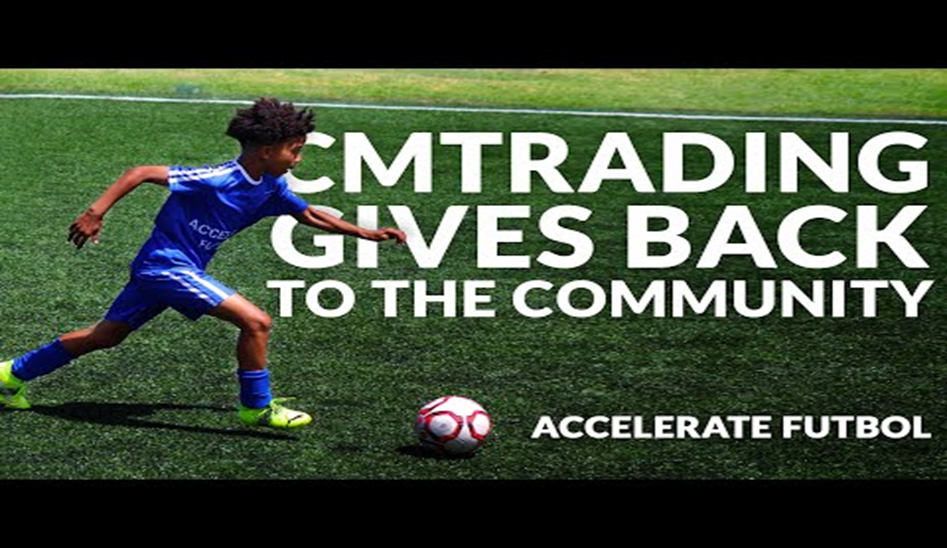 CMTrading is on a mission to give back to the community. In November 2021, we provided local kids the opportunity to play in SA football tournaments that they might not otherwise be able to participate in.
The talented boys, part of CMTrading's Accelerate Futbol social soccer teams (U10 and U12), made us proud in picturesque Camps Bay (November 28 – 29), by participating in the Legends 5v5 tournament.
What's more, CMTrading Brand Ambassador and South Africa's highest-ranking UFC fighter, Dricus Du Plessis, joined the boys and shared words of encouragement as well as vital life sessions with the boys.
It's all about giving children the opportunity to play, develop their skills, and ultimately grow to become leaders in South Africa while having fun doing so.
Read more about our charity event here
CMTrading, the best broker in Africa, gives back to the community.
Want expert trading tips?
CMTrading offers all the latest trading tips, news, and information in real-time. Simply sign-up for an account and access your trading dashboard. What's more, it's completely FREE!
 Gain access to the following powerful features:
Trending stocks
Analyst ratings
Insider activity
TipRanks smart score
What's more, it's completely FREE!
Ready to start trading? Open an account today      
Join CMTrading, the largest and best-performing broker in Africa, and discover more opportunities with an award-winning broker. Register here to get started          
Follow us on Facebook, Instagram, LinkedIn, Twitter, and YouTube