Here's why energy stocks are a BUY now
Oil prices climbed on November 5 as OPEC+ implemented its oil production cuts ahead of its price cap of Russian oil.   
Earlier in 2022, a $60 price cap on Russian crude oil was negotiated by the EU, the G7, and Australia.   
OPEC+ had agreed to cut oil output by two million barrels per day (bpd), 2% of current world demand, from November 2022 until the end of 2023. Meanwhile, in Europe, gas prices have stabilized for the time being as the northern hemisphere winter sets in.  
Today we take a look at the energy sector and find out whether they remain a BUY.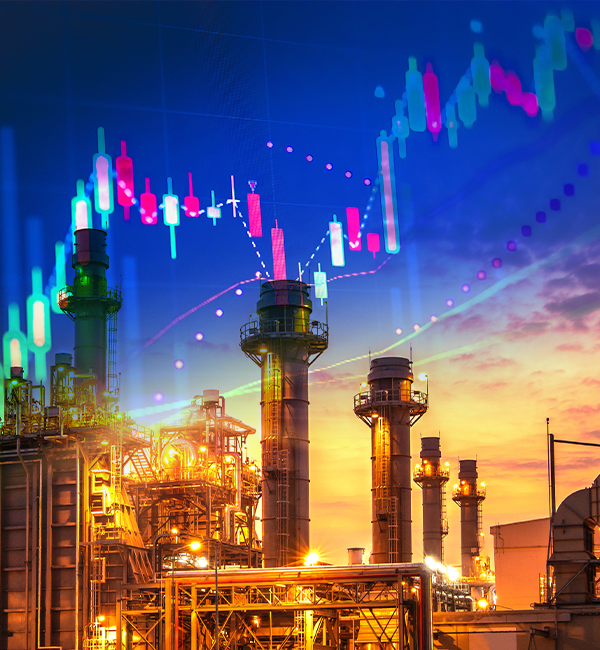 Down from record highs  
Russia's ongoing war in Ukraine continues to play havoc with the global energy supply. Early in 2022, oil skyrocketed as Russia faced economic sanctions for its invasion. Oil and LPG (Liquefied Petroleum Gas) prices have remained high throughout 2022, sparking high fuel prices globally.  
Oil prices are down more than 30% from a 52-week high while the energy sector is within just 4% of its peak in 2022.   
Become a better trader – Join our webinars        
The global energy sector's leading benchmark, the Energy Select Sector SPDR Fund (NYSEARCA: XLE), has soared 34% from October to November 2022. This is despite average oil prices dropping by 18% in the same period.   
As Europe enters winter, a period of high fuel and gas consumption, many analysts have their eye on the energy sector. High demand and low supply will create volatility in the region, sending prices soaring.   
Cheap stocks, high valuations
Curiously, energy stocks remain cheap despite the huge boom in the market. The sector widely outperformed the market. Energy companies within the energy sector remain relatively cheap though they will have delivered above-average earnings in 2022.  
Some of the cheapest oil and gas stocks on the market: 
Ovintiv Inc. (NYSE: OVV), Civitas Resources (NYSE: CIVI),   
Enerplus Corporation (NYSE: ERF)(TSX: ERF)  
Occidental Petroleum Corporation (NYSE: OXY)  
Canadian Natural Resources Limited (NYSE: CNQ)  
Oil company's record profits  
In 2020, oil companies saw a record decline in prices as the world was gripped by production shutdowns and economic lockdowns. In 2022 however, oil companies are now reporting record profits, offsetting losses seen in 2020.  
Oil company profits have surged during Jan – Sep 2022: Net income in $bn  
Shell – $30.1bn  
BP – $20.7bn  
ExxonMobil – $42.7bn  
Chevron – $27.3bn  
Total Energies – $28.7bn  
Eni – $10.3bn  
ConocoPhillips – $13.8bn  
Strong earnings by energy companies are a major reason why traders are still tapping into oil stocks.  
The Energy sector has reported the highest earnings growth of all eleven sectors; 137.3% vs. 2.2% average reported by the S&P 500.   
In terms of the industries supporting the energy sector, all five sub-industries in the sector reported a year-on-year increase in earnings.  
Energy sector earnings: 2021 vs 2022  
Oil & Gas Refining & Marketing (302%)  
Integrated Oil & Gas (138%)  
Oil & Gas Exploration & Production (107%)  
Oil & Gas Equipment & Services (91%)  
Oil & Gas Storage & Transportation (21%)  
Beating Wall Street Estimates  
The war in Ukraine was a shocking development in Europe that few could've predicted. However, as the world recovers from the global pandemic, increased oil and energy demand was expected in 2022. How high this would climb beat the best analysts' predictions.  
Energy companies have beaten Wall Street estimates throughout 2022.   
Some of the positive revenue returns vs Wall Street estimates in 20222:   
Chevron ($66.6bn vs. $57.4bn )  
Exxon Mobil ($112.1bn vs. $104.6bn)  
Marathon Petroleum ($47.2bn vs. $35.8bn)   
Valero Energy ($42.3bn vs. $40.1bn)   
Phillips 66 ($43.4bn vs. $39.3bn)   
These companies are significant contributors to the overall revenue growth rate for the energy index.   
The outlook for the energy sector remains bright  
Despite price drops, the outlook for the energy sector remains bright; According to Moody's research report, energy industry earnings will stabilize later in 2023, though this all hinges on whether Russia's war remains contained. Moody's estimates that the US energy sector will be valued at $$623B in 2022 and could drop to $585B in 2023.     
Commodity prices across the board have declined from record-high levels earlier in 2022. This includes aluminum and wheat. Combined with modest growth in terms of production, could support revenue growth for oil and gas producers in 2023.     
This growth makes the energy sector an attractive proposition for traders and investors.  
Volatile industry  
The industry is facing major uncertainty as geopolitical risk remains high. Europeans are facing steep prices for LPG as Russia continues to throttle supplies into the region. Overall, the EU is looking to cut off its dependency on Russian oil and gas in 2023 and become more self-reliant for its energy needs. What this will mean for the energy sector remains to be seen.     
Interestingly, OPEC+ appears to be more comfortable with oil trading above $90pb compared to the traditional high range of $60-$70 range they accepted in recent years. This could be that prices above $90 per barrel will sustain strong payouts via dividends and buybacks for oil companies which will tremendously benefit from this.  
Renewable energy drive  
One area of concern for fossil-fuel dependent companies and nations is the increased drive toward green power.    
The new drive for energy security will accelerate the development of global renewable energy, reports the International Energy Agency.    
IEA head Fatih Birol said in a report, titled 'Renewables 2022': "Renewables were already expanding quickly, but the global energy crisis has kicked them into an extraordinary new phase of even faster growth as countries seek to capitalize on their energy security benefits.   
"The world is set to add as much renewable power in the next 5 years as it did in the previous 20 years," Birol also said, despite warnings from the mining industry that there are looming shortages of key metals such as copper, without which the energy transition will slow down."    
The IEA expects global renewable power capacity to expand by 2400 Gigawatts from 2022 to 2027. This is the equivalent of China's total power generation capacity.    
The projection is 30% higher than the IEA's renewable power forecast for 2021.     
The IEA report predicts that renewables could account for as much as 90% of power generation capacity expansion and will replace coal as the world's largest source of electricity by 2025. This could have major ramifications for the world's biggest oil-producing nations.  
Want expert trading tips?  
CMTrading offers all the latest trading tips, news, and information in real-time. Simply sign-up for an account and access your trading dashboard. What's more, it's completely FREE!  
 Gain access to the following powerful features:  
Trending stocks 

 

Analyst ratings 

 

Insider activity 

 

TipRanks smart score 

 
What's more, it's completely FREE!  
Ready to start trading? Open an account today        
Join CMTrading, the largest and best-performing broker in Africa, and discover more opportunities with an award-winning broker. Register here to get started            
Follow us on Facebook, Instagram, LinkedIn, Twitter, and YouTube