Crypto crash wipes $300 billion: What you should do when markets panic 
Bitcoin suffered a disastrous start to 2022; the price of the crypto king fell to a three-month low on January 10 as part of a broad cryptocurrency sell-off.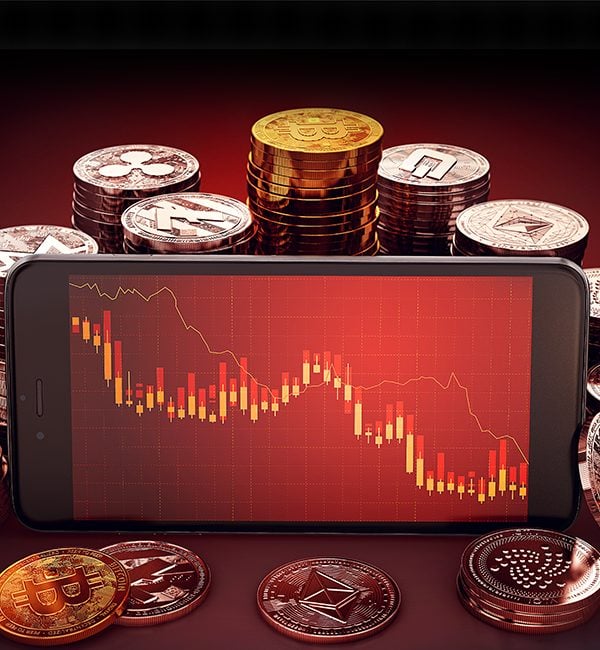 The US Federal Reserve sparked the crypto crash as it stated it may move quicker than expected to reverse policies meant to bolster the US economy during the ongoing pandemic.  
Today, as the entire crypto market retracts, we look at the causes and reveal valuable advice for all traders.  
Bitcoin crash  
Bitcoin fell below $40,000 for the first time since September 2021; the king of crypto dropped by as much as 5% to $39,692 on January 10. By January 11, Bitcoin recovered to above $42,000.  
Trade the biggest markets including Nasdaq 
The majority of crypto assets suffered a decline including ether, Binance coin, and SOL, which dropped more than 20% during the first week of 2022.   
The value of cryptocurrencies dropped by more than $300 billion to below an all-time high of $3 trillion in November 2021.  
It should be mentioned however that the crypto market, and indeed Bitcoin, has seen record highs. Over the last five years, Bitcoin has skyrocketed nearly 4,300% yet it's down nearly 40% from a record of $69,000 set in November 2021.  
Rate hikes  
The first week of 2022 has seen the entire crypto market on a relentless downward slide, dragged down by the central bank's announcements.  
US policymakers are set to start a series of rate hikes by March 2022. Not only will this affect the US and global consumers, but analysts are curious as to how it will affect the crypto ecosystem.  
Recovery in progress  
BTC's selling pressure is already starting to lift compared to last week's price crash. The cryptocurrency is holding above $41,000, facing resistance at $43,000 – $45,000.  
Bitcoin was down about 2% over the past 24 hours. The volatile crypto market usually sees a period of decline before a major bounce as was the case in 2021.  
Fear Index  
The crypto market is extremely volatile, prone to major market movements without warning. Like any market, however, when it's doing well, people buy these assets, when it's in decline, traders sell. The difference is the frequency and the sheer volume that crypto traders will buy and sell, especially during times of extreme volatility; people often sell their coins as an irrational reaction to seeing "red figures" as was the case during the first week of 2022.   
Become a better trader – join our webinars 
The crypto "Fear and Greed index", produced by Alternative.me, reveals that the current market is experiencing a period of "extreme fear". This means that we could see more sell-offs before the market fully bounces back.    
Here are top tips all traders should follow during times of uncertainty:  
Avoid panic buying/selling – Stay calm even when markets panic.

Diversify your portfolio.
The easiest way to trade commodities   
Markets are unpredictable, especially in the short term.
Get the best trading platform – Metatrader 4   
Volatility equals opportunity – Consider buying the dip.

Remember – Things could always get worse    
Become a better crypto trader 
Fred Razak, CMTrading's Senior Trading Specialist, answers all your crypto-trading questions and more. 
Why is the crypto market dropping? 
Razak said: "Well, you know, markets make rotations and that's completely healthy and normal, especially when the particular symbol that you're trading is within a $30,000 range; So if it went to 29,000 in July from 58,000, it's normal for such a volatile market. So, for it to go from $60,000 to 41,000 it's not that big of a deal, for this market. Yes, percentage-wise it's a big retracement but within the range, it's not the craziest thing that we've seen. It's important to note that at the beginning of the year, people want to take their money off the table and reissue it in dollars and ultimately try to buy things.  
"That's completely normal. Interesting and affecting the market but still normal. I don't think it's a 'bubble burst'. It's a phase and it's a process that Bitcoin is going through. Unfortunately, there's a lot of shady business being done in Bitcoin, and you know, if that's going to continue, I don't see it going away anytime soon. As much as we'd like to keep it regulated and stable, I think this current trend is the norm for the market.  
Is it worth investing in Bitcoin? 
Razak said: "For any of these cryptocurrencies to be worth investing in, it requires big trading. From a trading perspective, you're going to be trading daily. You going to be looking for volatility. You're looking for these crazy kinds of moves, and if you're a savvy trader you could make thousands to hundreds of thousands of dollars a day just by anticipating these types of moves. 
"If you look at the average 50-year-old they have maybe 30% to 40% of their portfolio in gold and zero in cryptocurrencies. Now if you look at a 25 to 30-year-old investor, they have 30% to 40% in cryptocurrencies and zero in gold. The next generation is really going to be much more involved in this new trading symbol. The new wave of investing is going to be cryptocurrency.  
"Does that mean that you should sell all your assets and put them in in cryptocurrencies? Not necessarily, but it's going to be a new norm in the future and that's something to consider. I think we're seeing it so clearly with the fact that gold is stagnating right now and actually not going higher." 
Advice for traders 
Razak said: "My advice for all crypto traders is to strictly use money management strategies. Go in and get out very quickly. Make sure to pick your spots carefully. The market is very volatile, yes, you can make a lot of money but you could also lose it all. It's always a double-edged sword. Yes, you want to be on the offence making trade but you should be more defensive in this type of environment. Just be aware of the volatility.  
"As a possible shift in the market as we move forward, you don't want to blow your account on one or two trades. Your ability to stay in the game much longer will mean you need to be conservative with the type of volume that you're trading. Even the time of day that you're trading needs to taken into consideration. Money management is an extremely important aspect of trading cryptocurrency." 
Trade the easy way!          
Join CMTrading, the largest and best-performing broker in Africa, and discover more opportunities with an award-winning broker. Register here to get started           
Follow CMTrading on Facebook, Instagram, LinkedIn, Twitter, and YouTube.        
Prices are accurate at the time of publishing.