Top trends traders should watch in 2022 
 Stock market jitters, the ongoing pandemic… 2022 is in full swing yet it has a lot in common with where the markets were a year ago.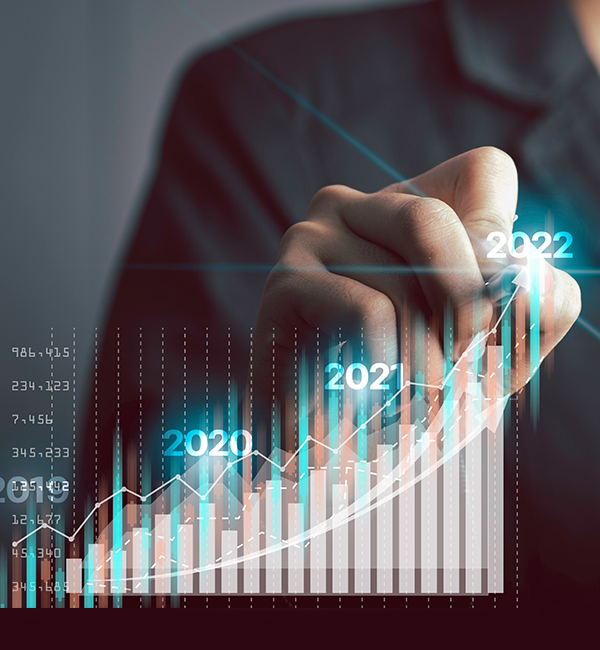 For traders, it has been a momentous year in the market as returns on the S&P 500 during 2021 were about 27%. The equities market exploded, and cryptocurrency saw record highs. Even commodities such as oil saw a comeback and cotton is at its highest level in more than 10 years. The additional volatility brought by the pandemic created many opportunities for traders and led to a huge rebound in 2021.  
However, global economic growth will slow as governments such as the US and EU are set to throttle back pandemic support which will raise interest rates.  
Today, we look at 4 trends that will affect the global economy in 2022.  
 How to become an online trader in 2022 
1 Economic slowdown  
Battered by the ongoing pandemic, rising inflation and debt, the global economy is set to enter a period of slowdown, according to the World Bank's latest Global Economic Prospects report.   
The World Bank reports that global growth is expected to drop from 5.5% in 2021 to 4.1% in 2022 and decline to 3.2% by 2023.  
Trade the biggest markets including Nasdaq 
The projection is based on fiscal and monetary support being scaled back in 2022; Institutions such as the US Federal Reserve and the European Central Bank have poured billions in pandemic relief for years to curb inflation and rate hikes. Now, however, they will have to scale back monetary stimulus which could prove disastrous for the global economy.  
Rate hikes and inflation will hurt consumers 
The global markets do well when interest rates remain low. Rising inflation, which hits low-income workers hardest, limits monetary policy. Globally, inflation has been running at the highest rates since 2008. Unfortunately, many governments are being forced to withdraw support well before the economic recovery is complete.  
The Fed has announced potential rate hikes which will negatively affect the US dollar.  
Already consumers around the world are feeling the brunt of high fuel and food prices, exacerbated by ongoing supply-chain shortages. Inflation has a knock-on effect; lower consumer spending limits company profits and negatively affects the market.  
3 Global debt trap  
 The onset of the pandemic in 2020 caused thousands of businesses to shut their doors forever. Many businesses were only able to survive by taking on huge loans and setting them in a debt trap. This includes consumers and major institutions. This has resulted in total global debt being pushed to its highest level in 50 years, reports the World Bank.  
 How big is the global debt trap? About 25 countries, including the US and China, have total debt that's 300% of GDP, reports the global bank. Printing money will only weaken currencies, especially the US. Debt solutions will need to be investigated and implemented at a global level to avoid bankruptcies and further economic disasters.  
4 Boom and bust for commodities  
The pandemic has created volatility in many markets, this is especially true for the commodity sector. In 2020, the oil price crashed to record lows while the gold price increased to record highs. In 2021, this was reversed with oil seeing a record comeback and gold dropping and struggles to breach beyond pre-pandemic levels. These "boom and bust" cycles have drastically affected countries dependent on commodity exports.  
Trade commodity CFDs the easy way 
Supply-chain issues will cause these cycles to continue in commodity-reliant markets. These cycles are exacerbated by climate change and pandemic-induced lockdowns. Global coffee and cotton prices are two commodities that are now going through a boom-and-bust cycle; both commodities are seeing record high prices driven by supply issues, adverse weather conditions, and the ongoing pandemic.   
What can be done? The World Bank hopes that commodity-exporting countries will adopt more disciplined policies during booms to take advantage of windfalls and likewise avoid disaster during the "bust" periods.  
'The markets are doing things that I've never before'   
Earlier in January, Fred Razak, Senior Trading Specialist at CMTrading, shared valuable advice for all traders.  
He said: "The markets are doing things that I've never seen before, and I think they're going to continue doing that. I think there are going to be so many more opportunities in 2022 if 2021 is any barometer.     
"It's quite clear that the markets are moving us in a direction where we have some tremendous potential in every situation to overcome many hurdles going into 2022, and that's something that I think people should take note of that it's not always going to be like this. It's not going to be where you have opportunities every single day like you do today, so take that heat and strike while the iron's hot as they say."  
Click here to read the full article  
 Trade the easy way!          
Join CMTrading, the largest and best-performing broker in Africa, and discover more opportunities with an award-winning broker. Register here to get started           
Follow CMTrading on Facebook, Instagram, LinkedIn, Twitter, and YouTube.        
Prices are accurate at the time of publishing.