How to invest like top football players 
The 2022 FIFA World Cup, the world's greatest sporting event, is in full swing. What makes the 2022 edition of this spectacular football event is that for the first time, it's being hosted by a Middle Eastern nation – Qatar.    
The four-week-long event has already seen hundreds of thousands of visitors to the tiny nation of Qatar as well as racking up millions of views, streaming across 200+ countries.   
Qatar's $200 billion investment 
The tournaments see the world's most valuable players, worth hundreds of millions, take to the international stage, some representing their home country for the first time.   
Today, we find out where some of the top players in the world spend their considerable funds. What's more, we'll share top trading opportunities for all traders at the end of this article.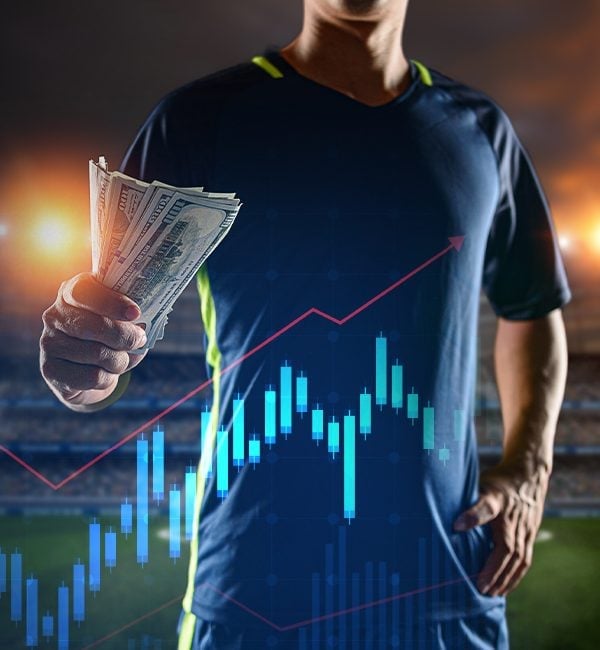 Millions earned kicking a ball  
Earlier in November, CMTrading reported on the staggering investment by Qatar to host the 2022 world cup. The country has reportedly spent $200 billion on infrastructure projects. . Qatar is a small nation with a tiny population of just 2.8 million residents. Due to the country's size and vast oil reserves, it is the richest in the world in terms of per capita wealth.   
Being a professional soccer player is incredibly lucrative. The top-paid players in the UK Premier League will earn more than $10 million a year. The European football market alone generates around 29.8 billion euros annually.  
These figures are mind-blowing, to say the least, and soccer players live a life of luxury.   
Paris Saint-Germain forward, Kylian Mbappe, is the world's highest-paid football player, according to Forbes magazine.  
 Mbappe is estimated to earn $128 million for the 2022-23 season, a record for Forbes' annual rankings. PSG teammate Lionel Messi is second at $120m and Manchester United's Cristiano Ronaldo ($100m) is the third most-paid athlete in the world.  
PSG's Neymar ($87m) and Liverpool's Mohamed Salah ($53m) complete the top five highest-paid soccer players.  
In total, the 10 highest-paid players will record earnings worth $652m during the 2022-2023 season. This is an 11% increase from the 2021-2022 season's $585m.  
Forbes' list of highest-paid footballers 2022:  
Kylian Mbappe 

Lionel Messi 

Cristiano Ronaldo 

Neymar 

Mohamed Salah 

Erling Haaland 

Robert Lewandowski 

Eden Hazard 

Andres Iniesta 

Kevin De Bruyne 
Want the latest market updates? Listen to our daily podcasts 
More savvy with their money   
Many professional footballers, however, squander their earnings and unfortunately go bankrupt. Today, however, many soccer players are savvy when it comes to financial management.   
Putting careful consideration into your investments is key to ensuring a stable future both in the markets and on the pitch.  
How to trade the top stocks  
1 Login (sign-up) to your CMTrading account  
2 Check out the new stocks on the trading dashboard  
3 Enjoy new trading opportunities  
Messi – Sport-Tech investment firm  
Argentinian icon Messi has launched a new investment firm in 2022. His business is focused on global trading in sports, technology, and media.  
Play Time Sports-Tech, based in California, will look to invest in backing soccer-centric technology startups, as well as investment in teams. PlayTime invests in Matchday.com and jersey marketplace AC Momento. At the time of writing, however, there is no public information on the size of the fund at this stage.  
Don't miss out – Get Daily Trading Signals   
Messi has also launched his collection of non-fungible tokens (NFTs); crypto art created with his image by digital designer BossLogic.  
Messi is portrayed as a king, superhero, and Greek titan in works entitled "Man from the Future," "Worth the Weight," and "The King Piece".  
BossLogic is known for his work with Marvel Studios and Disney.  
Many players have turned to the property market to generate wealth for themselves; Neymar Junior owns properties near the Palace of Versailles and David de Gea has a huge villa in Spain.  
Other interesting investments by players are in commodities and racing.  
 Become a better trader – Join our webinars         
Former Chelsea player, Didier Drogba, has shares in a gold mine worth $52-million. Wayne Rooney has a soft spot for racehorses and owns stallions with a market value of more than $100 000.  
Putting funds into startups  
From Ronaldo to Zlatan Ibrahimovic, some of the world's top footballers are backing startups with considerable investments.  
Revyze, a platform calling itself the "TikTok of education", announced a $2m pre-seed raise earlier in 2022. The company is part of an emerging group of start-ups with a huge back from professional footballers.  
Retired player, Olivier Dacourt, joined more than 100 entrepreneurs during Revyze's latest funding round.  
Stay up to date on the latest market news   
Spain's Gerard Pique and England's Rio Ferdinand were early backers of the NFT trading card game Sorare. The pair saw their shares skyrocket in value when the startup hit a $4.3bn valuation.   
Others such as Blaise Matuidi and former Manu defender Chris Smalling have launched their investment platforms.  
Legendary players, coaches 
Football legend David Beckham, and brand ambassador of the Qatar games, is no stranger to investing. In June 2020, he invested $319,000 in Guild Esports owning a 4.78% stake.  
The company aims to build a team of professional video gaming athletes.   
Legendary Manchester United coach Alex Ferguson has spent his considerable wealth on startups. In 2015, he invested $1.5 million in a startup called Pockit.  
It was a London-based company that issued prepaid cards for those who couldn't otherwise access banking services. Ferguson also helped the firm to complete a $15m series of fundraising in 2020.  
Want expert trading tips?  
CMTrading offers all the latest trading tips, news, and information in real-time. Simply sign-up for an account and access your trading dashboard. What's more, it's completely FREE!  
 Gain access to the following powerful features:  
Trending stocks 

 

Analyst ratings 

 

Insider activity 

 

TipRanks smart score 

 
What's more, it's completely FREE!  
Ready to start trading? Open an account today        
Join CMTrading, the largest and best-performing broker in Africa, and discover more opportunities with an award-winning broker. Register here to get started            
Follow us on Facebook, Instagram, LinkedIn, Twitter, and YouTube