Moderna stock crash: Is it worth buying after disappointing earnings? 
Pharmaceutical giant Moderna saw its stock plunge 30% after a disappointing earnings report. Is it worth buying the dip?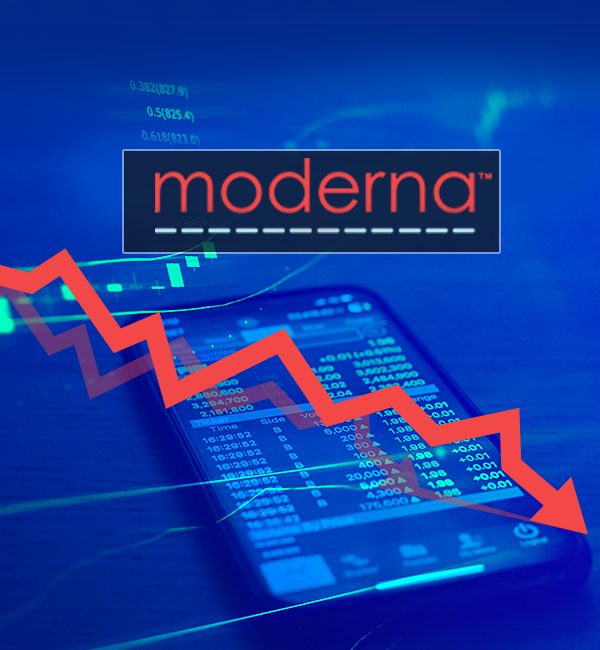 Pharmaceutical giant Moderna (MRNA) was one of the clear winners of the 2020-21 pandemic-driven economy. Its vaccine raked in billions through government contracts as its stock price soared.   
All its success garnered over the past year came to a sudden halt following its latest disastrous earnings report.  
Today we look at Moderna's performance over the past year, whether its price will rally or not, and share valuable advice for traders.  
Stock crash  
Shares of Moderna traded 17% lower on November 5 after the company's third-quarter earnings failed to meet market expectations. Not only did the company miss revenue expectations it also lowered its full-year sales outlook.    
Moderna lowered its forecast for 2021 vaccine sales to $15 billion – $18 billion, down from an earlier forecast of $20 billion. Moderna reported revenue of $4.97 billion, below the market expectation of $6.21 billion. Its net income was $7.70 per share, versus the analyst estimate of $9.05.  
Despite missing its earning's target, Moderna's financial situation remains impressive; Moderna's $4.8 billion in product sales in Q3 2021 is an improvement of $613M (+15%). It should be noted that in the period 2019-20, Moderna reported no profits from product sales.   
Due to an increase in COVID-19 vaccine production and increased shipments in 2021, Moderna's profitability improved significantly. The company now generates more than $3 billion in quarterly profits and net margins are surging.  
All of this did nothing to persuade traders to stick with the company as its stock price crashed from a high of $350 on Nov 3 to $215 on November 5. By November 8 it was still down 16% though recovered to $236.  
Modern stock price: November 1 – 5 
Moderna is also reeling from global production and shipment issues; the company expects to ship between 700 million – 800 million vaccine doses, down from a predicted 800 million – 1 billion doses.  
Pfizer pill could cause havoc  
Rival drugmaker Pfizer (PFE) announced its investigational antiviral treatment (i.e., a pill) could reduce the risk of hospitalization or death by 89% in non-hospitalized adults with COVID-19.   
Pfizer said it intends to submit its game-changing data to the US Food and Drug Administration and request Emergency Use Authorization for mass rollout of its drug.  
The Pfizer pill is certainly good news for vaccine-adverse consumers but could spell unwelcome news for rival companies if it's proven to be as safe and effective as the current vaccines on the market.   
In this scenario, Moderna's vaccine sales could dramatically crash by 2022.  
Moderna's future revenues look promising   
One important thing to note is Moderna has built up an enormous amount of cash to the tune of $15.3 billion. This means the company has the capital needed to advance its current vaccine programs and push future treatments down the pipeline.  
Moderna is contracted to deliver $12 billion worth of vaccines in 2022 with options to sell $8 billion more doses. The company is also reportedly signing agreements for 2023 as countries prepare for an endemic phase of the virus.   
Modern stock price: 6 months (+49.47%) 
Modern stock price: YTD (+112.11%) 
What's next for the company?   
The company said it would explore a combination vaccine that aims to offer protection against the common flu and COVID-19.   
Earlier in 2021, Stéphane Bancel, Chief Executive Officer of Moderna, said: "We have begun preparing late-stage studies for our flu vaccine and RSV vaccine, which received fast track designation from the FDA a few days ago and are looking forward towards our vision of a single dose annual booster that protects against COVID-19, flu, and RSV for adults."   
This could be a huge windfall for Moderna if it can secure long-term contracts with global governments.  
Beyond COVID19  
 Moderna has more than 30 medical programs in the pipeline across many treatment areas. Earlier in 2021, it launched a pivotal trial for a cytomegalovirus vaccine candidate. The treatment could bring in at least $2 billion.  
Buying the dip  
Is now a good time to buy Moderna shares? It's not the first time Moderna shares hit an obstacle; its meteoric rise in 2021 was first curbed in September when analysts revealed the stock was overvalued, plunging its price by 35%. It swiftly recovered.    
Many analysts are looking at a post-pandemic world and here is where long-term investors could shine. The coronavirus vaccine allowed Moderna to make billions of dollars but unless the company looks towards a post-COVID19 future, it won't survive. The COVID-19 vaccine may be just the beginning for this biotech company, and it has bright prospects for the future.  
Trade the easy way     
Join CMTrading, the largest and best-performing broker in Africa, and discover more opportunities with an award-winning broker. Register here to get started      
Follow CMTrading on Facebook, Instagram, LinkedIn, Twitter, and YouTube.     
Prices are accurate at the time of publishing.