Market Winners: Ethereum, Tesla, Polkadot, and more! 
It's been a great week for crypto traders as Ethereum and Polkadot surged, we highlight some market winners for the past week.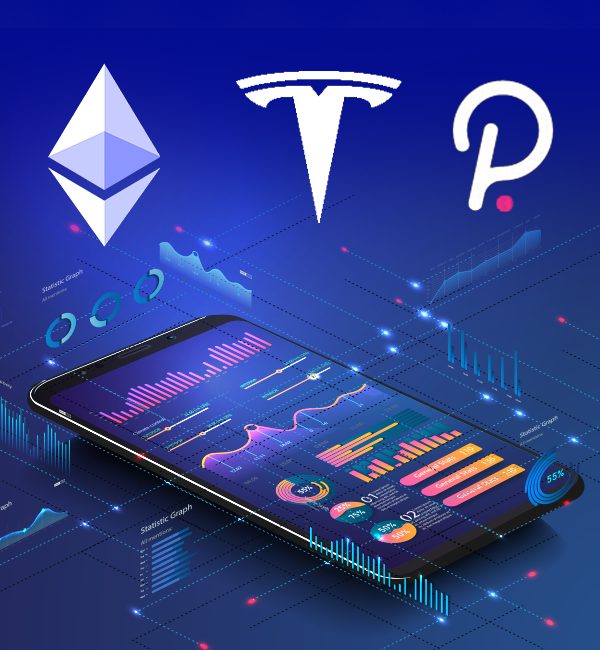 The first week of November 2021 saw major movements in the crypto market. Ethereum reached an all-time high while newcome Polkadot saw a surge in its price.  
Electric carmaker Tesla continues to soar as it reaps the benefits of a fantastic earnings report. As its share price continues to rise, traders are taking advantage.    
Today, we look at some market winners for the past week on CMTrading's platform.  
Most tradeable instruments weekly:  
1.XAU/USD  
Gold traders were dealing with another mild week of trading that ended with a spike in volatility. the price of gold pushed towards the all-important resistance level of $1800 before tumbling to $1775.  
 While the yellow metal is undeniably on the back foot by Nov 5, due to a resurgent US Dollar, the recent support should be key ahead of the major FOMC meeting in the days ahead. It's difficult to see a strong enough shift in sentiment to push gold prices beyond their current line of resistance. The short-term future of the precious metal will be clearer following the FOMC meeting especially once the October Jobs Report is released.  
Ethereum  
Etheruem (ETH), the world's second-largest cryptocurrency behind Bitcoin, has been on a roll lately, rallying to its latest record of more than $4,600.  
The digital currency, which is the native token of the Ethereum blockchain, climbed to a new all-time high record of $4,642.48 on November 4.  
Ether has gained an impressive 530% since the start of 2021. While the price of the digital coin has been rising its trading volume has dropped by 2.38%. At the time of publishing the digital currency has a market cap of $538 billion, with more than 118 million coins in circulation.  
IBM 
IBM, one of the world's oldest tech companies, is restructuring its aging business with the launch of a publicly-traded company that will be called Kyndryl.   
The spinoff business will handle its managed infrastructure business and IBM has high hopes for revenue growth. Kyndryl Holdings Inc (KD) began trading on Nov 3 on the New York Stock Exchange and shares closed at $26.38 (-7.4%).  
Kyndryl is aimed at helping companies modernize and manage their IT infrastructure. While the new "IBM" won't exactly be an exciting high-growth company but it's rejuvenated enough that its stock is attracting investors.  
Biggest percentage move weekly:  
Stock: TSLA 16.29%  
Shares of Tesla (TSLA) have soared 60% in the last month; its share price reached $894 during the first week of its latest earnings report to an incredible $1238 on Nov 4.  
The electric car giant reported record third-quarter earnings in October – $13.76 billion vs $13.63 billion expected. Its latest earnings see the carmaker joining the exclusive $1 trillion market capitalization club.  
Tesla also reported that its solar power and solar storage businesses grew 46% and 71%, respectively, year over year. This could be a further boon for the company when US President Biden's 'Build Back Better bill' is passed as it could push investment towards green energy.  
Commodities: Coffee 5%  
Much like any commodity, coffee has been hard hit by pandemic-related disruptions; container shortages and port congestion will likely keep coffee prices high.  
 The Swiss Coffee Trade Association (SCTA) reports that transportation problems are preventing available supplies from meeting demand, boosting prices of the commodity.  
 Coffee prices are at their highest in seven years as the market deals with reduced supply from top grower Brazil, due to environmental issues plaguing output.  
Vietnam, the world's second-largest coffee producer, has a large 2021/22 coffee production but companies have been struggling to shift products out of the country.  
Crypto: DOTUSD 33.94%  
Polkadot's coin, DOT, hit an all-time high of $54 in Nov, up from $41 on Nov 1. Polkadot's crypto price has been soaring as it launches an upgrade that will allow a parachain auction; a parachain is an individual blockchain on the Polkadot system.   
Parachain auctions allow DOT developers to register projects and get funding from prospective investors. Parachain auctions would create an environment for a new host of crypto projects, increasing competition in the market.