Investing in crypto: Is Solana a good buy?  
The price of Solana's SOL token has skyrocketed in 2021. Here's all you need to know about this rising cryptocurrency.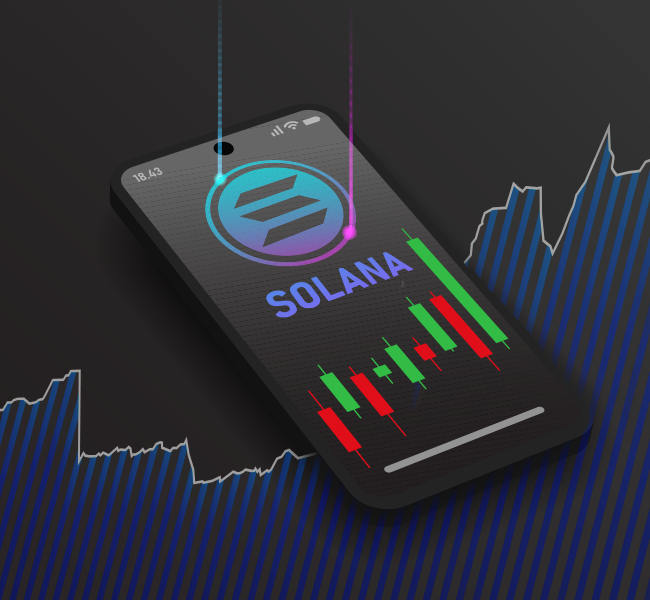 The world of cryptocurrency trading is finally at a tipping point toward legitimacy as dozens of new digital coins have exploded onto the market in 2021.  
Despite Bitcoin retaining its status as the crypto king, claiming most of the market, many rivals, called altcoins, are steadily increasing in popularity.  
One digital currency that's soaring in value is Solana's (SOLUSD) SOL token.   
Today, we look at Solana and share valuable trading advice. What's more, you'll have a great opportunity for trading crypto at the end of this article.  
 Want to take advantage of crypto? Trade the easy way 
What is Solana?  
Solana, created by founder Anatoly Yakovenco, is a cryptocurrency that runs on decentralized blockchain technology. Solana's claim to fame was data released in 2018 showing it was capable of processing 250,000 transactions per second, making it the fastest cryptocurrency on the market. At the time Bitcoin and Ethereum processed around 15 transactions per second while financial services corporation Visa could process 65,000 per second.  
 Trade Bitcoin the easy way – sign-up today 
Since then, Solan's SOL has been gaining popularity and following a big jump in share price in August. The jump in value was particularly impressive as cryptocurrencies, including Bitcoin, experienced losses during that period.  
Quick Stats:     
Current price: $242.87  
Market cap: $65.4 billion  
Market rank: 3  
All-Time High: $247.821 (Nov 4)  
Solana 6-month performance: 
Should you invest in Solana?  
As a testament to its popularity, Solana has replaced Ethereum and Cardono to become the 3rd most popular crypto as of November 4. Solana prices have soared more than 15,000% this year.  
Investing in crypto altcoins: Is safemoon a good buy? 
The nature of cryptocurrency means they can rapidly gain and lose value, making it a highly volatile market. Solana, however, continued growing while the larger market in the crypto world had been losing some value. Part of this is due to the scarcity of its coins, pushing its value.  
Investing in crypto altcoins: Is memecoin Shiba Inu a good buy   
Solana boasts unique blockchain technology capable of processing transactions even faster than Ethereum, the world's second-largest cryptocurrency.  
Its growth and technology pair together well, offering the potential for the cryptocurrency to grow hugely as seen in the past two months. Its ease of use and lower fees make it an attractive proposition for buyers.  
Is Solana safe?  
While the crypto has big plans it's still technically in beta testing.   
It should be noted that while transaction fees are low, setting up the hardware needed to mine Solana is more expensive than other cryptocurrencies.   
The company processes transactions much faster but it takes away from the spirit of decentralization.   
Solana's recent performance is impressive, and it stands apart from rivals by showing growth and potential. 
With thousands of cryptocurrencies now on the market, it is remains to be seen whether Solana can keep its upwards momentum  
Take advantage of Solana's price movements  
We've added Solana crypto to our ever-growing list of 150+ tradable assets. Solana's value has had an impressive 490% gain since August 2021.   
 Why is this crypto so special?  
Solana is one of the top 10 largest cryptocurrencies in the world.   

 

The Solana Blockchain (the system which powers the crypto) is super-fast and reliable, rivalling popular coins like Ethereum.   

 

SOL100, the Solana token, is incredibly scarce – only 100 tokens will ever be in circulation.  

 
Sounds promising?  
Start trading Solana with CMTrading and enjoy high volatility with countless opportunities, better profit potential with 5:1 leverage, and no need for currency exchange or digital wallets.  
Discover more opportunities with an award-winning broker. Join CMTrading, the largest and best-performing broker in Africa.   
Follow CMTrading on Facebook, Twitter, Instagram, LinkedIn, and YouTube