Earnings season: Trade Apple, Amazon, and more!
 Netflix, Apple, Amazon… some of the world's biggest companies are set to release their first quarterly reports later in April and May.  
The release of these earnings will cause high volatility, particularly in the technology sector.  
In this article, we highlight what makes the upcoming earnings season so important and why you shouldn't miss out on the trading opportunities they present.  
Trade & thrive – CMTrading scoops 10 industry awards so far in 2023!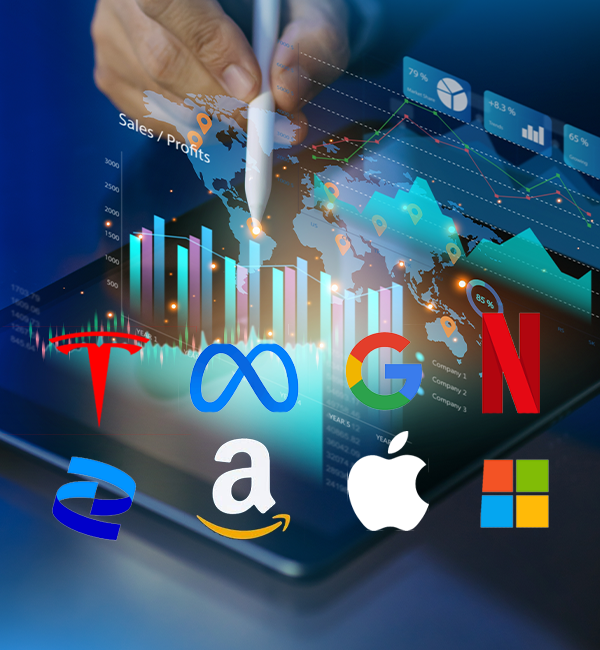 State of the market – post Q1 2023  
From a red-hot January as China finally ended its COVID-19 restrictions to February's crash as interest rates surged, it's been a rollercoaster start to 2023.   
March saw several banking blow-ups as financial institutions crashed continuing an action-packed start to the year.   
Ultimately, the first quarter shows world stocks gaining a healthy 6%, US government bonds up 3%-5% and gold is 8% higher. Energy prices, however, are dropping and the dollar has barely moved.   
Overall, it's been an incredibly volatile year for markets.   
Global shares soared 10% in January, lifted by the tech sector. Gains however were lost by the time Silicon Valley Bank collapsed followed by the 167-year-old Swiss banking behemoth, Credit Suisse, being bailed out.  
Ready to start trading? Stay tuned for a special trading offer at the end of this article!
Become a better trader – join our webinars       
Equities are seeing movement and US and European government bond yields – the primary drivers of global borrowing costs – are bracing for their biggest monthly drop since the global crash of 2008.  
The global economy is still reeling from the dual combination of high-interest rates and high inflation; to curb the latter, many institutions such as the US Federal Reserve have implemented rate hikes.  
A key reason as to why assets have been volatile is that investors are unsure how major central banks will react in 2023. Will they push on with rate hikes and risk further banking sector problems? Or finally, pause rate hikes and risk more inflation? 
All eyes will be on company performance in April and May as this will show whether consumer spending and overall sales are rising.  
Earnings Season 2023 – Snapshot of top companies  
Netflix (NFLX) – $348,28 USD, 18.08% YTD  
Global streaming giant Netflix is set to release its Q1 earnings on April 18. Its stock is up 18% year-to-date and shows the company's gamble with advertising during streams and clamping down on account-sharing appears to be paying off.  
Amazon (AMZN) $102,41, 19.33%  
Amazon remains the dominant force in e-commerce and cloud computing. The company has undergone massive restructuring and cost-cutting to push its growth in 2023.  
Apple (AAPL) $166,17, 32.86%   
Apple stock is pushing up toward its former highs as a result of sustained demand for iPhones and future services revenue. The company is benefiting from strong demand in Asia for its iPhone 14, with no major production cuts planned for the year.  
Tesla (TSLA)  $194,77, 80.18%  
Tesla reported a modest 4% rise in sales in the first quarter compared to the final three months of 2022. Its shares have skyrocketed in 2023 with the company reportedly selling 422 875 vehicles in Q1.  
Want to learn more about the markets? Check out our latest podcast!      
Check out the top companies releasing their earnings in April 2023:  
Company – EPS Forecast / Revenue Forecast / Market cap  
Tuesday, April 18, 2023  
Netflix (NFLX) – $2.88 – $8.17B – $155.11B  
Wednesday, April 19, 2023  
Tesla (TSLA) – $0.8566 – $23.62B – $618.27B  
Nasdaq Inc (NDAQ) $0.6504 – $906.38M – $26.6B    
Tuesday, April 25, 2023  
Alphabet A (GOOGL) – $1.08 – $68.9B – $1.34T  
Wednesday, April 26, 2023  
Meta Platforms (META) – $2.01 – $27.64B – $552.41B  
Thursday, April 27, 2023  
Apple (AAPL) – $1.43 – $92.63B – $2.63T  
Microsoft (MSFT) – $2.24 – $51.13B – $2.14T  
Amazon.com (AMZN) – $0.2072 – $124.62B – $1.05T  
Friday, April 28, 2023  
Exxon Mobil (XOM) – $2.67 – $88.32B – $472.76B  
Chevron (CVX) – $3.55 – $50.19B – $324.04B  
Stay up to date on the latest market news         
How earnings season works:  
Earnings season is a period during which publicly traded companies release their financial results for a specific quarter. In general, companies report earnings four times per year, corresponding to the end of each quarter:   
Q1: January through March  
Q2: April through June  
Q3: July through September  
Q4: October through December   
During earnings season, companies announce their financial performance for the previous quarter. This includes their revenue, earnings per share, and other financial metrics. Companies may also guide their future performance, outlining their expectations for the coming quarter or year.   
Investors and analysts closely follow earnings reports to evaluate a company's financial health and performance, as well as to gauge the potential for future growth. Earnings reports can also impact on stock prices, as investors may buy or sell shares based on the company's financial results and guidance.   
In general, earnings season kicks off several weeks after the end of each quarter, with many companies releasing their earnings reports within a few days of each other. The actual release date can vary, however, and some companies may report earnings outside of the traditional earnings season schedule. 
More from CMTrading: 
Trade & thrive – CMTrading scoops 10 industry awards so far in 2023! 
For the love of Football: CMTrading gets in the game   
UAE's tech IPOs worth billions in 2023 
How ChatGPT and AI will affect traders 
World's most expensive fuel prices 
Big Mac Index – Top 10 Global Food Index you should know 
Special offer 
Take advantage of market movements with our special April offer and start trading today!  
How to get your bonus:    
1 Deposit $250 – get a 100% back  
2 Use promo code CMT250 
3 Trade with our bonus 
T&C Apply | Min. deposit $250 | Max reward $250 | New clients | Promo code: CMT250 
Ready to start trading? Open an account today        
Join CMTrading, the largest and best-performing broker in Africa, and discover more opportunities with an award-winning broker. Register here to get started            
Follow us on Facebook, Instagram, LinkedIn, Twitter, and YouTube