Trade & thrive – CMTrading scoops 10 industry awards so far in 2023! 
The mark of a good business is its legacy and in 2022 CMTrading celebrated 10 years of excellence.   
Since 2012, CMTrading has had a proven track record of excellence, growing to more than 1,000,000 happy subscribers in 2023.  
What better way to celebrate our company's ongoing efforts to provide a world-class trading experience than to be awarded not one, but 10 accolades so far in 2023. 
Some of our awards include 'Best Performing Financial Broker Africa' and 'Best Financial Broker Nigeria'. 
Award-winning broker   
Below is a list of just some of the titles CMTrading has been award in 2023: 
Global Business Review Magazine:  
Best Growing Broker Kenya 2023

 
Best Performing Financial Broker Africa 2023 

 

Best Growing Broker Nigeria 2023

 
Global Business Magazine:  
Best Financial Broker Nigeria  

 

Best Partner Program GCC 2023

 
Stay up to date on the latest market news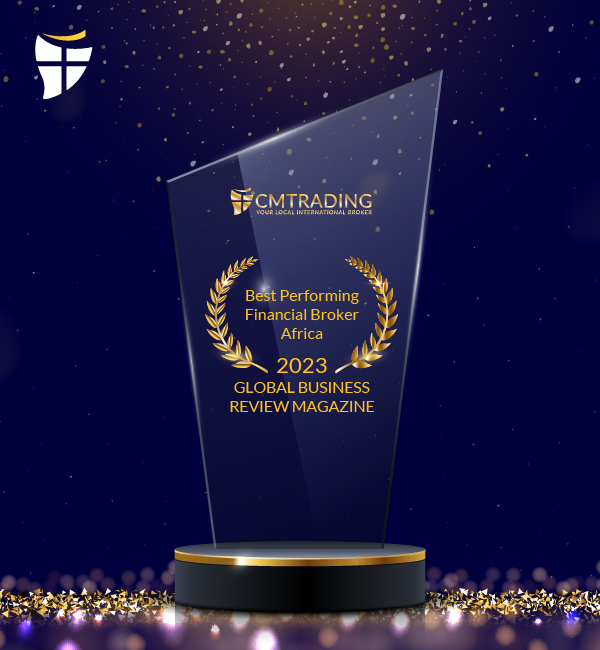 Global Business and Finance Magazine Awards: 
Fastest Growing Broker Nigeria 2023 

 

Best Performing Broker South Africa 2023

 

Fastest Growing Financial Broker Middle East 2023

 
World Business Stars Magazine Award Winner 2023 United Kingdom: 
Best Broker in Nigeria 2023

 

Most Innovative Forex Broker in GCC & Africa 2023

 
For the love of Football: CMTrading gets in the game   
Ibrahim Shanableh, regional manager GCC: 
"I believe that CMTrading has been deservedly recognized for its achievements. The CMTrading team's hard work and dedication have resulted in several notable awards, reflecting the vision of top management to position CMTrading as a top-tier company." 
Alon Roslyakov, CMTrading South Africa Office Manager:   
"Winning such a prestigious award is a significant achievement for CMTrading, as it recognizes the brand's efforts in providing excellent financial services in Africa. It can serve as a source of pride and motivation for the brand's employees, stakeholders, and customers, showcasing the company's commitment to excellence in its operations and services.  
Become a better trader – join our webinars        
"Awards such as these can help to establish a brand's reputation as a trustworthy and reliable financial service provider. Winning industry awards can attract new customers and retain existing ones, showcasing the brand's credibility and expertise in the market. It can also increase the brand's visibility, leading to more partnerships and opportunities for growth.  
"CMTrading's unique selling proposition can be a combination of several factors, such as a robust trading platform, competitive pricing, exceptional customer service, and a wide range of financial instruments. Additionally, CMTrading's understanding of the African market, its culture, and its regulatory environment also contribute to its uniqueness in the region.  
"Becoming a successful trader requires discipline, patience, and a commitment to continuous learning. Some essential tips for anyone interested in trading include developing a sound trading plan, managing risk effectively, staying up to date with market trends and news, and maintaining emotional discipline in the face of market volatility. Additionally, seeking guidance from experienced traders or mentors can help to fast-track one's learning process and avoid common trading mistakes."  
Want to learn more about the markets? Check out our latest podcast!     
'CMTrading is ticking all the right boxes'   
Oluwaseun Adeniyi, Team Leader Sales Nigeria:  
"CMTrading winning the Best Financial and Best growing broker in Nigerian only means one thing; Client satisfaction and trust. It means the platform is great overall from our Copycat trading tool to our excellent account managers and professionals.  
"Awards like this are important in the sense that it shows CMTrading is ticking all the right boxes to help both new and experienced traders reach financial stability with proper tools and analysis. The work is being appreciated and is going to always keep us on our ten toes to consistently improve.  
"CMTrading is unique in Nigeria in the sense that apart from our physical presence we have versatile account managers that can assist you in any language. Our longevity and stability here in Nigeria are what separates us from other brokers.  
"To become a trader, you must be willing to learn and be guided throughout the journey. This is why CMTrading is filled with professionals who will guide you and walk you through the process. All you need is the confidence that you will achieve financial freedom through trading. If you fear the risk, do not worry – there are tools in place to minimize every risk possible."   
'Doing whatever it takes to help them succeed' 
Charlie Charalambous, Head of Global IBs, said:  
"This is great recognition for the work that has been done over the years. I'm extremely proud. We try and maintain the highest standards of service. These awards are a way of calibrating those levels.  
"It's not about the deal or trading conditions for clients. It's not even about the marketing services offered to Partners. For us, it's all about knowing your partners, building a relationship and doing whatever it takes to help them achieve success." 
More from CMTrading: 
For the love of Football: CMTrading gets in the game   
UAE's tech IPOs worth billions in 2023 
Are Fed interest rate hikes coming to an end?   
Silicon Valley Bank collapse: What you need to know   
How ChatGPT and AI will affect traders 
World's most expensive fuel prices 
Big Mac Index – Top 10 Global Food Index you should know 
Ready to start trading? Open an account today        
Join CMTrading, the largest and best-performing broker in Africa, and discover more opportunities with an award-winning broker. Register here to get started            
Follow us on Facebook, Instagram, LinkedIn, Twitter, and YouTube