UAE's tech IPOs worth billions in 2023
The United Arab Emirates continues to be a hub of high technology, with 11 Initial Public Offerings (IPOs) set to be launched on the market for 2023.    
In March, Presight AI Holding Plc, a data analytics company owned by Abu Dhabi's G42, made a splash with its IPO nearly reaching half a billion dollars.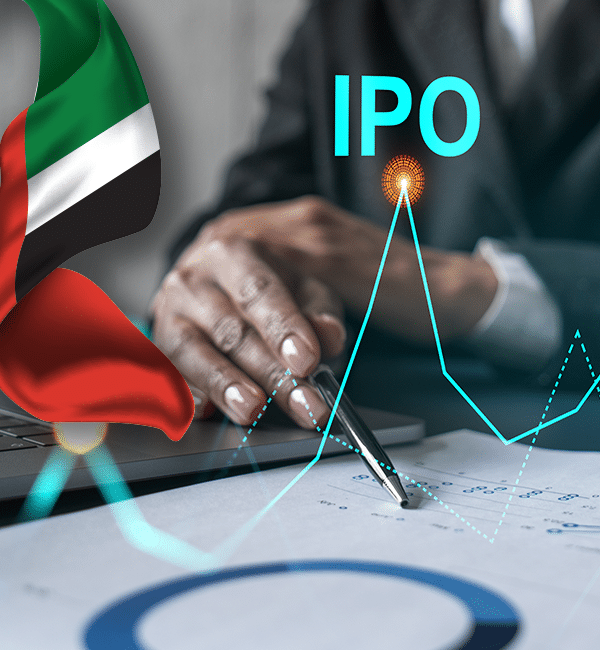 Incredibly, the company drew orders worth $25.8 billion for its $496 million IPO. It's the latest sign of strong demand for Middle Eastern tech offerings.  
Stay up to date on the latest market news        
In this article, we take a look at the latest developments in the world of tech, stocks, and business in the Gulf Cooperation Council (GCC).    
IPOs shock with massive potential  
The Presight AI listing is Abu Dhabi's second of the year and is currently selling 1.36 billion shares at 1.34 dirhams a share. Presight's owner, G42, is an artificial intelligence and cloud computing firm. In 2022, the company sold shares in Bayanat, a geospatial and data analytics company.    
Earlier in March, another Middle Eastern company, Adnoc Gas surged as much as 25% on its Abu Dhabi debut. Dubai-based money exchange firm Al Ansari Financial Services received orders for all shares offered within an hour of the company listing them.  
Want to learn more about the markets? Check out our latest podcast!     
The Middle East continues to be a bright spot for IPOs; the region saw high oil prices lift stock markets and drive investors during 2022.     
Abu Dhabi-based Ai and cloud computing company, G42, says it has at least six IPOs in the pipeline for 2023. These include G42 Healthcare, Presight.AI (just listed), and AIQ, its joint venture with Adnoc Gas.  
 Ready to start trading? Stay tuned for a special trading offer at the end of this article! 
11 companies to list on the UAE market  
Speaking at the inaugural MENA IPO Summit in Dubai, Mohamed Al Hadari, the deputy chief executive of the Securities and Commodities Authority, said he expects 11 companies to list on the UAE capital markets in 2023, raising upwards of $2 billion.    
Hadari said: "There are 11 new IPOs with a total value exceeding AED 8 billion, including four free zone companies and two SPAC waiting in the pipeline currently.     
"The current flurry of activity is more sustainable than the previous IPO booms as it is part of the wider well-defined government strategy to expand diversity to supply the markets.     
"The Dubai government last year announced plans for 10-state owned companies as part of their strategy to double the size of the capital markets to around AED 3 trillion and attract foreign investments."    
There was a flurry of listings in 2022 April last year saw the UAE's largest-ever IPO, for Dubai Electricity and Water Authority (DEWA), raising $6.1 billion.     
Companies from the Middle East have raised $21.9 billion through IPOs in 2022, more than half the total for the wider EMEA region, which includes Europe and Africa.    
The Abu Dhabi Securities Exchange (ADX) announced they could list 13 additional companies in 2023 including four companies from outside the UAE, Al Hadari said.  
 World's most expensive petrol price 
The region has seen and continues to see a string of IPOs as investors are favoring a thriving market, largely due to high oil prices. In 2022, funds listed in the Gulf region 2022 reached more than $23 billion. What's more, there has been more diversification in the usual state-dominated listings, such as educational operator Taaleem and medical firm Burjeel making their public debuts.  
Presight AI soars on market debut  
Shares in Presight AI climbed as much as 176% on its stock market debut after raising $495.6 million in an IPO for almost a third of the business.    
Presight's shares rose as high as 3.70 dirhams on the Abu Dhabi Securities Exchange before retreating to 3.40 dirhams. Its shares were priced at 1.34 dirhams for the IPO.    
The company is majority owned by G42, controlled by Sheikh Tahnoon bin Zayed al-Nahyan.    
Sheikh Tahnoon's financial holdings include the conglomerate International Holding Company (IHC.AD), which was a primary investor in the Presight IPO.  
Become a better trader – join our webinars           
He was also recently named chair of Abu Dhabi Investment Authority, the emirate's largest sovereign wealth fund.  
Massive Al Ansari IPO  
UAE-based exchange house Al Ansari Financial Services (IPO-ALAE.DU) said on March 28 it has raised 773 million dirhams ($210.5 million). The amount is at the high end of IPOs for the region.    
Its shares were priced at 1.03 dirhams each with about 10% of the company – equivalent to 750 million shares – to be listed on the Dubai Financial Market on April 6. Al Ansari will retain the remaining 90%.    
ADNOC Gas – IPO raises $2.5 billion  
State oil giant ADNOC plans to float its marine and logistics subsidiary later in 2023. The listing will be the second IPO of one of ADNOC's businesses this year.    
ADNOC, which supplies nearly 3% of global oil demand, raised $2.5 billion by listing its gas business in March. The company is preparing for a June listing of ADNOC Logistics & Services (ADNOC L&S).  
More news from the GCC region  
No company has benefited as much from the volatility in the oil industry in 2022 as Saudi Aramco (2222.SE). The company soared in value, even briefly toppling Apple as the world's most valuable company by market capitalisation.   
Big Mac Index – Top 10 Global Food Index you should know 
In March 2023, Saudi Aramco raised its multi-billion dollar investment in China with two major deals. The company said it is finalising and upgrading a planned joint venture in northeast China and acquiring an expanded stake in a privately controlled petrochemical group.    
The two deals would see Aramco supplying the two Chinese companies with a combined 690,000 barrels a day of crude oil, propelling it to become China's top provider of the commodity.    
Aramco said on Monday it had agreed to acquire a 10% stake in privately controlled Rongsheng Petrochemical Co Ltd (002493.SZ) for about $3.6 billion.    
The deal follows a preliminary agreement Aramco reached with the Zhejiang provincial government in 2018 for a 9% stake in ZPC.  
 More from CMTrading: 
Are Fed interest rate hikes coming to an end?   
Bitcoin soars as global banking crisis sparks rally 
Silicon Valley Bank collapse: What you need to know   
How ChatGPT and AI will affect traders 
World's most expensive fuel prices 
Big Mac Index – Top 10 Global Food Index you should know 
Special offer 
Take advantage of market movements with our special March offer and start trading today!  
How to get your bonus:    
1 Deposit $250 – get a 100% back  
2 Use promo code CMT250 
3 Trade with our bonus 
T&C Apply | Min. deposit $250 | Max reward $250 | New clients | Promo code: CMT250 
____________________________________________________________________________________ 
Ready to start trading? Open an account today        
Join CMTrading, the largest and best-performing broker in Africa, and discover more opportunities with an award-winning broker. Register here to get started            
Follow us on Facebook, Instagram, LinkedIn, Twitter, and YouTube