Nissan sells Russian business for $1, takes $687m loss! 
Imagine setting up a business worth nearly a billion dollars only for you to have to close and hand over all assets for a measly $1! Sadly, what sounds like the plot left in Hollywood is a reality for one of the world's biggest carmakers.  
Japanese carmaker Nissan is set to sell its Russian assets to the Russian government, the Moscow industry and trade ministry said.  
Today, we take a look at the bizarre situation companies face in Russia and how it affects a global business that has already left.  
 $1 for a mega car factory  
The Nissan-Russia deal makes the Japanese carmaker the latest major company to exit Russia since Moscow invaded Ukraine in February 2022.  
Become a better trader – Join our webinars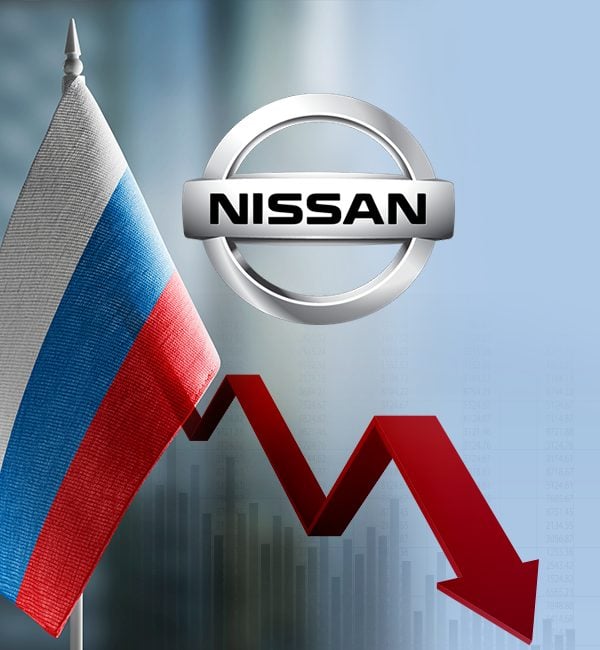 Nissan's exit mirrors its business partner, French carmaker Renault, which sold its stake in its Russian division to Russian investors in May 2022.  
The announcement on October 11 comes after Nissan suspended production at its factory in Saint Petersburg in March.  
Here's where it gets insane for traders and investors – Nissan will hand over its business for the measly sum of $1. Nissan said it will suffer a loss of about $687m.  
Treat your trading like a business  
Nissan – Terms of a bad deal 
The Russian ministry outlined the terms of the deal on October 12: "Nissan's executive committee approved the sale of its Russian assets to the Russian Federation … this includes Nissan's production and research facilities in Saint Petersburg as well as a sales and marketing centre in Moscow."  
The ministry said in a statement that Nissan "can buy back its share within the next six years". Denis Manturov, Russia's industry and trade minister, said the deal was "of great significance for the industry."  
Nissan issued its statement and was quick to point out that the company's 2000 employees in Russia will receive continue to receive "employment protection" for the next year.  
Nissan Russia said: "The company remains on track to achieve its business objectives." This is an interesting statement considering the company already assumed zero activity in the market in the 2022 fiscal year.  
Don't miss out – Get Daily Trading Signals       
Nissan CEO Makoto Uchida said in the statement: "On behalf of Nissan, I thank our Russian colleagues for their contribution to the business over many years. While we cannot continue operating in the market, we have found the best possible solution to support our people."  
 Japan's Nikkei newspaper said that alliance partner Mitsubishi is also considering exiting Russia.  
 Nissan –
More than 1000 companies have left Russia 
After the Russian invasion of Ukraine, multinational companies have been forced to re-examine their commercial ties with Russia.
Some of the world's biggest Western brands such as McDonald's, Pepsi, and Shell, have built relationships with the country spanning decades. Given Russia's volatile geo-political history and disdain for Western companies and products, many companies faced an uphill battle to establish themselves in the East. Now, they are faced with untangling complicated deals.  
 Under pressure from investors and consumers, Western companies begin exiting Russia which resulted in cashing-out investments, closing stores, and selling assets.
The majority of these business deals, including major networks and infrastructure, have been snapped up by the Russian government and reallocated to Russian-aligned businesses.
Some, after taking temporary measures back in the first sixth months of 2022, have now revised their business plans and have decided to exit the country completely. The process of withdrawing from Russia was never going to be easy as the Nissan deal revealed and many businesses have suffered a great financial loss to their businesses.    
Since the invasion of Ukraine, well over 1200 companies and counting have either left Russia or are in the process of exiting the country. More than 1000 companies have publicly announced they are voluntarily ending operations in Russia to some degree to avoid international sanctions.
Many companies have remained and continue to operate in Russia undeterred by global sanctions and outrage.  
Starved for Russian Gas 
One of the biggest economic disasters of the Russian-Ukraine conflict is its effect on global energy, particularly oil and natural gas. Russia has shut down most of its major pipeline gas sales to Europe, essentially starving Europe of its once primary source of much-need LNG. It's no secret that the strategy of turning energy into a weapon is in relataliation to sanctions against Russia by the international community.
Europe is facing skyrocketing energy prices as households are forced to cough up more and more Euros (and Brtish Pounds) to keep the lights on and the houses heated during the Northern Hemisphere winter.  
Start trading gas – Open an account today           
Although better known for its vast pipeline gas and oil exports, Russia is also the world's fourth-largest LNG shipper, only trailing Qatar, Australia, and the US. Starving out Europe is a powerful weapon in its arsenal of energy armament and one that's already had a severe impact on the European economy, now on the brink of recession.     
The volatility is creating a boom for energy traders; oil rose beyond $120 per barrel in March 2022 and we've already seen record highs for LNG globally.  
Record high for gas 
Natural gas prices in the US and Europe and LNG prices in Asia crashed to historic lows in 2020; at the onset of the Covid-19 pandemic European gas spot price dropped to a historical low of €3.36 per megawatt-hour (MWh). As of October 2022, LNG has reached an astonishing $515.   
As the stand-off with Russia continues, European leaders are seeking ways to phase out natural gas imports.  
Europe's plan has global repercussions, as the surging demand for LNG has led to an exceptionally tight global market, reports the International Energy Agency (IEA).  
The IEA said in its Q3 gas market report: "Record high European gas prices have turned the continent into a premium market for LNG, drawing deliveries from other regions, and resulting in supply tensions and demand destruction in several markets."  
Overall, traders could see a continued boom in LNG prices for the foreseeable future. 
Gain access to the following powerful features:  
Trending stocks 

 

Analyst ratings 

 

Insider activity 

 

TipRanks smart score 

 
What's more, it's completely FREE! 
Ready to start trading? Open an account today        
Join CMTrading, the largest and best-performing broker in Africa, and discover more opportunities with an award-winning broker. Register here to get started            
Follow us on Facebook, Instagram, LinkedIn, Twitter, and YouTube