Stocks rattled as the market takes another hit 
It continues to be a volatile market as the "bears" have taken over Wall Street. Poor market sentiment, high inflation, and increasing interest rates plague global markets.  
If 2021 represents the market "boom" then 2022 will be remembered as the "bust" as across-the-board assets are tanking except the oil industry.   
Today, we take a look at the state of the financial markets and share the results of an alarming survey regarding young people and their views on the economy. 
Become a better trader – Join our webinars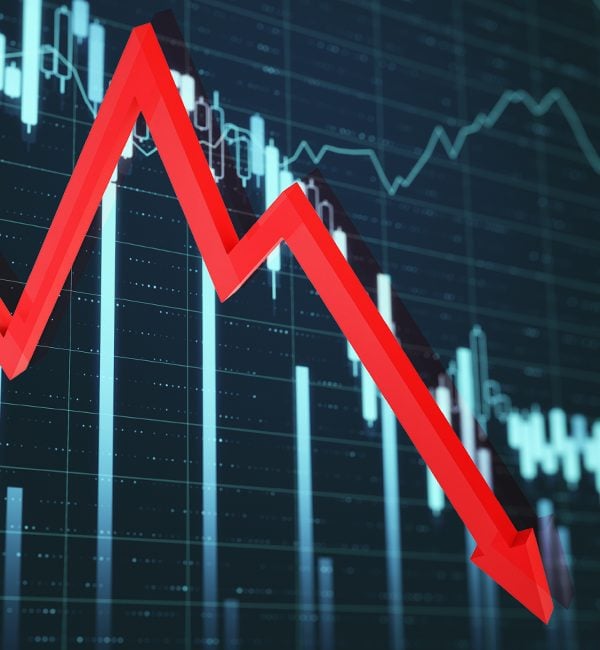 Recession looms  
The S&P 500 and Nasdaq ended lower on October 11. Trading was volatile, as traders remain cautious ahead of key US inflation data and the start of third-quarter earnings reports later this week. Some of the world's biggest companies, including the FAANG (Facebook, Amazon, Apple, Netflix, and Google) group are set to report their Q3 earnings in October 2022.  
The Dow ended higher, helped by drugmaker Amgen Inc (AMGN.O) shares, increasing by 5.7% after a favorable report by Morgan Stanley.  
Treat your trading like a business 
All three major indexes dropped in afternoon trading after Bank of England Governor, Andrew Bailey, rattled the market. Bailey told pension fund managers to complete rebalancing their positions by October 14 when the British central bank is set to end its financial support program for the UK's bond market.   
The looming end of emergency support for the UK's bond market added to market jitters.  
Worst close for the Nasdaq in years  
The Nasdaq posted its lowest close on October 10, the worst seen since July 2020. Investors are continuing to be deterred by the effect of higher interest rates.   
US Federal Reserve Vice Chair Lael Brainard said tighter US monetary policy is being felt by an economy that may be slowing much faster than expected. The full effect of high-interest rates won't be apparent for months but by then it will be too late to undo the damage.  
Unfortunately, curbing inflation remains a primary concern for many economies. The US Fed is continuing its attempt to lower inflation while making it prohibitively expensive to borrow money, curbing investment.  
Don't miss out – Get Daily Trading Signals      
Young rich don't trust Wall Street  
What do future traders and investors think of the current financial market? A survey released by Bank of America reveals that the rich, young respondents in the US have lost trust in the stock market as the main tool for generating capital. What's more, the survey shows these same young investors are turning to alternative investments to finance their future endeavors.   
According to the survey of 1,052 people aged 21 – 41 with assets worth $3 million and more only hold a quarter of their investment portfolios in stocks. By contrast, more than half of the portfolios for older respondents were in stocks.  
Jeff Busconi, CEO at Bank of America, said "A traditional portfolio of stock and bonds is not going to deliver above-average returns over time. We've had a very strong run in the stock market over the last decade and are now living through volatile times. That's on the front of people's minds."  
Wealthy young investors are instead turning to assets such as cryptocurrency, real estate, and private equity. The study found that younger people allocated 15% of their portfolio to digital currencies, compared to just 2% for older respondents.  
'Money doesn't disappear, it just relocates itself' 
Q: Nasdaq's worst close since 2020 – what are your thoughts?  
Razak: "I think we're going to continue to go lower. I think the markets may get a little bit of a bump just because we're going into earning season. So we might see a little balance here and there. I think overall that this is really where the Bears have taken over the market. That's just the reality of it right now. It comes with every cycle of boom and bust.   
"It's not a bad thing, it's a good thing. It means that money can be recreated down the line by new players that want to come into the markets."  
Q: When will the Fed end its monetary tightening policy?  
Razak: "I think the Fed will stop its monetary tightening policy once they see that inflation is in check. It's not going to be erratic or big swings on the upside. I think curbing inflation is their biggest concern right now more than anything else. They're focusing on the stability of the financial systems which is crucial in these types of environments."  
Q: If economies are slowing, should you still trade?  
Razak: "Yes. There are still always opportunities in the markets. Money doesn't disappear, it just relocates itself. That's a very important concept and one that I've had to learn myself the hard way. The money doesn't disappear, it just relocates, and you just must be at that place where it relocates to. That's the trick of it all."  
Q: What's the appeal of trading an Index like the Nasdaq?  
Razak: "So the appeal is, that some of the biggest companies in the world are listed on them including Apple, Amazon, and Netflix. All the big technical technology companies are listed on it. So that's part of the big appeal of it and that's the part of the bigger appeal for being exposed to so many companies instead of trading in just one of them.  
Advice for traders?  
Razak: "Trade smartly and be very careful with your profits. Now is not the time to take unnecessary risks. It is a very volatile market. It is a difficult market to trade, but it's also an environment that has tremendous potential. Continue to trade and don't be scared."  
Want expert trading tips?  
CMTrading offers all the latest trading tips, news, and information in real-time. Simply sign-up for an account and access your trading dashboard. What's more, it's completely FREE!  
 Gain access to the following powerful features:  
Trending stocks 

 

Analyst ratings 

 

Insider activity 

 

TipRanks smart score 

 
What's more, it's completely FREE!  
Ready to start trading? Open an account today        
Join CMTrading, the largest and best-performing broker in Africa, and discover more opportunities with an award-winning broker. Register here to get started            
Follow us on Facebook, Instagram, LinkedIn, Twitter, and YouTube