Market winners: Gold, Chevron, wheat, and more!
The ongoing conflict between Russia and Ukraine continues to rock global markets. As the US dollar faces inflation pressure and Russia is hit by harsh economic sanctions traders have turned to the relative safety of gold.   
The precious metal has made a comeback in 2022, hitting record levels beyond $2000. Another commodity winner is oil, with Chevron profiting from rising fuel prices. Bitcoin also received a short-lived boost in the second week of March.  
Here's how to trade during crisis 
We take a look at some of the most tradeable assets on CMTrading award-winning platform.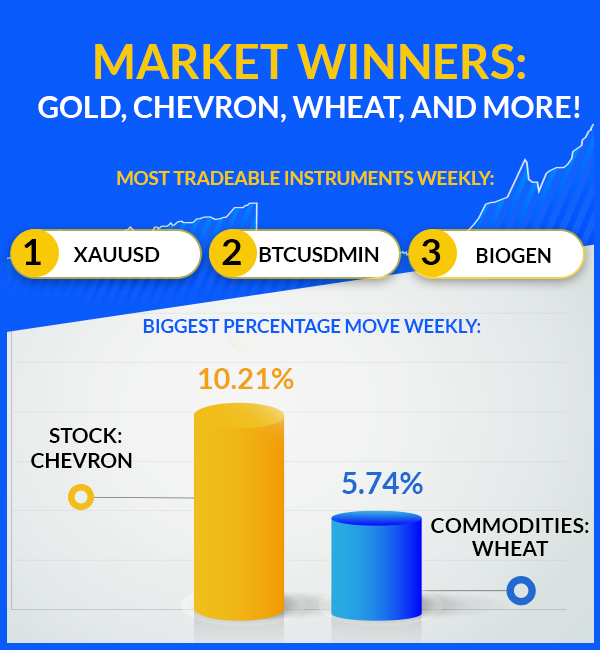 Most tradeable instruments weekly:  
XAUUSD
The XAU/USD price has been nothing short of meteoric. Since the conflict began in late February, the gold price has consistently climbed to eventually breaching the $2000 barrier. If rate hikes and the conflict persists, experts believe gold could retest the $2053 – $2070 region and beyond. One of the biggest boosts has been traders turning away from cryptocurrencies towards the safe haven of gold during these tumultuous times.  
Ready to start trading? Open an account today 
BTCUSDMIN
The crypto market has experienced a mass sell-off since the start of 2022, with crypto king Bitcoin suffering a disastrous crash. Since then, Bitcoin has seen minor rallies and crashes. Bitcoin hit a high of $42 542 on March 9 following an announcement by US President Joe Biden. The US president issued an executive order to focus on the crypto sector. This boosted Bitcoin traders, but the rally was cut short and the world's biggest crypto tumbled to $38 268 by March 11.  
BIOGEN
The biopharmaceutical sector has been booming since the advent of COVID-19 in 2020. In 2022, as COVID19 cases have drastically plummeted the sector finds itself in need of a new revenue stream. Biogen is one such company suffering shifting trends in the pharmaceutical sector. The company announced mass layoffs as enthusiasm over its promising Alzheimer's drug, Aduhelm, fades.   
Biogen shares are down more than 50% from a peak in early June 2021. Earlier in 2022, Medicare, one of the biggest medical aid providers in the US, said it will not cover Aduhelm. The company is still hoping to reverse that decision and ultimately its fortunes should the drug become commercially viable.  
Biggest percentage move weekly:  
Stock: CHEVRON 10.21%  
US oil producer Chevron is having a fantastic year as oil prices hit record highs. The combination of the US banning imports on Russian oil and supply issues has propelled Chevron to new heights; the company is up 42% YTD. Chevron hit a new 12-month high of $174.76 on March 10.   
Take advantage of today's oil prices!   
Commodities: WHEAT 5.74%  
When two of the world's biggest wheat producers are at war, it will have a disastrous effect on global food supplies. The price of wheat hit a 14-year high at $12.09. Russia and Ukraine account for around 29% of global wheat exports.  
While market volatility and disruptions in exports are driving prices, farmers and ultimately consumers will bear the costs. Economists warn that wheat supply issues will further hike food prices. Globally food prices reached record highs in February, a rise of nearly 21% since 2021, reports the United Nations' Food and Agriculture Organization. 
Join CMTrading, the largest and best-performing broker in Africa, and discover more opportunities with an award-winning broker. Register here to get started               
Follow CMTrading on Facebook, Instagram, LinkedIn, Twitter, and YouTube.