The US dollar has been in low demand since April, yet markets remain positive despite escalating inflation in the US. In the world of currency trading, we ask – what's happening with the dollar?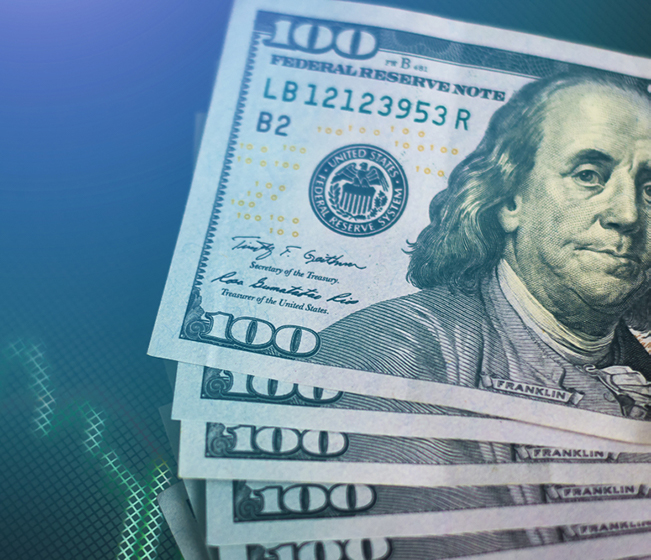 What with the riots inside the Capitol, the disastrous effects of the ravaging pandemic, and the presidential election drama, it has been an interesting start to 2021 for the United States. However, there have also been positive developments such as the low unemployment figures and the massive government spending plan amounting to trillions of dollars.  
Why then has the dollar been in low demand and what can currency traders and speculators expect going forward?  
Greenback no more in demand  
The dollar has been weakening while the euro is recovering lost ground and is now changing hands above 1.21 against the dollar. Even the South African Rand/Dollar exchange rate was down to R14.17, a boon for the South African economy.   
Traditionally, when the stock market rallies, it negatively affects the dollar. In light of high inflation fears, many US citizens have taken to stockpiling fuel and other necessities.   
On April 14, the US dollar crashed below its uptrend line following April's poor NFP results. Curiously though, Treasury yields have for the most part stuck to their recent range, yet the greenback remains under pressure.   
Many analysts estimate that inflation will rise affecting performance and triggering the aforementioned panic-buying of essentials.   
Expectation management  
The US Federal Bank has echoed a message from the white house; that economic recovery will take some time. The Fed is hoping for a series of months where a million jobs are created before there can be substantial progress. The April NFP report is a stark reminder that the US economy has a long way to go.  This hasn't stopped high inflation expectations. The US five and 10-year breakeven inflation rates are climbing despite steadying during March and April; the 10-year rate is 2.5%, while the 5-year reached 2.8%, the highest since 2011. When inflation expectations rise, this puts pressure on the national currency.  
Inflation worries, high CPI  
The latest US CPI data showed a big increase in April, the biggest increase in a decade. Rising prices and costs affect consumer spending as well as company profits. High inflation could also force the Fed to restrict monetary policy, harming economic growth and stock valuations.  
The Fed were quick to try and reassure investors and judging by a rebound in stocks on April 14, appears to have calmed market jitters. However, there will likely be further volatility in the near term as markets digest the CPI.  
Holding steady, for now 
On April 14, the dollar was holding fast against its major peers as the Dollar Index consolidated around 90.70 for a second day on Friday.  
Interestingly, despite a surge in panic fuel-buying across the US, Brent crude declined 0.4% to $66.79 a barrel.  
The American Jobs Plan  
Many analysts are waiting to see what will happen with US President Joe Biden's huge stimulus plan.   
Earlier in March, US President Joe Biden announced a $2-trillion infrastructure bill now dubbed as the American Jobs Plan.   
Central to this plan is its focus on the environment, improving technology and a massive reduction in carbon emissions across major industries.  
If passed, all eyes will be on the initial volatility of the bill and whether it pays off in the near term.  
Biden is planning to spend $4 trillion, the biggest US investment in the economy since the "New Deal" of the 1930s. 
Discover more opportunities with CMTrading  
CMTrading offers more than 150 tradable assets including the top-performing currency pairs available in the markets. CMTrading clients get access to global brands, exceptional trading conditions and robust safety and security under the auspices of the Financial Sector Conduct Authority (FSCA) in South Africa.      
Being a retail brokerage that specializes in CFDs (Contracts for Difference), CMTrading provides clients with unique advantages such as powerful leverage, which allows traders with smaller accounts to gain exposure to much larger positions. This translates to substantially higher profit potential, however, it should be noted that leverage also increases your exposure to downside risk.      
While leverage typically adds a certain degree of risk to any investment, CMTrading also offers negative balance protection, thereby guaranteeing that potential losses will never exceed your invested capital.       
If you are interested in learning more about how you can take advantage of price movements in currency exchange rates, commodities or cryptocurrencies, you will find that CMTrading's unique offering of innovative services and diverse account types are suitable for both beginner and experienced traders.      
Start trading the financial markets today with an award-winning broker. Join CMTrading, the largest and best-performing broker in South Africa.      
Register here to get started!