Bitcoin, Stocks rebound: How to deal with market uncertainty  
The start of 2022 has seen incredible volatility as the tech-heavy Nasdaq narrowly avoided its worst start to a year yet. Similarly, the S&P 500 recorded its weakest January market performance since 2009.   
The already volatile cryptocurrency market also saw a huge decline throughout January 2022.   
One of the reasons behind the market drop is valuations of growth and technology stocks have come under increasing scrutiny. Another is the US Federal Reserve attempts to curb inflation by hiking interest rates and withdrawing its pandemic stimulus measures.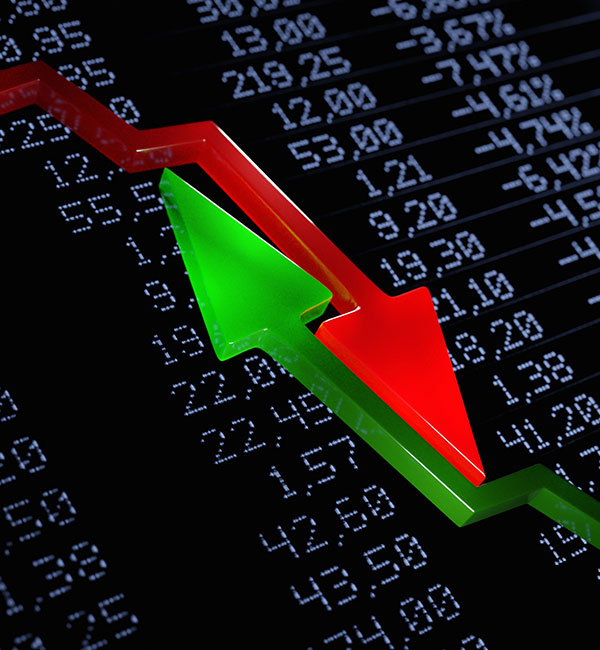 Minor rally  
The markets are already experiencing a minor rally in February. US stock futures rose on February 2 as Google parent Alphabet's surged 9% on strong earnings. This propelled Nasdaq futures more than 1.5% higher.  
Facebook parent Meta Platforms rose 3% ahead of its earnings report. The late-January market rally continues as the S&P 500 and the Nasdaq closed 0.7% each.   
The crypto market however continues to experience a drop with Bitcoin down by 20% over the past month to about $37000.  
How to become an online trader in 2022  
 What should you do when the markets drop? Is there still money to be made? Fred Razak, Senior Trading specialist at CMTrading, answers these questions and more:  
The start of 2022 has been disastrous for the Nasdaq – what happened?   
People are taking money off the table; Stocks are appreciating at levels that I'm uncertain as to whether it's sustainable. This type of growth of the past two years is not sustainable. So the question is, what's the true value of the market right now? Consider Apple, Microsoft, or Tesla. All these huge companies cannot sustain their earning revenues at these levels. It's just not happening. So there will be corrections to the markets.   
What are your thoughts on the declining Cryptocurrency market?  
What happened to cryptocurrencies is an anomaly. You must look at the greater range of cryptocurrencies. People think that the range of cryptocurrencies is between $60,000 to $50,000 per coin. Sure that might be its value on paper but it has a tremendous spread. It's actually between $30 to $60,000 now you know you have to look and ask "what's the true value?". Cryptocurrency is one of those types of assets when you don't know as you can't quite put a finger on what the real value of it is. It's something that can be truly overbought or oversold.   
I think the market is still trying to figure that out, so the fact that cryptocurrencies have this huge drop, I don't think that that's you know abnormal because it's trading in such a huge kind of spread. So for it to retrace 50%, it's just relative to its behemoth size right.  
I wouldn't be concerned about the price as much as I would be concerned by how many people are still engaging in it on a daily basis – ie. how many bitcoins are being traded on a daily basis. If you have a steady amount of Bitcoin users on a daily basis, then it's just a matter of time until it is used again and again. That's really the advantage of cryptocurrencies that you'll see that they'll have a base camp of people that'll be using Bitcoin and that's not going to sustain its growth for the long term. It's going to be their core market and then it's going to slowly seep into the rest of the market. And that's what I think is going to happen to Bitcoin over the long term.   
 Trade Like a Champion with CMTrading 
What can traders do when the markets are down?   
Traders don't have to bounce back for the markets. Good traders don't care which way the markets are going as long as there is volatility. Since the beginning of the pandemic (March 2020), I would say even on March 18th, 2021, we have capitalized on the downside. We saw the worst, in terms of such a massive decline in the markets, in history, and now the markets have bounced back since then. The Fang stocks, (Facebook, Amazon, Apple, Netflix, Google), all the ones that reflect plus Microsoft, the ones, that reflect the NASDAQ, have not just bounced back, but they almost tripled in size. Microsoft went from around $150 to $300. Facebook and Apple also gained a lot and tripled in the past two years. Amazon also saw tremendous appreciation of the price of its stock. So the fact that we retrace for the first time since 2020 is well overdue. The markets will correct themselves, and that's normal.    
Trade Like a Champion with CMTrading  
Is there still money to be made?    
This is probably the best trading environment that anybody could be involved in, perhaps in history. It's unbelievable what's happening in the markets. The volatility is just so overwhelming, I think, for traders and for investors alike. If you're an investor, you'll go through a rollercoaster, but if you're a trader, you are taking advantage of these moves. You really have a tremendous advantage on the market. I speak to traders who are making money hand-over-fist. As long as they are cutting their losses small and they're taking advantage of the upside and the downside, it's a great space to be involved in.    
Advice for traders  
Book your profits. Cut your losses. And just get in the game. Just be active in the game because there are lots of opportunities right now and it may not come back. OK, it may not come back for quite a while. 
Trade the easy way           
Join CMTrading, the largest and best-performing broker in Africa, and discover more opportunities with an award-winning broker. Register here to get started            
Follow CMTrading on Facebook, Instagram, LinkedIn, Twitter, and YouTube.