Market
 Winners: Sony, Moderna, crude oil, and more! 
From Sony stock to the crude oil price rally, we look at some of the biggest winners on the market this week.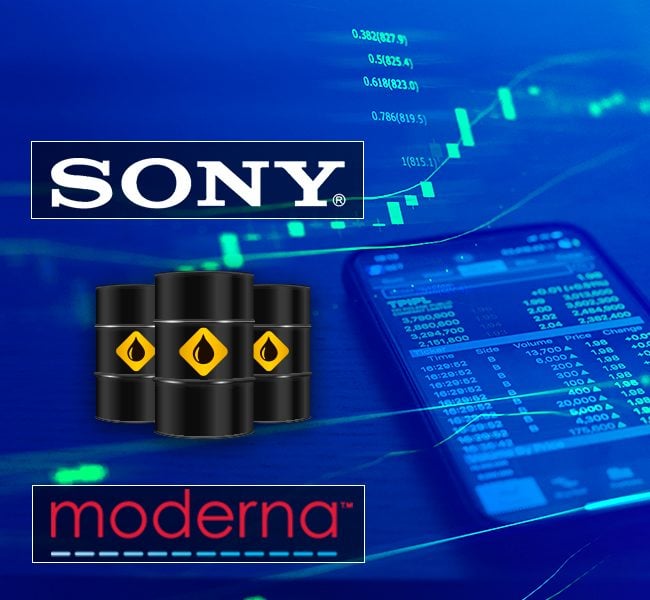 It has been a great week for oil as the commodity nears multi-year highs, pushing beyond $80 a barrel. Another winner was the music and entertainment titan Sony, which has seen a substantial shift in its fortunes with sales of its PS5 picking up steam. 
Today, we look at some of the best-performing and most tradeable instruments on CMTrading's platform.   
We will also share valuable information on Earnings Season (ES).    
Most tradeable instruments (weekly):  
XAU/USD 
The gold price  is reversing from monthly highs, faltering at the $1,800 mark. The US dollar rebound alongside Treasury yields and amid an upbeat market mood stalled the price of gold.  
In October, positive US corporate earnings eased fears over escalating inflation, boosting investor sentiment to the detriment of gold. Traders of the precious metal nonetheless attempted a breakout of the crucial $1,800 resistance level this week with a high of $1,792.21, but failed to do so.  
Inflation however has risen 5.4% YoY (Year over year), which is still cause for concern. Lagging US retail sales and poor consumer confidence could further drive the precious metal in the weeks to come.  
How to trade gold the easy way 
SONY 
Entertainment giant Sony's fortunes have been lifted by sales of its next-generation gaming console, the PlayStation 5 (PS5). The company's stock has been steadily climbing for the past six months and with the US holiday season approaching, its share-price rally could continue.    
The PS5 is a major source of revenue for the company; Sony sold 4.5 million PS5 consoles in the quarter ending December 2020, generating $8.4 billion, approximately one-third of the company's quarterly revenue. The two biggest areas of growth for Sony will be the launch of Netflix Gaming and the company's merger with Zee, one of the biggest entertainment channels in India. 
ADA/USD 
Cardano (ADA) has steadily been gaining in popularity throughout 2021. The altcoin has even been adopted by Kiss bassist, rock legend Gene Simmons whose first investment of $300,000 altcoin tokens is now valued at more than $700,000. Cardano reached an all-time high of $3.1 in September only to drop to below $2.1. Much like any cryptocurrency ADA/USD tends to create major moves, causing havoc among unprepared traders. Altcoins have been growing in popularity in 2021 with dozens entering the market.  
Trade crypto in South Africa – Sign up today 
Biggest percentage move (weekly):  
Stock: MODERNA +11.66%  
Pharmaceutical company Moderna burst into headlines with its COVID-19 vaccines, securing billions in contracts with many nations eager to combat the scourge of the pandemic. Its meteoric rise was curbed in September when analysts revealed the stock was overvalued, plunging its price by 35%.   
In October however, its share price is climbing due to a significant boost as the US FDA has authorized booster shots of Moderna's mRNA-1273 (aka Spikevax) to curb a potential third wave of the virus. This is a huge boon for the company as many countries are set to purchase consignments of its booster.  
Commodities: Crude Oil 3.40 %  
The oil industry has had a tumultuous year, suffering alongside the travel and tourism sectors. As restrictions are lifted, and travel resumes oil is reaching multi-year highs above $80 a barrel. Oil prices have been firming up recently with Brent pushing $84 a barrel (near its three-year high). This was also led by a rebound in global demand, contributing to energy shortages across various major countries such as China, furthering the oil demand.   
Provided the demand stays stable and unaffected by pandemic-driven shutdowns, the oil price is bound to continue climbing.  
Crypto: DOT/USD 26.75%  
Polkadot (DOT/USD) making moves within the crypto community with the launch of its parachains, or sidechains cryptos that will run alongside the main chain. Polkadot has been building interest for months through Kusama's parachain auctions. Seen as one of the most premier opportunities for a burgeoning blockchain/crypto project, the auctions could fetch the network plenty of capital. Polkadot offers a unique opportunity for blockchain developers; by placing their project on its network they will receive their dedicated chain to run on.  
More trading opportunities  
Searching for more trading opportunities? Need to diversify your portfolio? We look at the top-performing sectors and industries globally for the second week of October 2021.  
Best-Performing Sectors:  
1 Energy +3.20 %   
2 Technology +2.63 %   
3 Basic Materials +1.81 %   
4 Utilities +1.69 %   
5 Consumer Discretionary +1.39 %  
Best-Performing Industries:  
1 Renewable Energy Services & Equipment +11.53 %   
2 Advertising +7.47 %   
3 Oil Well Services & Equipment + 6.98 %   
4 Metal Mining + 5.73 %   
5 Oil & Gas Integrated Operations +4.32 %  
Earnings Season – Invest in the brands you love   
In October, some of the biggest companies in the world are releasing their quarterly earnings. Their earnings reports could cause major price movements, volatility in the market, and opportunities for you.    
Find out more about earnings season here!    
Trade the easy way    
Join CMTrading, the largest and best-performing broker in Africa, and discover more opportunities with an award-winning broker. Register here to get started     
Follow CMTrading on Facebook, Instagram, LinkedIn, Twitter, and YouTube.    
Prices are accurate at the time of publishing.