Top companies to watch this week: JPMorgan, Wells Fargo, General Electric, and more! 
Some of the world's biggest financial institutions are releasing their earnings this week, creating big trading opportunities.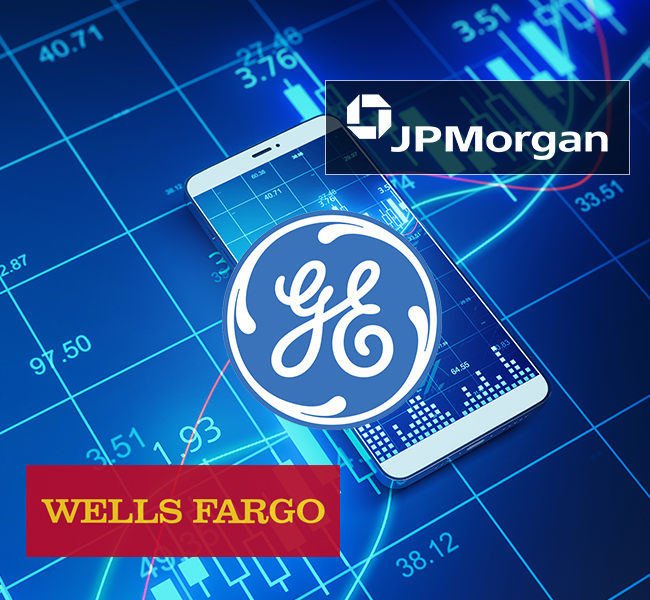 Major financial firms and brokers have power and resources that an average day trader can never hope to reach. There is however one area of trading where it's a level playing field for the entire financial market – earnings season.   
It's the time of year when companies release their financial statements. Whether you're a large investment firm or a beginner trader, everyone gets access to earnings on the same day at the same time.   
Trading made easy – Sign up today! 
Some of the world's biggest financial institutions are releasing their earnings this week, creating big trading opportunities. Today we look at them ahead of their earnings reports.  
How it works  
If a company beats its revenue estimates we could see major movements in its near-term stock price. However, if it does not meet investor expectations, its price could drop.   
Major companies releasing their earnings can affect all markets from the Nasdaq to the Johannesburg All Share index. This kind of volatility creates opportunities for all traders to take advantage of.  
Top 3 companies to watch this week:   
JPMorgan (JPM)  
Share price YTD: +32%   
Earnings Forecast: $29.97 billion  
Earnings announcement – 13/10/2021  
JPMorgan, one of the world's biggest investment banks, kicks off earnings season this week. The firm has not survived the pandemic-driven collapse of 2020 but is thriving in the current economy. Its financial performance over the past year shows just how powerful the USA's biggest bank has become as it shakes off a global recession.  
In 2021, JPMorgan stock reached new highs: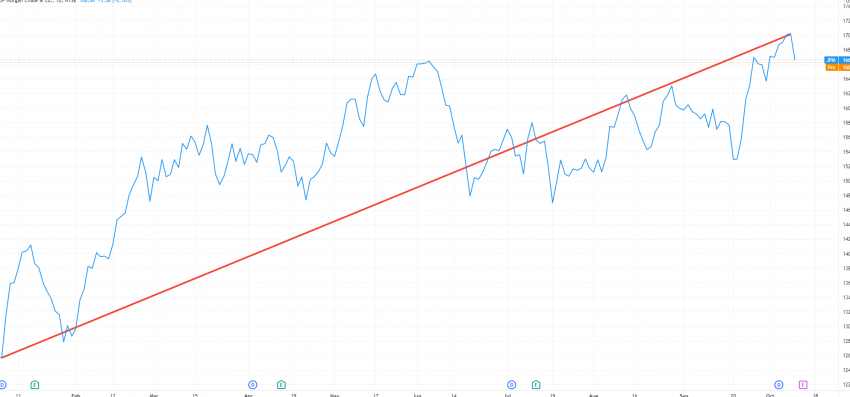 Acquisitions, trading, and net interest income   
JPMorgan's finances are driven by 3 key criteria – acquisitions, trading, and net interest income (NII).  
The company has made several major acquisitions in the fintech sector including 55ip, and OpenInvest. Fintech has grown massively in the past two years.   
Investors will also be looking at the company's investment banking division. Experts will be looking at declining revenue as the division deals with slumping loan growth and potential loan losses.  
In terms of growth the company has launched its digital bank in the UK and took a 40% stake in C6, a major digital bank in Brazil.   
An area of concern is its NII – the interest it gains on loans. Many financial institutions make their earnings through the interest of massive loans, well into the billions. The pandemic forced many companies to default on loans and shut doors permanently. This has had a knock-on effect in the banking and financial services industries, which rely heavily on the interest accrued on loans.  
Overall, the company has been growing through acquisitions and diversifying its portfolio. It has set its earnings forecast at $29.97 billion.  
Wells Fargo & Co (WFC)
Share price YTD: 59.19%   
Earnings Forecast: $17.76B  
Earnings announcement – 14/10/2021  
Wells Fargo & Company (WFC) is expected to have improved year-on-year, yet its revenues are projected to have dropped. Over its previous four quarters, Wells Fargo's earnings have beaten estimates; shares of the biggest US mortgage lender gained 8.24% over the past month.  
Wells Fargo performance: 
Despite beating estimates during its last quarterly report, the company has a lower forecast for expected revenues. This is mainly due to lower NII, a factor affecting all financial institutions.   
Another factor hurting Wells Fargo's finances is declining mortgage revenues. In 2020 there was an initial boom in housing due to the issuing of low mortgage rates. Unfortunately, high mortgages are increasing, driving away potential homeowners already affected by US unemployment figures.  
What remains to be seen is how the company will overcome the legal woes it faced in September; the company was hit with a $250-million civil money penalty due to "unsafe or unsound practices" related to its home-lending loss mitigation program.  
 With its share price up more than 60%, WFC is expected to earn billions in 2021.  
3 General Electric (GE) 
Share price YTD: 25.26%   
Earnings Forecast: $18.14B  
Earnings announcement – 15/10/2021  
The industrial conglomerate gained 2.67% over the past month, beating its sector's loss of 4.52%. General Electric is undergoing a huge restructuring as it adapts its business model in an ever-changing world of high production.   
GE's share price is rising and could be a valuable stock if it beats revenues estimates.  
Its share price has made major ripples over the past year: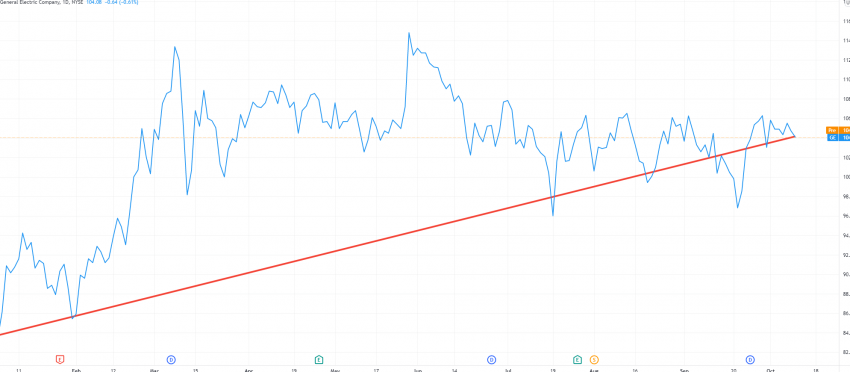 A big concern for General Electric is the global decline of the tourism industry, specifically the aviation sector. Aviation is a primary source of revenue for the company but due to COVID-19 the entire travel and tourism industry suffered a near-overnight collapse and has been slow to recoup losses.  
Special mention:  
Goldman Sachs (GS)    
Share price YTD: 45.37%YTD 
Earnings Forecast: $17.76B  
Earnings announcement – 15/10/2021  
Goldman Sachs (GS) is expected to deliver a year-over-year increase in earnings when it files its quarterly report in October. One of the world's oldest investment banks is expected to post quarterly earnings of $11.25 billion with earnings of $9.71 per share. 
Its share price reached a record high of $420.76 in August 2021, keeping an upward momentum for the past year:   
If a company beats its estimate, a price swing will follow; analysts predict a post-earnings swing of 3.9%, which is 1% higher than the company's previous eight quarters. 
Much like its rivals, Wells Fargo and JPMorgan, the company's fortunes have been affected by the ongoing pandemic, specifically in terms of loans and interest.  
Why should you trade during earnings season?  
Traders can take advantage of price movements that occur during a particular company's release. If JPMorgan exceeds investor estimates, its price will rise. These types of price movements can sometimes persist for days. 
It should be noted that quarterly earnings affect the future of a company; analysts might upgrade or downgrade their recommendations of a company's stock, which could have major consequences for its future. 
Here are some of the biggest companies releasing their earnings later in October 2021:   
Netflix – October 19   
Coca-Cola – October 27   
Microsoft – October 27   
Tesla – October 27   
Amazon – October 28  
How to trade earnings season the easy way:   
Use our

Economic Calendar

   

 

Start trading!  
Follow the above and you'll know which stocks to buy before earnings are released, so you can skyrocket your trading journey! 
So, what are you waiting for? Start trading the easy way today!   
Discover more opportunities with an award-winning broker. Join CMTrading, the largest and best-performing broker in Africa.    
Follow CMTrading on Facebook, Instagram, LinkedIn, Twitter, and YouTube.