Huge trading opportunities: Why earnings season is not-to-be-missed
Earnings Season (ES) is the time of year when publicly listed companies release their quarterly reports. From Microsoft to Amazon, major companies are reporting their earnings, creating huge opportunities for traders like you. 
Facebook, Apple, Amazon are just some of the biggest companies in the world releasing their earnings in October 2021. Many financial firms will be paying close attention to their results and so should you.
The earnings season presents huge opportunities for local traders hoping to take advantage of it. 
Trading made easy – Sign up today!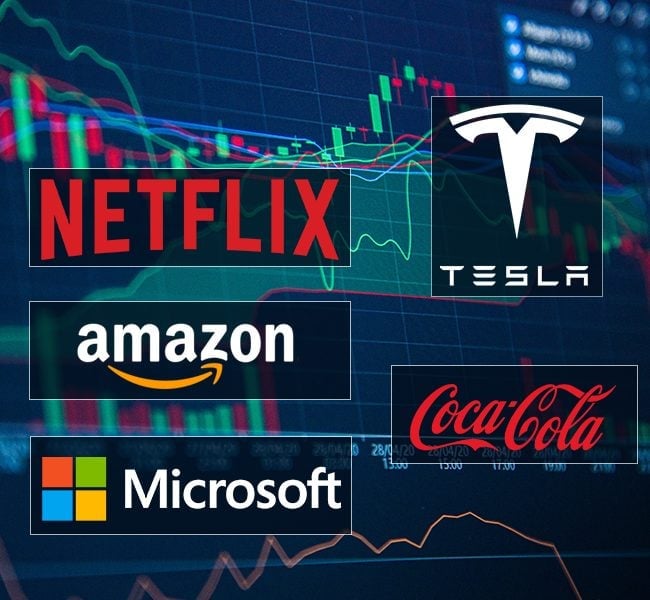 Here are some of the biggest companies releasing their earnings: 
Netflix – October 19 
Coca-Cola – October 27 
Microsoft – October 27 
Tesla – October 27 
Amazon – October 28 
What does earnings season mean for you? 
Earnings season provides some transparency in an otherwise volatile financial market. Regardless of who you are or your level of experience, everyone gets access to the same financial information at the same time. It's one of the only times within the trading world where it's a level playing field. 
It's important to recognize that earnings season can be volatile; share prices can see major spikes in a single day of trading. The financials that companies report will reveal how healthy their finances are and possible investments or growth strategies they will employ. 
What's special about the October earnings? 
This earnings season, which started in July 2021, comes more than a year after the Covid-19 pandemic hit and will be important for the outlook of major companies and the global economy. Investors all over the world are looking forward to strong earnings compared to the disastrous early pandemic numbers seen in 2020.
Earnings season presents big opportunities for traders as it creates market volatility. Due to the sheer number of major companies releasing their statements, a lot of volume will be traded. This creates opportunities to make a lot of money.
Risk vs reward 
As with all investments, when volatility increases, potential rewards rise but so does the risk. If Amazon beats its quarterly estimate its price will rise, if not, its stock will drop. Traders need to be aware of factors affecting the industry a particular company is operating in. Sneaker giant Nike made billions in sales but due to pandemic-related supply disruptions, it falls short of market estimates. This causes its price to drop on the day it released its quarterly report. The company is healthy, its growth is tremendous but due to events out of its control, it failed to meet market expectations of revenue.
Markets, however, are cyclical, and buying the dip is also a viable strategy; if you expect a company to do badly you could take a long position, buy the stock when it's low and sell when the company recovers.
Become a better trader – attend our webinars
Here are 3 companies to watch: Stock price, YTD (Year to date) & revenue forecast
Netflix (NFLX) 12% YTD,$7.4 billionforecast 
Netflix continues to dominate the streaming market and its stock keeps rising throughout 2021. Take advantage of one of the most valued stocks out there.
Date to be released – 19/10/2021 
Microsoft (MSFT) 33.97% YTD,$44 billionforecast 
The technology giant is experiencing a boom in PC and laptop sales and increased earnings from its remote-work solution. A high-value FAAMG stock worth watching. 
Date to be released – 27/10/2021 
Amazon (AMZN), 8%YTD,$111 billionforecast 
The king of eCommerce continues to post annual revenues of more than $100 billion. Own your share of one of the world's most successful companies!
Date to be released – 28/10/2021
Expert advice 
Fred Razak, senior trading specialist at CMTrading, shares advice for all traders. 
Q: So, what is the earning season? 
"In short, they're corporate quarterly earnings released during a specific month. One of the requirements of listing a company on a public index, whether it's the New York Stock Exchange or NASDAQ, is for there to be transparency with the company. Corporations are required by the rule of the exchange to report their sales and expenses throughout a quarter. It's vital and it's akin to touching base with a brand to see how the company is doing and what they predict their sales to be.
"It's an incredibly important barometer of the health of any company and what they expect in the pipeline of their businesses." 
Q: What does earnings season mean for traders? 
"What it means to investors is quite simple – you'll be able to see over time how a company is growing and plan accordingly. October, and then January, are especially important for the earning season. It's a bright spot before the end of the calendar year. It might not be the end of the tax year for the company itself but year-to-year, that's what will go down in history for a company's performance. It means whether investors should be staying with a company; if they see that the company is projecting higher sales, they'll likely see some healthy returns. Some strategies to use to determine quality earnings are to consider If the overall market is healthy, if there's consistent demand consistently and whether investors are tending to keep their money in that investment. 
"You can either invest or divest from a particular company or even take a position that's negative if you believe they're going to be missing their targets. You can make money on the markets in one or two ways; either buying the underlying security in anticipation that it's going to rise or you could short-sell it in anticipation that's going to make a correction. 
Market example:
"Zoom became very well-known when the pandemic hit in March of 2020. The stock was trading around $120, up from about $80, and went as high as $400. Yet at the end of September, it's hovering around $320. It shows the markets are cyclical. You might not have known that there would be such a big need before the pandemic but obviously, the pandemic hit, and there was a tremendous need for Zoom's services. Subsequently its stock ended-up appreciating four to five times its initial price.
"The Zoom example is actually one to take note of as you could use these strategies in terms of taking a position, either buying it or selling depending on what your information you have on a particular company." 
Q: How can traders take advantage of this?
"If you look at Apple, for example, they've never missed a quarter in the past 15 years, in most instances they beat it. This gives investors the confidence to continue investing in that company. If they do miss a quarterly earnings report then that's unwelcome news because it might signal a direction where the company and economy are turning.
Q: What are some of the factors that can affect company earnings? 
"The recession, unemployment, trends affecting specific market sectors… there's the macroeconomics of everything to consider. Just because the markets are in a recession doesn't necessarily mean companies are doing poorly. Profits shift during times of recession though it doesn't disappear. You need to understand that money shifts from one place to the next, so one of the things that investors are looking at is whether it is worth shifting their money. If you're going into a recession, you're going to put money in Gold for example. " 
Advice for traders 
"The best way to keep track of upcoming earning reports is here at CMTrading. We're always updating clients on the latest market news and we're giving more opportunities for clients to trade the equity markets. You will get news of upcoming earning reports here at CMTrading. One of the ways to keep track of upcoming events is through our economic calendar." 
How to trade earnings season the easy way: 
Useour

Economic Calendar

Start trading! 
Follow the above and you'll know which stocks to buy before earnings are released, so you can skyrocket your trading journey. 
So, what are you waiting for? Start trading the easy way today! 
Discover more opportunities with an award-winning broker. Join CMTrading, the largest and best-performing broker in Africa. 
Follow CMTrading on Facebook, Instagram, LinkedIn, Twitter, and YouTube.