Market winners: Most tradable stocks, currencies, and more 
From commodities to crypto, we look at some of the biggest winners on the market and share advice for all traders.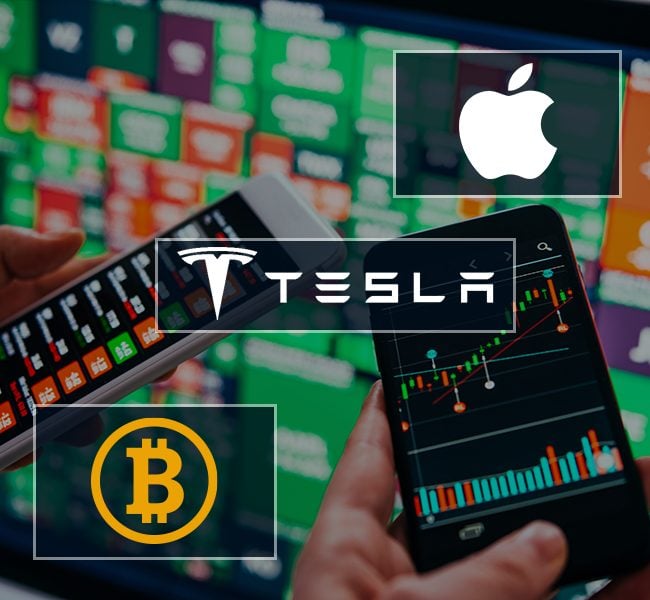 As the broader stock market continues to extend its volatile streak, there are still plenty of opportunities for traders.  
Oil has seen a huge rally, boosting producers and countries. In October, many investors are eagerly awaiting the financial reports of major global companies during this earnings season. We'll also share the easy way to invest in stocks. 
Trading made easy – Sign up today! 
Today, we look at some of the best-performing instruments on CMTrading's platform and share valuable information about the upcoming earnings season. More on that later in the article.  
 Stock of the week – Oil price rally pushes Exxon  
The onset of the pandemic in 2020 proved disastrous for oil producers with prices floundering near the $40 mark for much of that year. Gulf economies were hit hardest due to their heavy reliance on oil.  
The remarkable recovery of oil prices and the broader energy sector in 2021 has transformed the economic situation of many countries and companies; WTI Crude is trading at $75.94 with Brent Crude at $79.38.  
Exxon, one of the world's biggest oil producers, is reaping the rewards of open borders – increased global trade, and travel. Its price surged from $58 to $60,93 from a low of $54 at the start of September. Exxon said higher oil and natural gas prices could boost its third-quarter earnings by up to $1.5 billion.  
Most tradeable instruments (weekly):  
XAU/USD 
As the dollar is hit by high inflation woes, many traders have turned to gold in the last week of September 2021. Gold saw a minor rally and traders were to capitalise on it. As we enter a new month, the gold price is struggling to extend its recovery, consolidating near fresh weekly highs of $1,766.  
BTC/USD 
Bitcoin, the king of Crypto, saw a big spike rising, 13% during the first few days of October. Its price pushed from a low of $41,130 to a high of $48,931. It's currently hovering around $47,600. A resurgence of the buying pressure around $45,000 will be key to setting off another bull run and pushing its price beyond $50,000.  
Here's how to buy Bitcoin in South Africa 
APPLE 

 
Tech giant Apple has delivered excellent returns for shareholders following the COVID-19 crash in 2020. Since the start of 2021, investors have poured millions into large-cap tech stocks as businesses and consumers adjust to a new pandemic-driven economy. Traders on our platform are trading Apple (-2.74, $142) ahead of its earnings on October 28, making it the 3rd most tradable instrument on our platform.  
Biggest percentage move (weekly):  
Stock: TSLA 3.31%  
Tesla is growing rapidly despite a global chip shortage negatively affecting automakers. The electric car manufacturer reported a record quarter; vehicle deliveries (241 300 units) are up more than 70% compared to 2020 and its stock is up 3.1%, hitting a high of $797 on September 27.  
Commodities: COTTON 10.98%  
Global cotton output is rising by 6% as production limits are lifted globally. Consumer demand for the commodity is growing and the industry sentiment stays positive, especially given the robust levels of retail sales of textiles and the opening of many economies. Global shutdowns devastated the textile industry, forcing factories to close for months on end.  
Due to its steady demand, cotton has a stable presence on the market, making it a safe bet for investors.  
Become a better trader – attend our webinars 
More trading opportunities 
Want more trading opportunities? Looking for other areas of investment? We look at the top-performing sectors and industries globally for the end of September 2021. 
 Best-Performing Sectors: 
1 Energy +2.26 %  
2 Financial +0.26 %  
3 Basic Materials +0.14 %  
4 Transportation -0.16 % 
Best-Performing Industries: 
1 Coal Mining – 13.03 %  
2 Oil Well Services & Equipment – 8.24 %  
3 Oil & Gas Integrated Operations – 5.57 %  
4 Casinos & Gaming – 4.82 %  
5 Marine Transportation – 4.01 %  
Earnings Season – Big companies, bigger earnings  
Earnings Season (ES) is the time of year when publicly listed companies release their quarterly reports. From Tesla to Apple, major companies are reporting their earnings, creating huge opportunities for traders like you.  
Microsoft, Google, Amazon are just some of the biggest companies in the world releasing their earnings in October 2021.  
Find out more about earnings season here!  
Trade the easy way  
Join CMTrading, the largest and best-performing broker in Africa, and discover more opportunities with an award-winning broker.  
Follow CMTrading on Facebook, Instagram, LinkedIn, Twitter, and YouTube.  
 Prices are accurate at the time publishing