Market Winners: Bitcoin, Tesla, Dogecoin, and more!  
From Bitcoin staying above $60 000 to Tesla seeing a record share price, we highlight some market winners for the past week.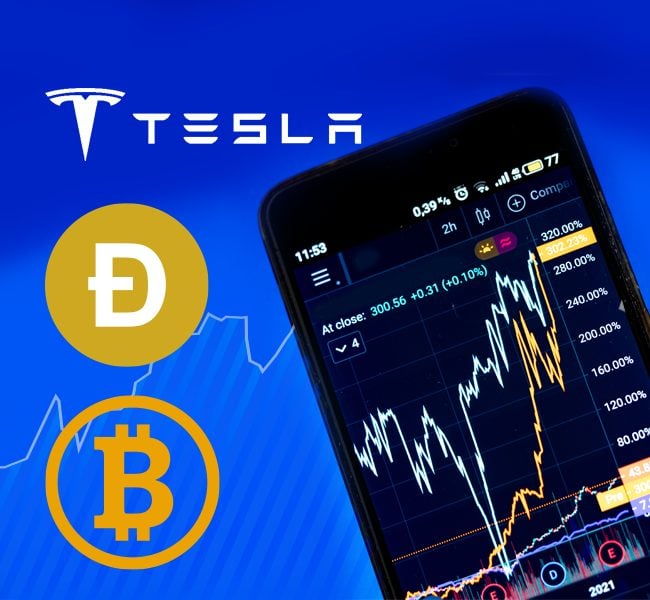 The final week of October 2021 saw some major market movements. Bitcoin, the world's most popular cryptocurrency, stayed above $60 000 for most of the week, testing its all-time high of $66 000.  
Electric carmaker Tesla continues to reap the benefits of a fantastic quarterly report as its share price continues to rise.  
Today, we look at some market winners for the past week on CMTrading's platform. 
Most tradeable instruments weekly: 
BTC/USD  
Bitcoin reached a new all-time high of more than $66,000 on October 20 following its first ETF-linked asset traded on the New York Stock Exchange (NYSE).  
This Bitcoin-linked futures exchange-traded fund (ETF) marks a major step towards legitimacy for the cryptocurrency. Since then, the crypto king has remained above $60 000 for the majority of October 2021.  
Bitcoin reached a high of $63 620 on October 25 before dropping to a low of $58 000 on October 28. On October 29 it remained above $60 000.  
Bitcoin has gained more than 50% in the past month and is up an incredible 450% over the past year. Given its performance, analysts have raised their outlook for the asset and believe it could reach $100,000 before the end of the year.  
XAU/USD  
The gold price reached highs of $1,810.47 on October 28 and remained steady near $,1800 by October 29.  
Gold saw a rally in the last week of October following a mass US dollar sell-off against major currencies. The US Dollar Index (DXY) slipped below 93.50 following disappointing US Gross Domestic Product (GDP), which dropped 2% in Q3 below market expectations of 2.7%.  
 The greenback's popularity remains lackluster and supports more gold traders.  
Interestingly, the latest World Gold Council (WGC) reports that the demand for gold has risen 47% to more than 139 tonnes in July- September quarter in India, despite a drop of 7% in global demand. India is the second-largest consumer of gold after China. This has attracted more gold traders as the precious metal is perceived as a strong hedge against inflation.  
3 Facebook (FB) 
Facebook has had a torrid October, missing analysts' revenue forecasts. The social network's revenue grew 33% YoY to $29 billion but fell short of the $29.58b forecast. its shares fell 5% following its earnings report following a trend of diminishing stock price performance reported in the past month.   
 Facebook shares continue their drop from all-time highs in September 2021 as the company suffered from increased regulatory scrutiny and the fallout of its October service outage. Its stock is now down nearly 20% from its peak.  
Facebook shares saw a rally on October 28 as the company announced a major brand restructuring. The company is changing its name to Meta, committing to putting all its apps and technologies under its new company brand.  
Biggest percentage move weekly:  
Stocks: TESLA (20%)  
Electric car giant Tesla reported record third-quarter earnings in October; the company posted revenue of $13.76 billion vs $13.63 billion expected. Tesla's automotive revenue rose to $12.06 billion. It's record profits see the carmaker has joining the exclusive $1 trillion market capitalization club, only the fifth company to achieve this.  
Shares of Tesla have continued to rise in October; reaching a high of $894 in the week of its earnings report to the incredible high of $1077,27 by October 29. This marks a whopping 38% in the past month.  
Tesla's rally was in part due to a $4 billion deal with rental car company Hertz, which plans to order 100,000 Tesla's by the end of 2022.  
Commodities: Cotton 4.04%  
Cotton prices surged to a 10-year high in October, reaching $1.16, and are up 47% year to date. Cotton crops were devastated by extreme weather across the US, the biggest exporter of the commodity in the world. Since then strong cotton demand and low inventories, along with logistics disruptions seen in the past year, sent cotton prices soaring.  
 The USDA projects the 2021-22 season-average price for cotton at a record 90 cents per pound, 2% above the previous all-time high seen in 2011. The USDA reports December 2021 cotton futures reached nearly $1.12 per pound on Oct 28.  
Crypto: XDGUSD 20%  
The price of Dogecoin surged more than 20% as the meme coin received a lift via social media. Cryptos are highly susceptible to rumors and news more so than any other tradable asset.  
Twitter banter between Shibetoshi Nakamoto, the pseudonym used by Dogecoin creator Billy Markus, and Tesla CEO Elon Musk gave the coin a boost. Dogecoin creator took to social media to warn of crypto scammers which inadvertently sparked a conversation with longtime supporter Musk.  
This Week's Best Performing Sectors:  
1 Consumer Discretionary – 1.81 %   
2 Transportation – 1.69 %   
3 Energy – 1.30 %   
4 Healthcare – 0.77 %   
5 Basic Materials – 0.64 %  
This Week's Best Performing Industries:   
1 Renewable Energy Services & Equipment – 12.99 %   
2 Auto & Truck Manufacturers – 10.79 %   
3 Transport & Logistics – 4.23 %   
4 Agricultural Production – 3.46 %   
5 Semiconductors – 3.15 %  
Trade the easy way    
Join CMTrading, the largest and best-performing broker in Africa, and discover more opportunities with an award-winning broker. Register here to get started     
Follow CMTrading on Facebook, Instagram, LinkedIn, Twitter, and YouTube.    
Prices are accurate at the time of publishing.