Netflix, Google, Coca-cola – Top stocks to watch this earnings season   
Some of the world's biggest companies released their earnings in October, creating huge opportunities for all traders in the market. Here's which stocks to watch!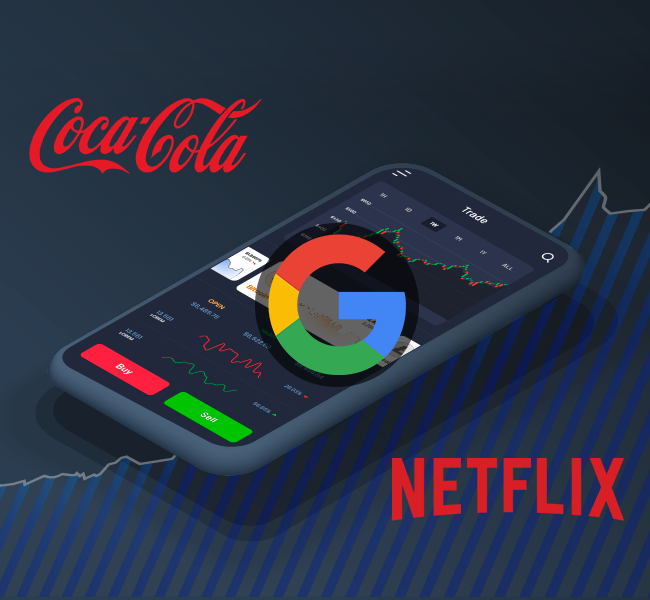 The October 2021 earnings season has delivered record highs in the stock market; The S&P 500 saw record performance this month as some of the world's biggest companies released their quarterly earnings.  
From Netflix to Google, these titanic companies caused huge ripples throughout the market, creating opportunities for all traders.  
Today, we highlight some of the best performers in the market so far and share valuable advice for novice traders.    
 Trading made easy – Sign up today! 
1 Netflix (NFLX) – $662,92, +26.79% YTD  
Earnings Per share vs forecast 3.19 / 2.57  
Revenue vs forecast 7.48B/ 7.48B   
Market cap: 293.64B  
Streaming titan Netflix has been on a roll throughout 2021. The company has taken full advantage of global lockdowns, adding millions of subscribers to its platform. It matched revenue forecasts, reporting 7.48 billion in its quarterly report. Similarly, the market responded well, with Netflix seeing a considerable spike during the first 24hrs of its quarterly earnings release. It reported $7.4 billion in revenue and earnings per share to $3.19.  
Netflix stock in October:   
Its shares have risen 8% since its report and many analysts have increased their outlook for the stock in 2022. Netflix's average revenue per subscriber increased by 7%.  
Investors will be eager to see Netflix's new gaming plans and whether it can continue to build its subscriber base.  
2 Google (GOOG) – $2924,35, +69.42% YTD   
Earnings Per share vs forecast 27.99 / 23.75  
Revenue vs forecast 65.12B / 63.47B    
Market cap: 1.95T  
Google proved to be a darling of the stock market, shirking off woes affecting other major tech companies in 2021. The internet search leader's shares surged amid its September-quarter earnings.  
While other FANG stocks (Facebook (FB), Amazon.com (AMZN), Netflix (NFLX)) struggled in 2021, Google stock has now gained 66% YTD.  
Google stock in October: 
It reported revenue of $65.1 billion with its earnings up 71% higher over the same period. landing at $27.99 per diluted share.   
Google saw increased revenues across its services; Search ads, YouTube ads, and cloud services delivered revenue growth above 40% YoY.  
Google CEO Sundar Pichai outlined the companies long-term growth potential in tackling remote-working challenges in the global business environment. Google-branded services should, as was the case in 2020, continue to reap the benefits of its cloud-based productivity services.  
Why should you trade during earnings season?   
3 Coca-cola (KO) – $55,52, +5.23% YTD    
Earnings Per share vs forecast 0.65 / 0.577   
Revenue vs forecast 10.04B / 9.78B     
Market cap: 239.79B  
Coca-Cola's third-quarter earnings topped analysts' estimates as the beverage king recovers from a disastrous previous quarter in 2020. As lockdowns are lifted, restaurants and movie theaters are returning to pre-pandemic capacity, aiding sales of Coke products.  
 Coca-cola, like many others in the food and beverage industry, has been hard-hit but the Covid19 pandemic.  
 Coca-cola in October: 
Shares of Coca-Cola rose on October 27 after its third-quarter earnings and revenue topped Wall Street expectations; It achieved revenue of $10 billion (+16.1%) and EPS of 0.65.  
Following its earnings, Coca-Cola raised its outlook for 2021, saying it expects adjusted profit growth of 15% – 17%.  
Buying the Dip  
4 Facebook (FB) – $312,22, +16.09% YTD     
Earnings Per share vs forecast 3.22 / 3.19    
Revenue vs forecast 29.01B / 29.58B      
Market cap: 868.52B   
Facebook has had a torrid October, missing analysts' revenue forecasts. The social media giant revenue grew 33% YoY to $29 billion but fell short of the 29.58b forecast.   
Its shares fell 5% following its earnings report. Facebook's monthly active users of 2.91 billion fell short of estimates of 2.93 billion.  
Facebook in October: 
Facebook shares continue their drop from all-time highs in September 2021 as the company continues to reel from regulatory scrutiny and the fallout of its October service outage. Its stock is now down nearly 20% from its peak.  
Why trade during earnings season?  
Earnings season has the potential to create record movements within the stock market. The best part? You don't have to be a veteran trader or work for a large brokerage to take advantage of company earnings.   
It's the time of year when there's a level playing field in the financial markets; everyone gets the quarterly reports at the same time.  
How can you benefit?  
If a company beats its revenue estimates, we expect to see major movements in its near-term stock price as investors will be keen to gran their share of a profitable business. However, if it does not meet investor expectations, its price could drop as a sell-off takes hold.     
Truly massive companies (I.e., Facebook) releasing their earnings can affect all markets from the Nasdaq to the Johannesburg All-Share index. This kind of volatility, however, creates opportunities for all traders to take advantage of.    
How to trade earnings season the easy way:     
Useour

Economic Calendar

     

 

Start trading!    
Follow the above and you'll know which stocks to buy before earnings are released, so you can skyrocket your trading journey!   
So, what are you waiting for? Start trading the easy way today!     
Discover more opportunities with an award-winning broker. Join CMTrading, the largest and best-performing broker in Africa.      
Follow CMTrading on Facebook, Instagram, LinkedIn, Twitter, and YouTube.