Top companies to watch this earnings season – Amazon, Apple, Microsoft, and more!   
Some of the world's biggest tech companies are releasing their earnings this week, creating huge trading opportunities.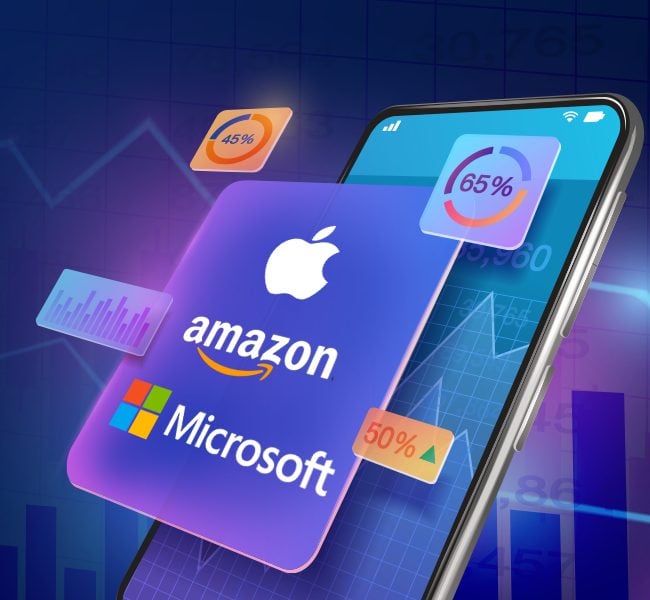 Earnings season is upon us. It's the time of year in the trading world when casual traders can compete against huge financial firms and brokers on a level playing field.  
Companies release their financial statements on the same day at the same time for all to see; whether you're a beginner or work for a huge brokerage, you have access to earning's reports at the same time as the entire financial world.  
Trading made easy – Sign up today!  
From Amazon to Coca-cola, some of the world's biggest companies are releasing their earnings in the final week of October, creating big trading opportunities. Today we look at them ahead of their earnings reports.   
How it works   
If a company beats its revenue estimates, we expect to see major movements in its near-term stock price as investors will be keen to gran their share of a profitable business. However, if it does not meet investor expectations, its price could drop as a sell-off takes hold.    
Truly massive companies (I.e., Facebook) releasing their earnings can affect all markets from the Nasdaq to the Johannesburg All Share index. This kind of volatility, however, creates opportunities for all traders to take advantage of.   
Top 3 companies to watch this week:    
1 Microsoft (MSFT)  
Share price YTD: +42.02%    
Earnings Forecast: $43.93B   
Earnings announcement – 26/10/2021  
Microsoft's shares are on a tear, with a more than 40% increase YTD, and have remained steady in the past 30 days. The company's cloud-computing platform, Azure, is expected to have positively affected the company's earnings.  
Teams, Microsoft's workspace communication offering, has seen incredible numbers since the start of the pandemic in 2020. Teams have benefited throughout 2021 as remote work persists and more companies are seeking stable platforms for workplace communication.  
 Microsoft stock YTD: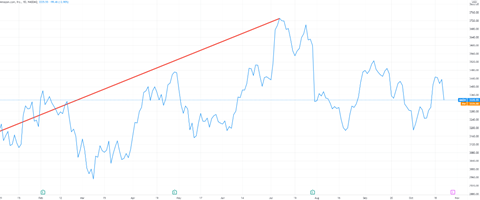 2 Apple (AAPL)  
Share price YTD: +14.90%    
Earnings Forecast: $84.85B  
Earnings announcement – 28/10/2021  
Apple saw its shares head into record-high territory following its June-quarter earnings report. Its sales have been buoyed by sales of its iphone13. Apple's current stock took a recent dip driven by a broader market sell-off and a huge legal setback.  
  In the Epic Games v. Apple case, a US District Judge ruled that Apple must allow app developers to offer links to alternative payment methods in applications sold via the AppStore. This is a huge blow for Apple's business model as it bypasses the app store's usual commissions of 15% to 30%.  
Investors hope that record sales of its latest iPhone range and products will offset the company's current woes.  
 Apple stock YTD: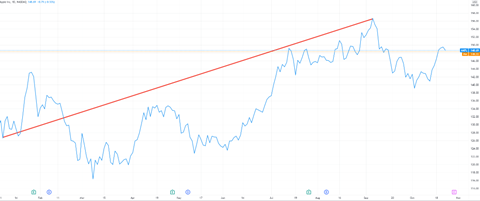 3 Amazon (AMZ)    
Share price YTD: +4%    
Earnings Forecast: $111.62B   
Earnings announcement – 28/10/2021   
Amazon was a clear winner at the onset of the pandemic as millions turned to the online shopping giant for goods and services. In 2021, however, its fortunes are different. Supply-chain issues, rival companies in the e-commerce space, and lower global restrictions paint a different landscape for the online shopping titan.   
Analysts have downgraded their expectations for Amazon ahead of its earnings. Despite a downgrade, the company is still expected to earn more than $110 billion for its last quarter. 
The company has heavily invested in its cloud-based business and its rapidly growing digital ads ventures. Amazon's growth has been nothing short of miraculous; its stock price has surged by 1350% in the past decade.  
Amazon stock YTD: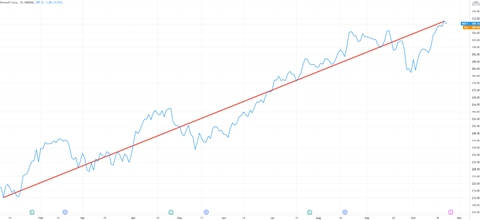 Why should you trade during earnings season?   
Traders can take advantage of price movements that occur during a particular company's release. If Amazon exceeds investor estimates, its price will rise. These types of price movements can sometimes persist for days.  
It should be noted that quarterly earnings affect the future of a company; analysts might upgrade or downgrade their recommendations of a company's stock, which could have major consequences for its future.  
Top 10 companies releasing their earnings in October 2021:    
1 Facebook – October 25  
2 Microsoft – October 26  
3 Google – October 26  
4 Coca-Cola – October 27  
5 McDonald's Corporation – October 27  
6 General Motors – October 27  
7 Apple – October 28  
8 Amazon – October 28  
9 Exxon Mobile – October 29  
10 Chevron – October 29  
How to trade earnings season the easy way:    
Use our

Economic Calendar

 

Start trading!   
Follow the above and you'll know which stocks to buy before earnings are released, so you can skyrocket your trading journey!  
So, what are you waiting for? Start trading the easy way today!    
Discover more opportunities with an award-winning broker. Join CMTrading, the largest and best-performing broker in Africa.     
Follow CMTrading on Facebook, Instagram, LinkedIn, Twitter, and YouTube.