Dricus du Plessis: Trade Like Champion With CMTrading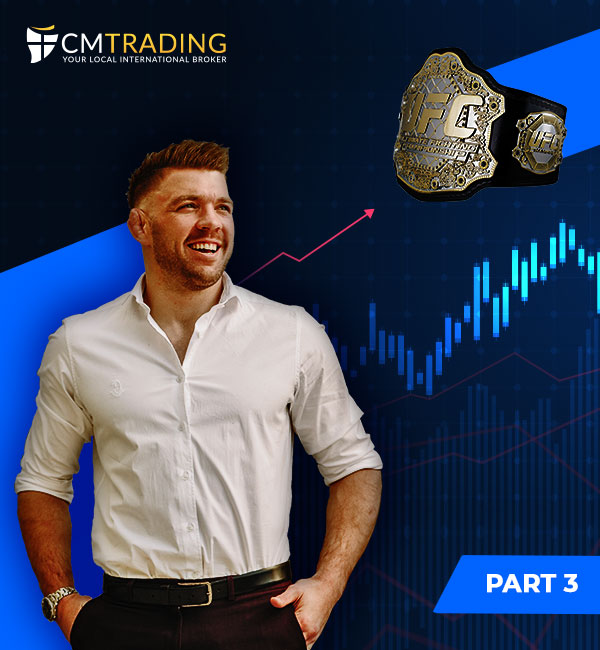 Hey Guys! 
Sorry that it's been a while since I have updated the Blog. We have been busy winning UFC fights and putting Africa on the Map!
CMTrading has been by my side since my early days fighting in the EFC in South Africa so its really great to be able to share the recent wins and achievements with the CMTrading Team.
If you are reading this from Gauteng, I am sure you will have noticed the #Africabest campaign all over town from the highway billboards to the street poles to the massive TV Displays in your favourite shopping malls.  We really wanted to highlight the fact that CMTrading has been voted year in and year out as the best trading platform in Africa and myself now as the Number 1 African based MMA Fighter in the world.
We are now gearing up for the title shot, this will not only cement our place as Africa's best but elevate us to World's Best –  I cannot wait.
While I have been away winning UFC fights, CMTrading has been full steam ahead providing the best tools, resource and trusted platform for traders all around the world.
CMTrading has partnered with another powerhouse in the form of Titilayo Oyinsan who needs no introduction if you are reading this from Nigeria. Titi is a super successful television host, podcaster, business women and former model. Titi focuses on World Money Markets and all things money including trading! 
I myself have been upping my trading game this month and it really does pay off to use the resources and tools that CMTrading provide for FREE.  I would also highly recommend tuning into some of the webinars and shows hosted by Fred Razak, he is really the king of trading!
Fred has a new series on YOUTUBE called Target The Trade.
Check it out here for some golden nuggets

 
One thing I have learnt from Fred and something I am learning everyday is the importance of Trading Signals.  If you ever wondered how professional traders seem to predict and know the exact movements in the markets I must confess its not some sort of secret power. It's something you can learn yourself. 
Check out this article on the 5 amazing ways to elevate your trading game:
As always, Follow these simple steps below if you are reading this for the first time and want to get started with CMTrading.
1.   Make sure to follow CMTrading on both Facebook and Instagram.
I make sure to watch the Motivational Monday's and Technical Tuesday video posts each week.
These are great and come with some amazing nuggets of knowledge from Fred Razak
2.  Listen to the Podcast
CMTrading's very own podcast called "Keeping up with the trends" is another go to for me.
Again Fred is here to deliver amazing knowledge and tips to the audience.
I enjoy listening to the show during my training sessions.
3.  Website Resources
Lastly www.cmtrading.com has a full education section on the site where you can watch training videos, attend Webinars and Live seminars and even download E-Books for FREE.
There really is everything you need at your finger tips to start your trading journey.
How CMTrading Trading Signals Can Help You
If you're a trading beginner, the vast and intricate world of financial markets might seem overwhelming. But fear not! CMTrading Trading Signals are designed with beginners in mind, offering an excellent starting point on your trading journey.
1. Simplified Decision Making: Trading signals analyze heaps of data and present the findings in a user-friendly format. As a beginner, you won't need to grapple with complex charts and indicators. Just follow the signals and make informed decisions.
2. Learn While You Earn: CMTrading Trading Signals serve as valuable educational tools. As you follow the signals, you'll begin to understand how market movements work, gradually building your trading acumen.
3. Emotion-Free Trading: Emotions can wreak havoc on your trading decisions. By relying on trading signals, you can avoid the trap of emotional trading and stick to a disciplined approach.
4. Diversification Opportunities: The signals cater to various financial instruments, from stocks to currencies, commodities, and cryptocurrencies. This diversity allows you to explore different markets without the need for extensive research.
5. Time-Efficient: Trading signals save you time. You won't have to spend hours analyzing charts and reading financial news. Instead, you can focus on honing your trading skills and managing risk.
For further information and inquiries about trading or partnership opportunities, visit CMTrading.com.
Join CMTrading
, the largest and best-performing broker in Africa, and discover more opportunities with an award-winning broker.
Register here to get started