Crypto market rally: Bitcoin gains huge boost beyond $43 000 
 Bitcoin jumped as much as 10%, rebounding from a mass selloff, as Russia looks to circumvent sanctions by turning to cryptocurrency.  
Digital coins Bitcoin and Ether soared from February 28 to March 1; Bitcoin rose to as high as $44,165, while Ether is trading at $2918.  
Altcoins such as Solana, LUNA and Dogecoin saw a boost.  
How to become an online trader in 2022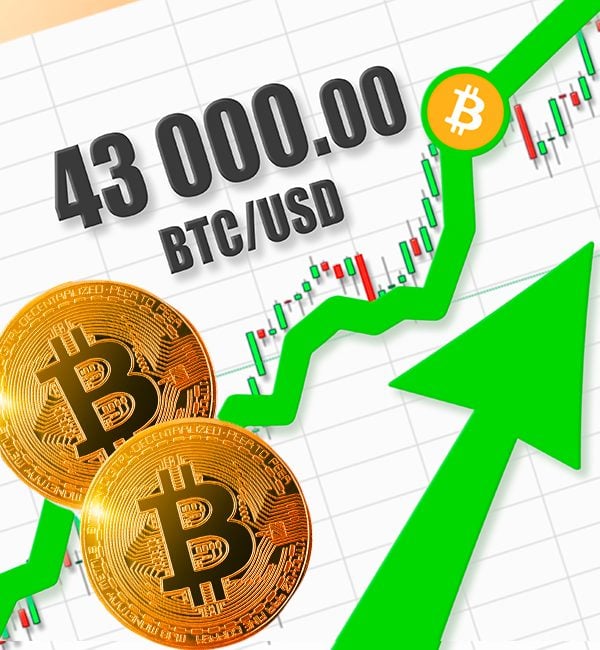 Bitcoin – a safe alternative during wartime?  
Bitcoin and the entire cryptocurrency market experienced a selloff at the start of the year which persisted until the start of March 2022. With the Russian invasion of Ukraine, many moved away from Bitcoin and turned to gold as a safe haven.   
Russia has been hard hit by global sanctions following its invasion of Ukraine. The Russian Rouble has been devastated by sanctions and inflations causing many to seek a more stable method of financial transactions.  
Ready to start trading? Open an account today  
The banking situation in the Eastern European region as a whole is unstable. Analysts believe we could be seeing a mass uptake of crypto as a safer payment method. Speculators snapping up Bitcoin are assuming that there will be more demand for crypto in the region.  
The price fluctuations affecting the entire crypto market have resulted in more than $300 million worth of liquidations.   
More mainstream support  
From banks to restaurants, more and more institutions have been adopting cryptocurrency as a form of payment.   
eBay, a global eCommerce specialist, has become the latest company to announce the adoption of cryptocurrencies as possible means of payment. The company could announce on March 10.  
 Earlier in February, we reported on Dogeburger – a crypto-themed burger restaurant opening in Dubai.  
Join CMTrading, the largest and best-performing broker in Africa, and discover more opportunities with an award-winning broker. Register here to get started              
Follow CMTrading on Facebook, Instagram, LinkedIn, Twitter, and YouTube.