Apple stock hits record high: iPhone-maker to create self-driving, electric car 
 Apple could soon take a shot at Tesla's market share as it announces plans to create an autonomous, electric car. The news sent its stock price climbing!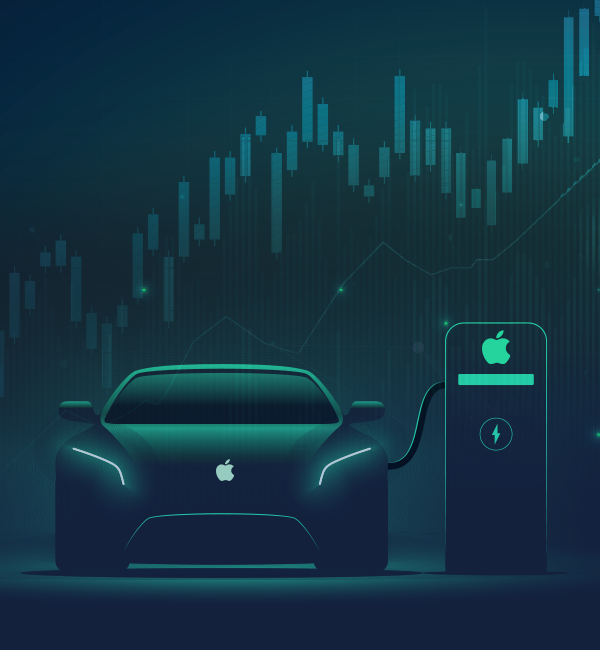 Few companies can be considered darlings of the stock market but Apple (APPL) is most-assuredly one. With ever-increasing profits, expansions into modern technology, and a market cap of $2-trillion, few companies have done as well as Apple.  
Now, the iPhone-maker is set to be a player in the Electric Vehicle (EV) space by announcing plans to build its own autonomous electric car… and the financial markets are loving it.  
Apple shares closed at a record high on November 19 to $160.55 a share. Its stock is up 6% in the past week as is up 26% YTD with a market cap of $2.6 trillion.  
Entering the EV market  
Apple will join the electric vehicle arena, currently dominated by Tesla, alongside other newcomers such as Rivian (RIVN) and Lucid Motors. Apple Watch software executive, Kevin Lynch, is leading the project, aiming at 2025 for a rollout for the electric car.  
EV stocks have surged in 2021 as more consumers turn away from fossil-fueled vehicles and governments are investing in EV solutions.  
The iCar?  
Apple's car team has been developing its new electric car, under the "Project Titan" codename, since 2014. The company is focusing on limited self-driving capabilities and integration with its current software and products.  
Why self-driving cars? Many tech and auto giants believe fully developed autonomous vehicles could be the holy grail within the industry. Although many companies have come close, including Tesla and Mercedes-Benz, the goal of mass self-driving vehicles remains elusive.   
Tesla offers a limited self-driving option and is years away from offering fully autonomous variants of its popular models. Waymo, a subsidiary of Alphabet, Google parent company, has suffered numerous setbacks in efforts, and transport giant Uber has all but given up as it sold off its autonomous-driving division in 2020.  
Inside, the new Apple car will likely have no steering wheel nor pedals, designed around a hands-off driving approach. Much like Tesla, Apple's vehicles could see a huge infotainment system in the form of a giant iPad touch screen at the front of the vehicle. The vehicle will no doubt be heavily integrated with Apple's existing services and devices.  
EV space worth billions  
Tesla is the current leader in the electric car space and has been ranking in billions. The company experienced a record month in October, beating revenue estimates following its quarterly report. The company posted revenue of $13.76 billion vs $13.63 billion expected. Tesla's automotive revenue rose to $12.06 billion. Its record profits see the carmaker joining the exclusive $1 trillion market capitalization club, only the fifth company to achieve this.  
Even newcomers to the space can thrive. Rivian received the biggest Initial Public Offerings (IPO) of 2021; As many as 153 million shares were sold at an IPO price of $78.00, valuing the company at $66.5 billion. RIVN launched on Nov 10 at $106.75 to close at $100.73, raising nearly $12 billion  
It has so far surpassed the market cap of automakers Ford and General Motors.  
Hard road ahead  
Developing an electric car is no easy feat but it pales in comparison to the partnerships required to get it off the showroom floor. Apple will require electric car-charging infrastructure, an entirely new business division and production facilities. There is also the matter of government regulation regarding self-driving vehicles as the disastrous crashes by Tesla vehicles test existing transport laws. 
Trade the easy way     
Join CMTrading, the largest and best-performing broker in Africa, and discover more opportunities with an award-winning broker. Register here to get started      
Follow CMTrading on Facebook, Instagram, LinkedIn, Twitter, and YouTube.     
Prices are accurate at the time of publishing.