Market winners: Gold, NVIDIA, Ethereum, and more! 
It has been a good week for crypto traders and investors in graphics-card giant NVIDIA. We list some market winners and share trading opportunities.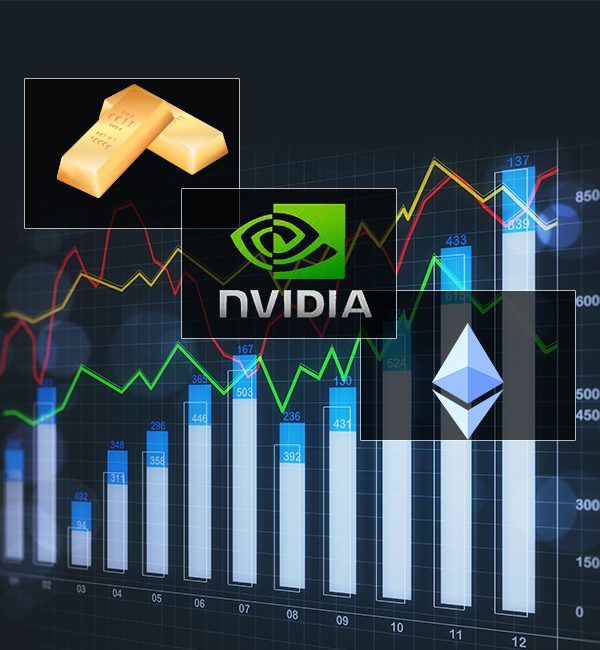 The second week of November 2021 saw major movements in the crypto market. Ethereum continues to be popular and Litecoin experienced a huge surge in its price.   
Graphics-card maker NVIDIA experienced an interesting week as it released its earnings report. The company has been on the rise for 3 months but curiously downgraded its earnings expectations before its release.   
As the USA reels from high inflation, traders of gold are pushing the precious metal.  
Today, we look at some market winners for the past week on CMTrading's platform. 
Most tradeable instruments weekly:  
XAU/USD 
The gold price saw a week-long winning streak as surging US inflationary risks and a dip in consumer confidence hurt the US Dollar. The combination of disastrous effects saw gold record its biggest weekly gain in more than six months to $1,868.  
Higher inflation saw investor demand surge for the precious metal. The sentiment is likely to stick around for the near future.  
Trade Gold the easy way – Invest in the precious metal today! 
Ethereum 
Bitcoin and Ethereum have rocketed to new all-time highs, pushing the entire cryptocurrency market to $3 trillion. Ethereum rose to a record $4,859. Ethereum has surged in recent months due to growing interest in blockchain-based decentralized finance (DeFi) and Non-Fungible Tokens (NFTs), both of which are built on top of Ethereum's network.  
Trade crypto safely and securely 
Tesla (TSLA) 
Electric carmaker Tesla reported record earnings, propelling its share price to all-time highs. Its fortunes however changed when CEO Elon Musk's sold about $6.9 billion worth of stock in the company over the course of the week, in part to satisfy tax regulations. He still holds more than 166 million shares in the company. The mass selloff saw the stock decline 15.4%, marking the company's worst one-week performance in 20 months. This made it the perfect opportunity for traders to snap up Tesla shares at their lowest point.  
Biggest percentage move weekly:  
Stock: NVIDIA 11.02%  
NVIDIA is the global leader in graphics cards for computers and consoles. The company has benefited from a global gaming boom, pushing PC and console sales. It has also reaped the benefits of computer chip-based solutions. NVIDIA stock has soared 52.2% over the past three months, pushing it to become the seventh-most valuable US company, with a market capitalization of $757.5 billion. Despite earning billions, the company downgraded its earnings estimate resulting in a lackluster week of trading.  
Commodities: Wheat 5%   
US wheat futures hit their highest price in nearly a decade while similarly, European wheat futures climbed to a 14-year peak. The popular food staple was boosted by concerns that exportable global supplies could be threatened. Indeed, the ongoing pandemic has affected trade and exports. Wheat settled at $8.12 a bushel after reaching $8.24.  
Crypto: LTCUSD 28.42%  
Litecoin has seen an impressive surge of 35% over the past week. Its rapid growth enabled it to push beyond rapid $273.43. Litecoin, the 14th-largest digital asset rose, is enjoying a recent surge following a now fake Walmart announcement that the retail titan would begin accepting crypto as a form of payment for purchases. The crypto suffered a tumble soon after the news was verified to be fake. 
Best Performing Sectors:    
1 Basic Materials – 2.68%    
2 Energy – 1.66%    
3 Capital Goods – 1.61%    
4 Financial – 1.07%    
5 Conglomerates – 0.87%   
Best Performing Industries:  
1 Tyres – 9.35%    
2 Nonalcoholic Beverages – 6.30%    
3 Aluminum – 5.00%    
4 Metal Mining – 4.76%    
5 Airline – 4.08%