Market winners: Tesla, Moderna, Cardano, and more! 
From Tesla rebounding to Moderna shares moving up, we list some market winners and share trading opportunities.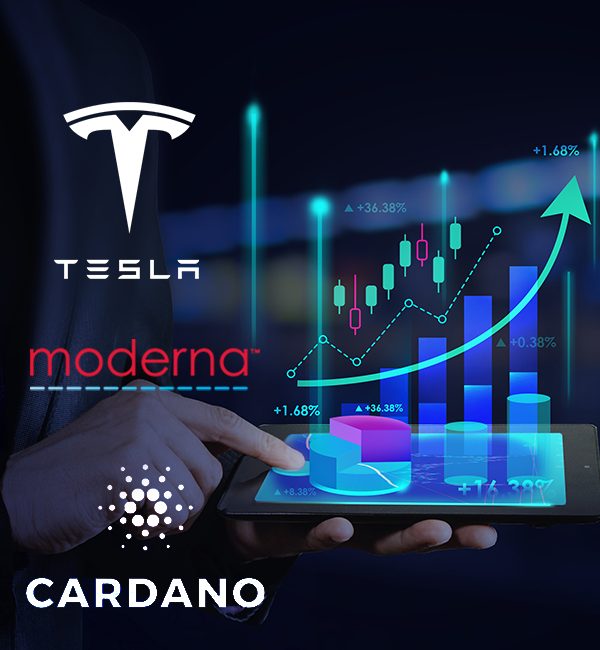 It has been an interesting time for traders in November 2021; Tesla CEO Elon Musk tanked his own company shares while the US deals with high inflation.     
The crypto market exploded in November with many digital coins reaching all-time highs. One crypto that has steadily been increasing in value is Cardano.   
In commodities, gold bears are pushing for a comeback as high inflation woes hurt the US dollar.    
Today, we look at some market winners for the past week on CMTrading's platform.  
Most tradeable instruments weekly:  
XAU/USD 

 
Having failed several attempts to push towards the $1,900 threshold, the gold price continues to hover in a familiar range above $1,850. The latest uptick in the gold price can be attributed to a selloff in the US Treasury yields. High inflation and increasing coronavirus cases are souring the US economy. The gold price could take a hit, however, as calls to strengthen US economic recovery could result in earlier interest rate hikes, which might limit gold's performance.  
Trade Gold the easy way – Invest in the precious metal today! 
ADA/USD 
Cardano's (ADA) price has seen a huge downswing in November as a selloff of the crypto takes place. Fortunately, this correction, says analysts, will likely trigger a short-term buying spree, pushing ADA ever higher. Cardona has reached record highs over the past year; it has grown by 939% YTD (Year to date) to a high of $3.11 in September.  
Trade crypto safely and securely 
Tesla 
Electric carmaker Tesla reported record earnings in October, propelling its share price to all-time highs. Its fortunes however changed when CEO Elon Musk's sold $6.9 billion worth of stock. This initial selloff saw the stock decline 15.4%. Since then, however, Tesla's stock is on the rise again. Tesla climbed 4.65% to $1,096.38, as investors snapped up shares as Musk sold off another $973 million in stock to pay taxes after exercising options.    
Biggest percentage move weekly:  
Stock: Moderna 7.62%  
Moderna had a poor earnings report in Q3, failing to meet analyst expectations on revenue and profit. The poor report tanked its stock, which had been dropping steadily for months. The company, however, is experiencing a minor boost as its booster shots are rolled out globally. Moderna's shares increased by 11% to $251. Booster shots could help Moderna grab more market share among COVID vaccine makers such as Pfizer and Johnson & Johnson. The firm is one of three to launch boosters in the US.  
Commodities: Coffee 12%  
The global coffee industry has been hard hit by pandemic-related disruptions; container shortages, port congestion, extreme weather, and inflation are driving coffee prices high. Coffee futures climbed on Nov 18 to their highest level since January 2012; the commodity has surged more than 80% so far in 2021. Unfortunately for coffee drinkers, prices at grocery stores and coffee shops will be higher in the coming months.  
This Week's Best Performing Sectors:  
Retail +1.92 %  

 
Consumer Discretionary +1.25 %  

 
Capital Goods +0.21 %  

 
Technology -0.25 %  

 
Utilities -0.74 % 

 
This Week's Best Performing Industries:  
Retail Apparel +6.54%  

 
Department & Discount Retail +4.67%  

 
Internet, Mail Order & Online Shops +4.28%  

 
Home Improvement +3.33%  

 
Wholesale +3.28%