Markets brace for major CPI report 
It may be a new year, but the scourge of high inflation and interest rate hikes persists in 2023. One metric that analysts are nervously awaiting is the latest Consumer Price Index (CPI) from the USA. In this article, we explore what the latest CPI report will mean for markets. What's more, we have a unique offer for traders to take advantage of market volatility later in this article. 
Become a better trader – join our webinars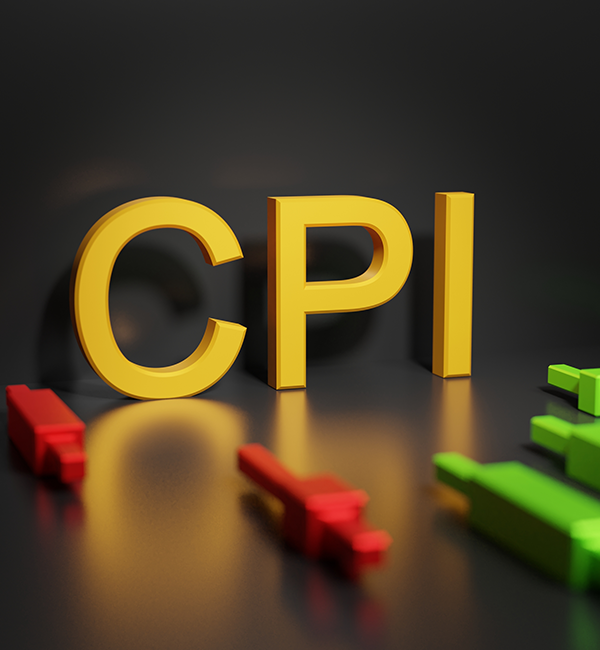 What Is the Consumer Price Index (CPI)?  
The CPI measures the monthly change in prices paid by consumers. In the US, the Bureau of Labour Statistics (BLS) calculates the country's CPI as an average of prices for a basket of goods and services against the average US consumer spend.  
The CPI report, the latest of which will be released on January 12, is one of the most popular measures of inflation. In short, if many staple goods are more expensive, it will point to high inflation which could result in another rate hike.     
Fed Rate Hikes  
You don't have to look too far to find the effects of high inflation; prices of most consumer goods have increased throughout 2022. To combat the highest inflation in a decade the US Federal Reserve along with many other global financial institutions has implemented a series of interest rate hikes. The idea is simple – make the borrowing of money expensive to lower the value of the USD to curb inflation.  
The problem, however, is that consumers will not only feel the brunt of these measures when they purchase goods but high-interest rates affect the entire global economy. Take the property sector for example – late in 2020 to 2021, low-interest rates saw a boom in the property market – in 2022 to 2023 however, it's prohibitively expensive to take home loans, causing the sector to drop.  
Stay up to date on the latest market news 
But there are also the knock-on effects of rate hikes to consider. A poor property sector affects the entire construction industry; carpenters, builders, and developers are all affected by one industry reeling from high-interest rates.  
Don't miss out – Get Daily Trading Signals         
CPI – How it works  
The monthly CPI uses data from several sources to show price changes for a variety of goods and services. These are organized into eight primary spending categories.     
CPI Categories by Weight:     
1 Housing- 32.7%  
2 Commodities – 21.0%  
3 Food – 13.7%  
4 Energy – 8.0%  
5 Health Care – 6.8%  
6 Transportation – 6.0%  
7 Education – 5.3%  
8 Other Expenses – 6.5%  
Source: Bureau of Labor Statistics  
Why does the Federal Reserve use the CPI?  
The Fed uses the CPI to determine US economic policy; depending on the data the Fed may enact monetary policy to either stimulate the economy or contract it. In 2022, the US Fed enacted a series of rate hikes in response to higher-than-expected inflation rates all due to CPI reports. 
The markets   
Wall Street joined the global advance in stocks on January 11 on hopes that US inflation and earnings point to a more resilient economy.     
Economists are hoping for a slower pace of interest rate hikes; falling inflation reduces the need for interest rate hikes, and markets have priced better-than-even odds that the Federal Reserve would slow its pace of hikes by 25 basis points, rather than 50 in February.  
Markets were largely subdued, as investors brace for the CPI release.  
Meanwhile, the US dollar held steady and gold was flat ahead of the CPI report. US stock index futures were stronger.    
Stocks continued to build on their gains for 2023. Investors are hoping to avoid a repeat of 2022's disastrous rout and that any economic recession will be limited or avoided entirely.     
US crude oil was up 0.7% at $75.66 a barrel while Brent crude gained 0.7% to $80.72. 
CPI WATCH      
Investor attention remains squarely on the consumer price data with figures expected to show December's headline annual inflation at 6.5%, down from 7.1% in November.      
The US dollar index, which measures its performance against six major FX currencies, was up 0.184% at 103.44 after hovering close to a seven-month low.      
The Japanese yen was up 0.4% at 132.8 per dollar while the British sterling weakened by 0.3% to $1.2115.      
The yield on 10-year Treasury notes was lower at 3.5853%. The two-year US Treasury yield, which typically moves alongside interest-rate expectations, was down at 4.492%.      
Europe's government bond yields fell due to another drop in energy prices. This prompted EU investors to take a more positive view of the inflation outlook.    
Inflation hits China, Asian markets     
China's consumer inflation rate increased in December, driven by rising food prices despite domestic demand dropping and restrained economic activity.  
Economists expect inflation to continue to increase in China during the first quarter of 2023.  
The Chinese CPI in December was 1.8% higher than the same period in 2021, rising faster than the 1.6% annual gain seen in November 2022, reports the National Bureau of Statistics (NBS).  
China has experienced a devastating economic slowdown due to persistent outbreaks of COVID-19 throughout 2022. The annual rate drop in the producer price index (PPI) slowed in December to 0.7% from the 1.3% seen in November 2022.   
China abandoned its strict "zero-COVID" measures in December 2022, lifting lockdowns, removing quarantine, and ending regular testing. As a result, economists expect the country's inflation to continue to rise through Q1 2023. 
Special offer:
Take advantage of the CPI and get ready to trade!  
Watch Fred Razak, CMTrading's Senior Trading Strategist explain all you need to know about the CPI below:  
CPI release on January 12, 2023, a promising time to trade with CMTrading 

Ready to start trading? Open an account today        
Join CMTrading, the largest and best-performing broker in Africa, and discover more opportunities with an award-winning broker. Register here to get started            
Follow us on Facebook, Instagram, LinkedIn, Twitter, and YouTube