Stocks to watch: All eyes on Netflix 
 From DVD sales to media titans… few companies are as iconic as streaming giant Netflix. Once the darling of Wall Street, the company has had a rollercoaster few years; a huge boom in subscribers in 2020 to missing earnings targets in 2022. A series of controversial decisions in 2022 led to a huge exodus of subscribers.  
Shareholders however briefed a sigh of relief when the company managed to hit it out of the park during its Q3 earnings late in 2022. As its Q4 earnings loom in January 2023, will Netflix continue its winning streak, or will it see a repeat of missed targets? In this article, we examine the company and find out what its future holds for traders.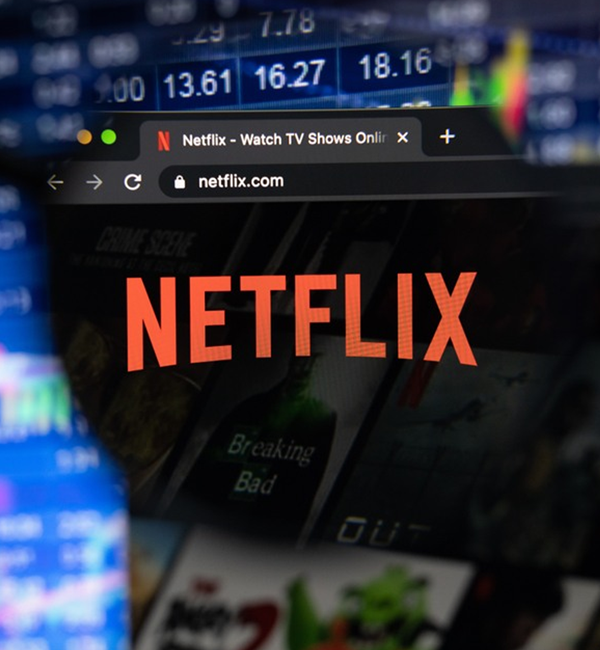 Netflix (NFLX) Q4 Earnings – What to expect   
Earnings Per Share (EPS) forecast – $0.5934   
Revenue forecast – $7.84 billion vs $7.93 billion reached in Q3  
Total market cap – $148.11 billion    
Earnings Outlook  
Wall Street expects Netflix to earn 50 cents per share on revenue of $7.84 billion. In the same quarter in 2021, it reached $1.33 per share on revenue of $7.71 billion. During its last earnings report, however, Netflix reached an amazing $3.1 per share on increased revenue of $7.93bn.    
Is Netflix a buy?  
Netflix has been one of the better-performing stocks in large-cap tech, rising an incredible 90% in the past six months; the stock not only beat the competitive S&P 500 index but also the Nasdaq 100 during the same period.     
Its shares are up 15% in 2023 as the market, and most importantly subscribers, have regained confidence in the streaming titan. The big question however is whether it's still a buying opportunity.   
The company's painful restructuring and growth initiatives paid off with a fantastic Q3 result. Not only are the company's efforts in pushing its new ad-supported, albeit lower-tier subscription model grabbing new subscribers generating additional revenue.     
Netflix came under fire for cracking down on password sharing, a measure the company said it never implemented. The company said in its Q3 report that the average revenue per membership grew by 8% year-over-year, beating the 6% and 7% growth reported in the previous two quarters respectively. As it clamps down on password sharing, it expects more revenue generated per membership.   
The new ad-supported tier, which displays adverts during the content, was launched in November. This allows Netflix to tap into an estimated $140 billion brand-advertising spending in the countries where its new subs model is implemented.   
Content is king  
Netflix is facing stiff competition from Disney, Apple TV, Amazon, and a host of new streaming services which have popped up in the last three years. Netflix, however, is continuing to forge ahead with major content launches including more of its original series and movies.  
Netflix remains a compelling stock even if it did miss two of the four earnings targets in 2022.  
Q3 report – a sign of a bright future ahead?  
The company reversed its huge subscriber losing streak and instead gained 2.4 million new subscribers, from a forecast of 1 million, in the third quarter of 2022. Netflix also generated nearly $500 million in free cash flow.    
This reversal was a welcome change for the struggling company and a boon for traders capitalising on the huge price movements the Q3 report generated back in October 2022. Should you trade Netflix's earnings report? Well, the company saw its shares skyrocket more than 13% in after-hours trading on October 20 following the release of its Q3 earnings.  
Netflix stated in a letter to shareholders: "After a challenging first half, we believe we're on a path to reaccelerate growth. The key is pleasing members. It's why we've always focused on winning the competition for viewing every day. When our series and movies excite our members, they tell their friends, and then more people watch, join and stay with us."    
"As we've been discussing over the past few quarters, improving our pricing strategy is an important near-term focus. We announced that we'll be launching an ad-supported subscription plan on November 1 in Canada and Mexico; November 3 in Australia, Brazil, France, Germany, Italy, Japan, Korea, the UK, and the US; and November 10 in Spain.    
 "Cumulatively, these 12 markets account for $140 billions of brand advertising spend across TV and streaming, or over 75% of the global market."  
Future of the company  
The Q4 report will be an all-important indicator of the future of the company. It has made major changes, many of which have paid off but were also a huge gamble that left many customers dissatisfied.  
As for the future of the company, Netflix is already investing in gaming and tuning advertising as a core part of its business model.   
Netflix said: "There's no change to our capital allocation approach. Our priority is to continue to invest appropriately in our business for the long term, including new initiatives such as games and advertising, followed by selective acquisitions. After that, excess cash above our minimum cash levels (equivalent to roughly two months of revenue) will be returned to shareholders through share repurchases."  
More company earnings are on the way   
The first earnings season of 2023 is in full swing and many of the world's biggest companies will report their results, creating major trading opportunities.   
Top stocks earnings releases: EPS, Revenue forecast, and market cap    
Thursday, January 19, 2023  
Netflix (NFLX) 0.5934 / 7.84B / 148.11B  
Tuesday, January 24, 2023  
Microsoft (MSFT) $2.33 / $53.14B / $1.78T  
Wednesday, January 25, 2023  
Tesla (TSLA) $1.16/ $25.16B / $386.51B         
Tuesday, January 31, 2023  
Pfizer (PFE) $1.07 / $24.37B / $268.6B  
Wednesday, February 1, 2023  
Meta Platforms (META) $2.26 / $31.48B / $359.19B   
Thursday, February 2, 2023  
Apple (AAPL) $1.98 / $123.39B / $2.13T   
Alphabet A (GOOGL) $1.18 / $76.64B / 1.2T   
Amazon.com (AMZN) $0.1888 / $145.78B / $1.00T  
Ready to start trading? Open an account today       
Join CMTrading, the largest and best-performing broker in Africa, and discover more opportunities with an award-winning broker. Register here to get started         
Follow CMTrading on Facebook, Instagram, LinkedIn, Twitter, and YouTube