Here's what to trade with just $100
So, you'd like to get into trading but don't exactly have a lot of capital to begin? Don't stress as there are many ways to take advantage of the financial markets even if you're low on funds.  
From Forex to stocks and commodities, online traders can tap into a wide variety of assets and financial instruments to ensure they remain profitable. The best part is you don't need to have a huge amount of capital to start trading.  
What you will need is favourable conditions offered by an award-winning financial broker such as CMTrading and tap into the power of Trading Contracts for Difference (CFDs).  
Become a better trader – join our webinars 
In this post, we'll show you which assets you can trade with just $100 and share valuable trading advances. What's more, check out our awesome bonus at the end of this article! 
Important note 
Trading isn't a get-rich-quick scheme. It's a skill and like any worthy pursuit, it requires discipline and investment (both time and resources).  You must be willing to learn and take calculated risks. To get the most out of trading we suggest depositing at least $250 or more. At the end of this article, we have an amazing not-to-be-missed offer to help you on your trading journey. 
ADVICE FROM AN EXPERT TRADER   
 Alon Roslyakov, CMTrading South Africa Office Manager, shares advice for anyone wanting to trade with low capital in 2023.    
Roslyakov: "Trading Contracts for Difference (CFDs) can provide investors with a way to speculate on the price movements of various financial instruments, such as stocks, indices, commodities, and currencies, without physically owning them. However, like any other form of trading, it carries a level of risk. Trading CFDs with a small amount of capital, such as $100, can be challenging but it is still possible.  
"One approach is to open an account with a broker that offers micro-lot trading. Micro-lots allow traders to trade in smaller increments, such as 0.1 of a standard lot, which can be more affordable. Additionally, some brokers offer the ability to trade on margin, allowing traders to enter positions larger than the amount of capital they have on hand. This means that with a $100 deposit, a trader can trade CFDs with a much larger capital.  
"Another option is to use a social trading platform, which connects traders with more experienced traders who can provide guidance and advice. These platforms also allow traders to copy the trades of more experienced traders, which can help to mitigate risk.  
"The best way to start trading CFDs is to start with a small amount of capital, and as you gain more experience, you can increase your trading capital and diversify your portfolio."  
Stay up to date on the latest market news 
Some examples of lucrative trades made with only $100:  
Upon the third rejection of the upwards trendline, a trade taken Long following the trend direction would have resulted in a $62 profit in just under 24 hours with only a $100 margin requirement.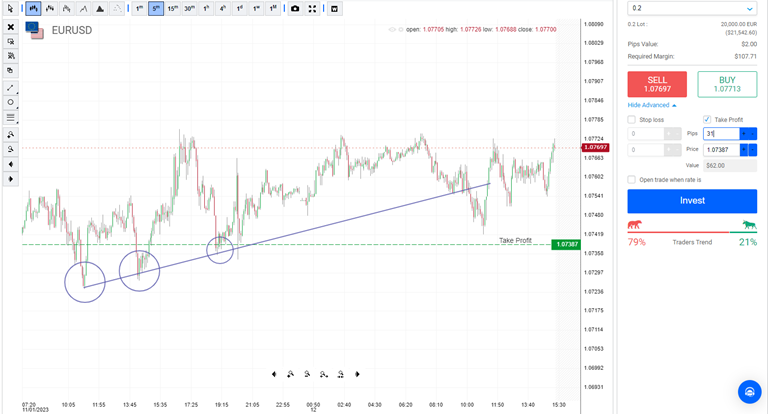 Don't miss out – Get Daily Trading Signals         
A short position in the dollar-yen after a break of support would have gained a trader $230. That's a return of 230% in half a day!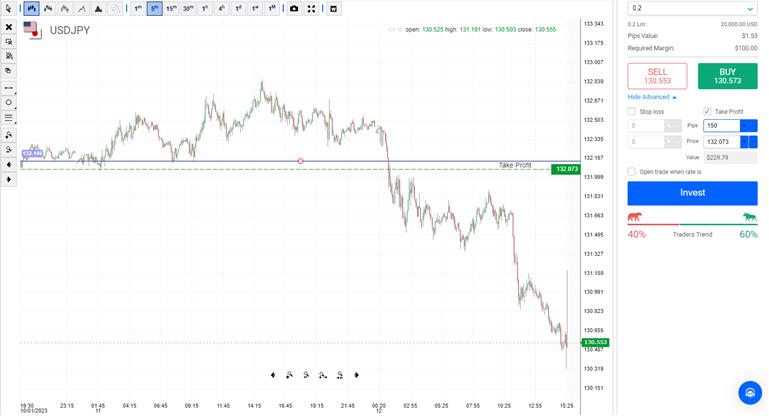 A clear break of the volume-centric resistance level would have yielded $45 in under 10 hours. A 45% return on initial capital.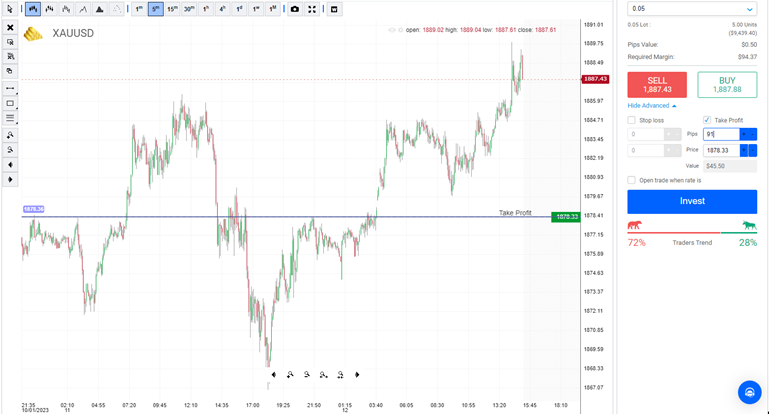 Positive news coming out related to the energies sector saw a previous micro downtrend quickly reversed with higher highs and breakout completing a Bullish Falling Wedge pattern and gaining a trader $247 from an initial margin of $100, in just 3 hours.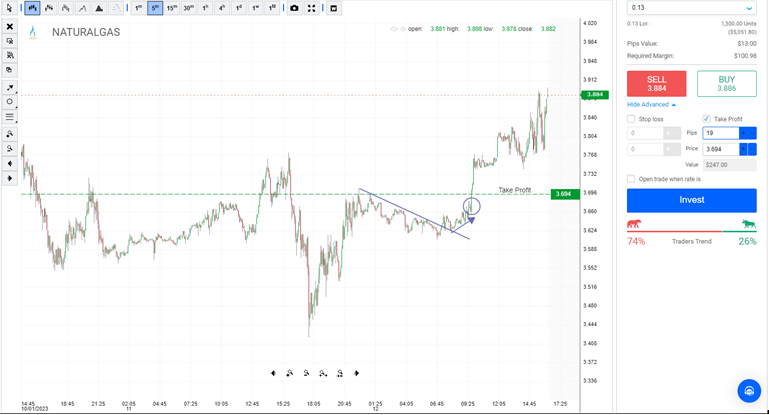 With a break of initial resistance levels, followed by rejection of shorts at the same level now turned to support a trader could have made $65 (65% return) in one full day trading this Index.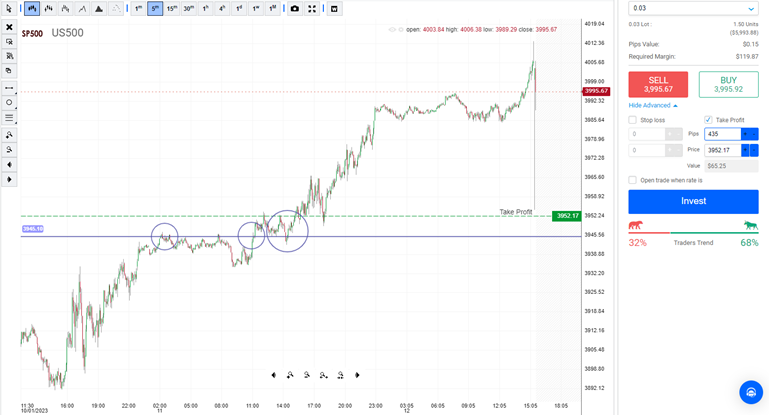 Understand the markets   
Roslyakov: "In addition, to make money trading CFDs, it is important to have a good understanding of the underlying market and factors that can affect the price of the underlying asset, such as supply and demand, geopolitical events, and economic indicators. Staying informed about these factors can help traders make more informed decisions and potentially increase their chances of making a profit.  
"Trading CFDs with $100 can be challenging but it is possible with the right approach. Micro-lot trading and social trading platforms can provide a way to enter the market with a small amount of capital, but it's important to remember that these options still carry risks. As always, it's important to do your research, practice proper risk management, and stay informed about the market when trading in any financial market."  
Trading with CFDs – how it works   
One of the most advantageous methods of benefiting from price movements is to trade CFDs online. CFDs or Contracts for Difference are financial derivatives that allow investors to speculate on the price fluctuations of an underlying financial asset such as commodities without buying it beforehand.   
Moreover, CFD traders can profit both when prices are rising as well as when they are falling. This is because CFD trading allows traders to open a buy or sell position, which means they can buy when prices are moving up or sell when the prices are dropping to generate profits.    
Also, CFDs are traded on margin, which means that traders only need a small amount of capital to open a position on the market and enjoy increased returns at the cost of higher-risk exposure.    
Please note that trading CFDs is considered a high-risk investment, which can result in the loss of your invested capital. Always get in touch with your account manager to discuss profit targets and how you can minimize your exposure to downside risk.   
_____________________________________________________________________________________Special offer 
Take advantage of market movements with our special January offer and start trading today!  
How to get your bonus:    
1 Deposit $300 – get $300 bonus  
2 Use promo code JAN300   
3 Trade with our bonus 
Min. deposit $300 | Max reward $300 | New clients | Promo code: JAN300 _____________________________________________________________________________________ 
Ready to start trading? Open an account today        
Join CMTrading, the largest and best-performing broker in Africa, and discover more opportunities with an award-winning broker. Register here to get started            
Follow us on Facebook, Instagram, LinkedIn, Twitter, and YouTube